This Epic Dessert Board is a sweet take on the Instagram worthy cheese board. It contains fruit, cookies, marshmallows, and a delicious chocolate dipping sauce.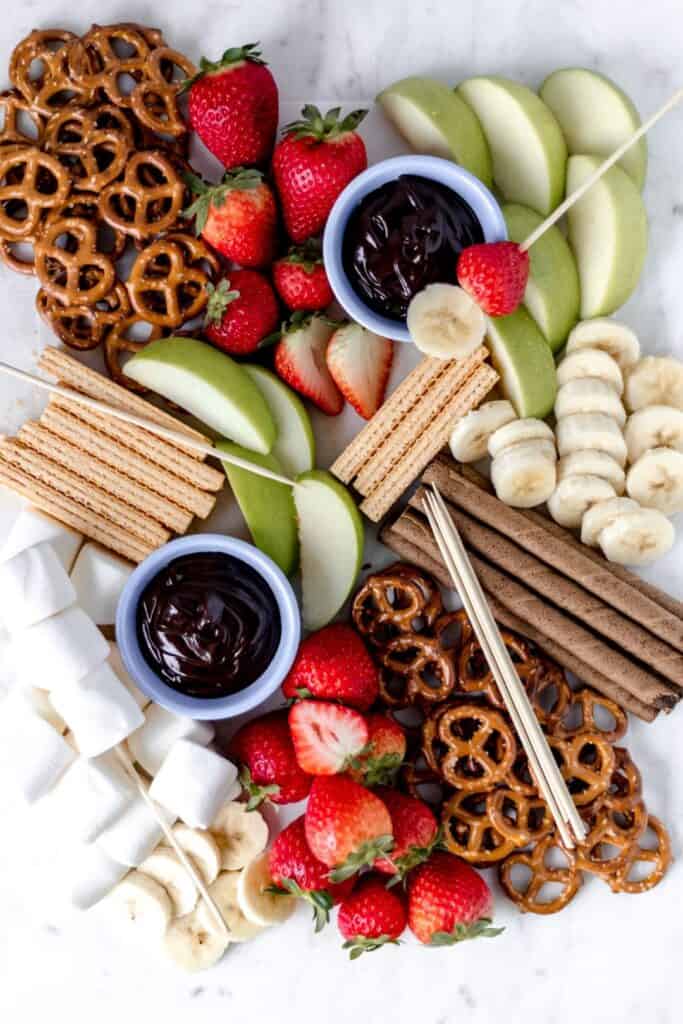 It happens to the best of us.
There you are scrolling through Instagram and then it happens…the most beautifully styled cheese board ever. Each piece of cheese is so artfully put together that it seems almost too pretty to eat. They also come in so many different varieties with several options of cheese, cured meat, fruit, and veggies. The possibilities are truly endless.
Seriously, somewhere along the way cheese boards became the new smoothie bowl of Instagram. You almost feel a little guilty after you find yourself saving countless variations of cheese platters with no intention of ever making one yourself. Possibly because you know that you have none of those ingredients in your kitchen currently. Or perhaps you prefer to eat your cheese and crackers on a white paper plate, which you get absolutely no judgement from me because I am definitely a member of the #paperplate crew.
I will admit that I also fell into the trap and have shared at least one or two cheese boards here on the blog.
I just couldn't help myself.
The Instagram made me do it.
And I found it to be a little relaxing to create one with no stress and using the ingredients that I already had in my kitchen such as cheddar, deli cuts, nuts, dried fruit, and chocolate. Then I decided to push myself and create a dessert board.
Yep, you read that correctly.
A board dedicated entirely to sweets!
I'm talking about a dessert board made up of an assortment of sugar wafers, marshmallows, fruit, and chocolate Pirouettes. If that wasn't enough then I also added in a simple to make chocolate dipping sauce to add another layer of sweetness to each treat.
It is sweet.
Delicious.
Perfect.
I would definitely make this again and share it with my friends and family and perhaps with an Instagram worthy cheese board on the side 😉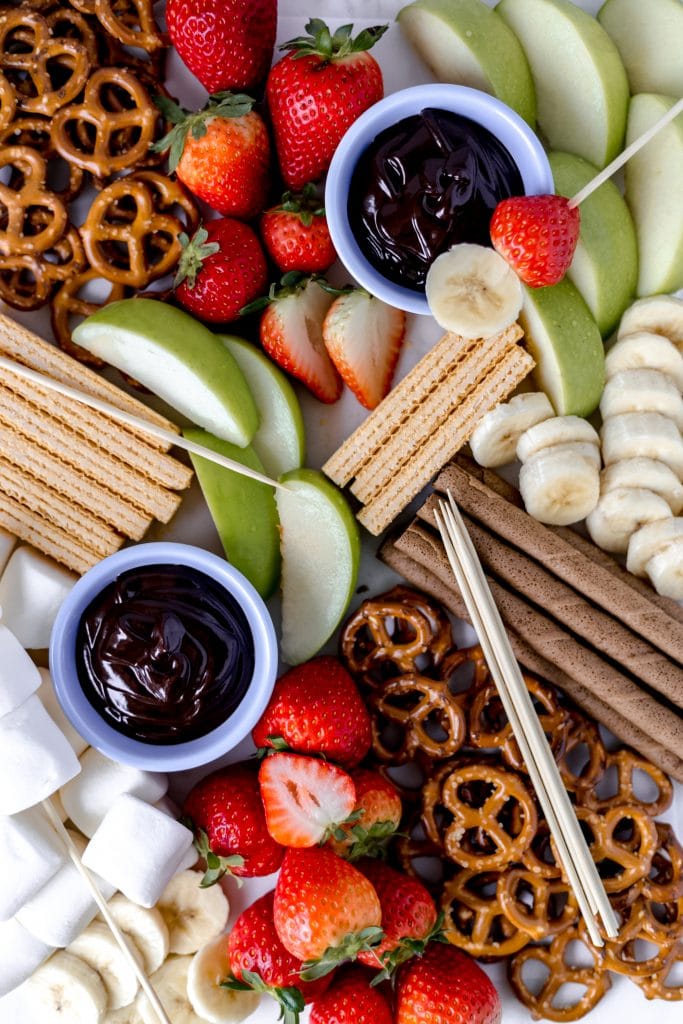 Ingredients
2 cups heavy whipping cream

4 cups semi-sweet chocolate chips

dash of salt
Instructions
1
In a small saucepan over medium-low heat, add the heavy whipping cream and heat to a low simmer.
2
Add the semi-sweet chocolate chips a little at a time while continuously whisking until smooth.
3
Stir in a dash of salt and pour into a serving bowl.
4
Serve with your favorite sweets.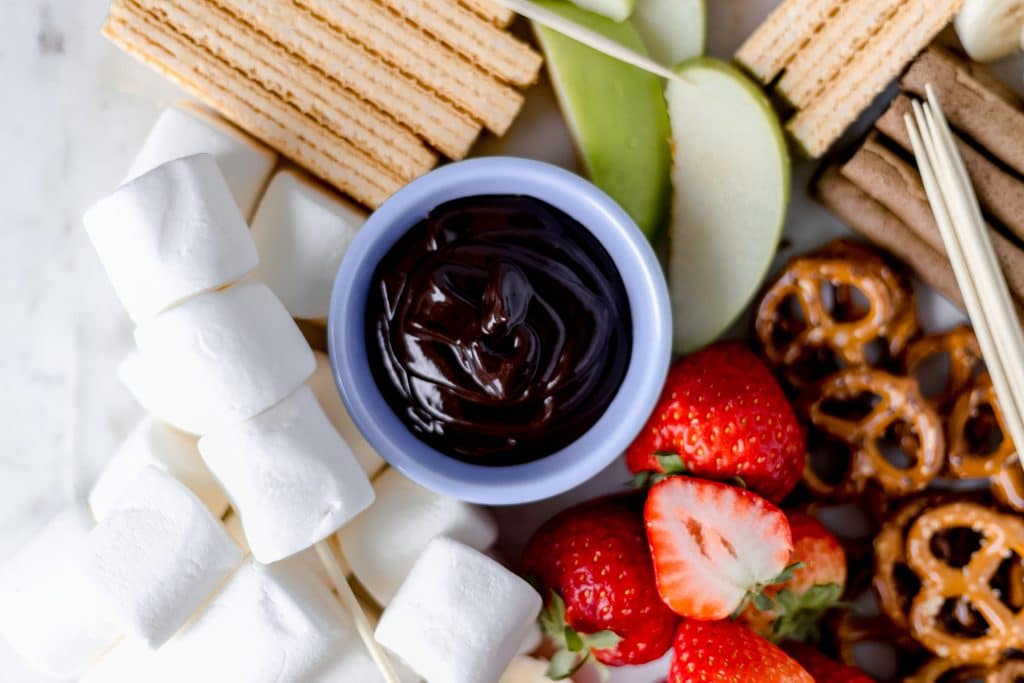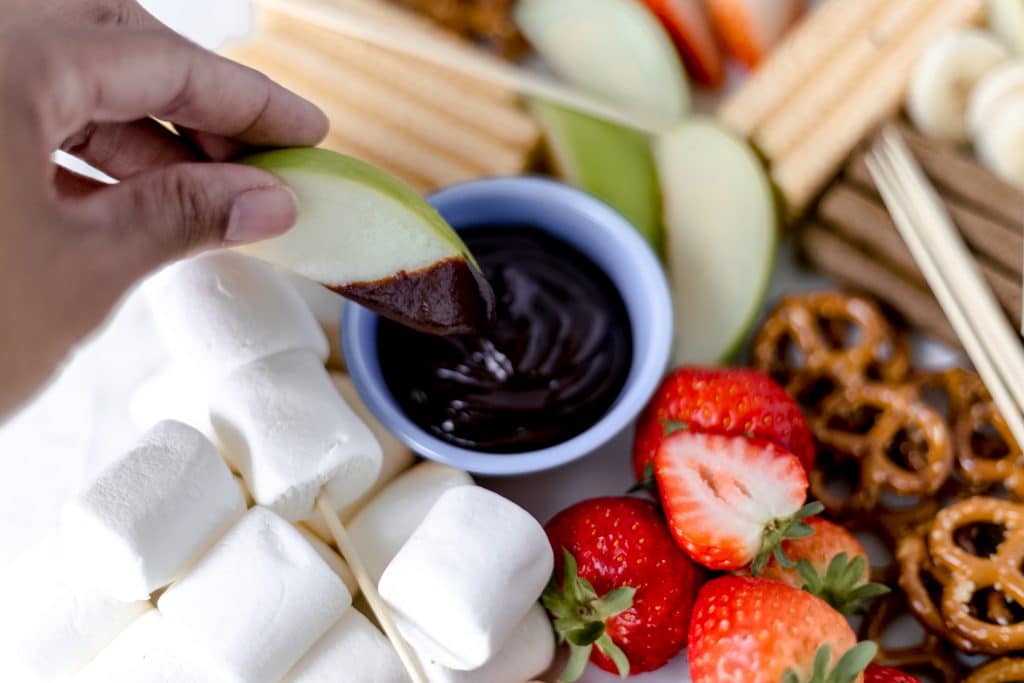 Have any other great ideas about this Epic Dessert Board? Share them in the comments below!