This post may contain affiliate links. Please read my disclosure policy.
Baklava is a sweet, gooey, and rich dessert pastry that contain layers of filo dough, nuts, and sweetness for a delicious treat that can be made at home.
Baklava is a traditional Greek dessert that is a rich, sticky, and sweet pastry made of flaky layers of filo pastry dough filled with chopped nuts and sweetened with a honey syrup.
Baklava Ingredients:
½ pound walnuts, almonds or pistachios, or a combination
6 tablespoons sugar
1 teaspoon cinnamon
½ teaspoon lemon zest
½ pound phyllo dough, thawed
½ cup (¼ pound) melted butter
Syrup:
1 cup water
6 tablespoons sugar (¼ cup + 2 tablespoons)
1 T lemon juice
2″ strip lemon rind or orange rind
6 tablespoons honey
Instructions:
Set oven to 325 degrees F. and line an 8×8 inch pan with parchment paper and brush with butter.
Grind or chop the nuts. Be sure to use raw, unsalted nuts. Combine nuts with sugar, cinnamon and lemon zest in a bowl.
Lay 2 phyllo pastry sheets in the bottom, brush with butter, lay 2 more sheets, butter, 2 sheets, butter (8 sheets of phyllo total).
Sprinkle with a third of the filling.
Lay 2 more sheets phyllo on top and brush with butter.
Continue layering filling with 2 sheets of phyllo and butter until filling is used up.
Layer the top with 2 sheets/butter as in the first layer until phyllo is used up.
Brush top with butter.
Use a short sharp knife to cut the baklava into small diamond shapes. Cutting before cooking is necessary because once it's cooked, you won't be able to cut it without crushing the delicate crispy layers.
Bake for 30 minutes, then reduce heat to 300 degrees F. and bake another 45-60 minutes until golden and puffed.
During the last 15-30 minutes of baking, make the syrup...Combine syrup ingredients – except honey – in a medium pot and stir to dissolve. Heat over medium-high until boiling. Reduce heat to medium and simmer 15 minutes uncovered. Add honey and simmer another 5 minutes. Remove from heat and remove rinds.
Pour hot syrup over hot baklava then let cool. Refrigerate once cooled to room temperature.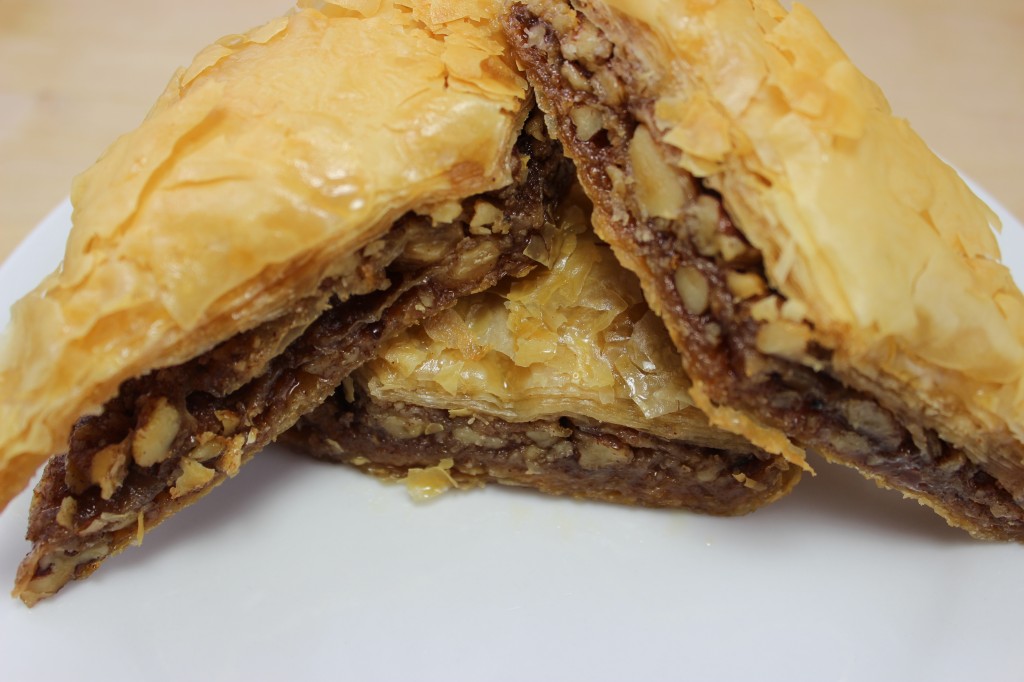 Enjoy!
*Original Recipe from Hilah Cooking
Got any comments, questions, or other ideas for this Baklava? Share them in the comments below!