Eggnog Pound Cake is the perfect treat if you love eggnog. It is thick, rich, and delicious. A delicious indulgent holiday treat that can be made with your favorite eggnog.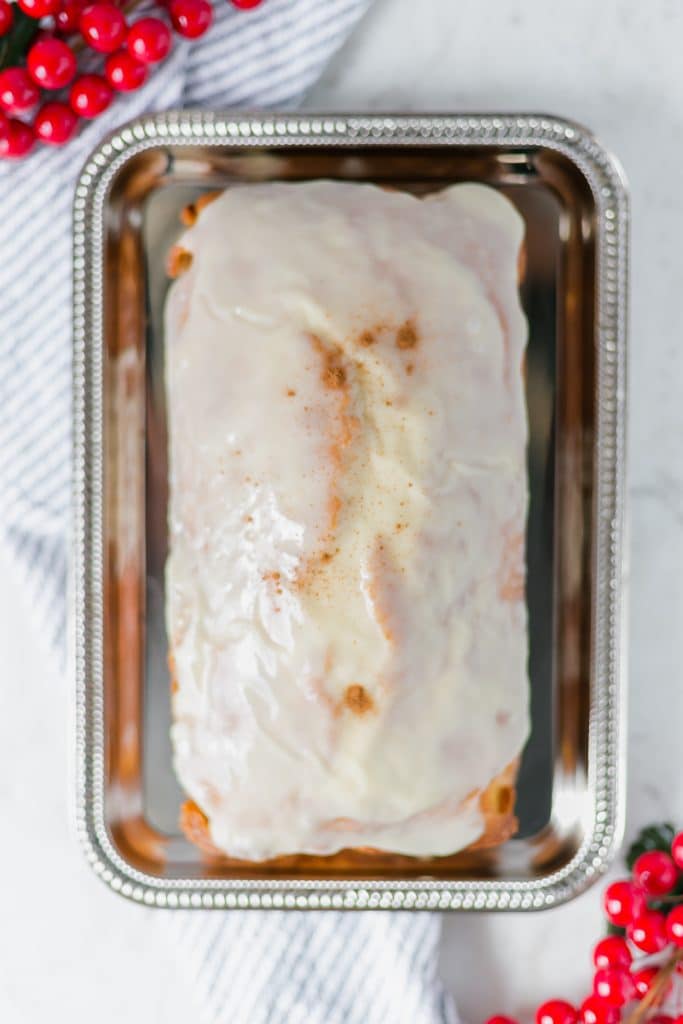 The holidays are much more of a social time for me. I find myself going out more, spending more time with family and friends, and having more people stop by my house for a visit. For this reason, I always try to have something sweet on hand. Cookies, brownies, and cake recipes that are simple to make and in smaller batches.
Especially cake!
I love having cake in my home, except with a big cake, comes the reality of me eating way too many slices. I cannot help myself, if I visually see a whole cake in my house, then I will definitely eat my fair share. It is what it is and I can admit it. So with that being said, I love to make cakes that are smaller in portion, so that my guest will consume most of it during their visit. See how that works.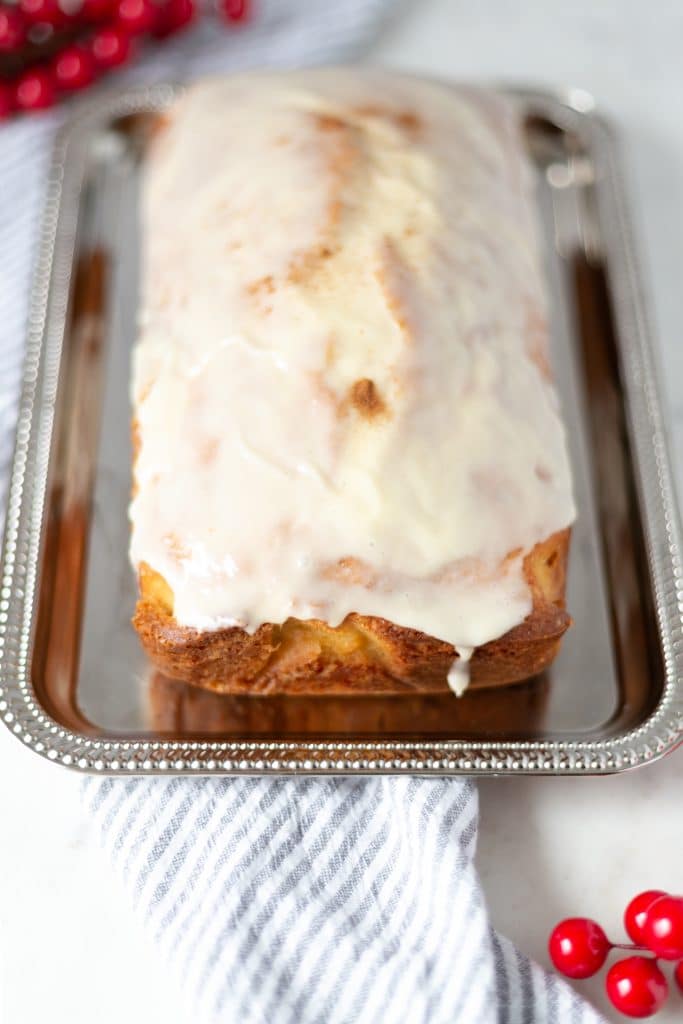 This rule especially applies to pound cake which is rich, fluffy, and delicious. But most recipes tend to yield a lot of servings. To avoid this I prefer to scale the recipe down and make it in a loaf pan.
Same great flavor…just in a smaller size.
Since it is the holiday season, I decided to add a bit of seasonal eggnog to the pound cake mix to make it more festive. This recipe is rich, fluffy, and delicious. You will really enjoy it if you are a fan of eggnog and pound cake. Be sure to give it a try.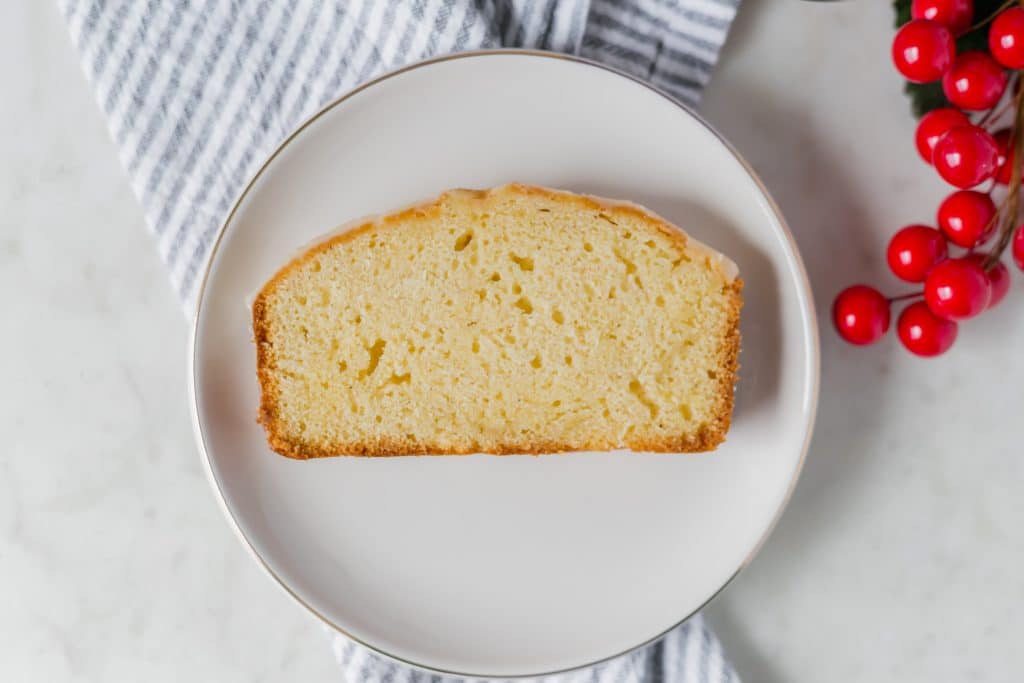 Ingredients
1/2 cup unsalted butter

1 cup granulated sugar

2 large eggs

1 1/2 cup all-purpose flour

1 teaspoon salt

1/4 teaspoon ground nutmeg

1/2 teaspoon vanilla extract

3/4 cup eggnog

1/2 cup powdered sugar

2 tablespoons eggnog
Instructions
1
Preheat the oven to 350 degrees F. and spray a loaf pan with cooking spray and line with parchment paper. Set aside.
2
Using a mixer on medium speed, mix the butter until smooth. Add the granulated sugar and cream together until light and fluffy.
3
Add in the eggs and mix until combined.
4
In a small bowl, whisk together the flour, salt, nutmeg.
5
Slowly add to the batter a little at a time and mix just until it comes together.
6
Mix in the vanilla and 3/4 cup eggnog.
7
Spoon the batter into the prepared loaf pan and bake for 45 minutes or until golden and a cake tester comes out clean.
8
Remove from the oven and allow the cake to rest on a cooling rack for 15 minutes in the pan before removing the cake and allowing it to cool completely.
9
For the glaze, whisk together the powdered sugar and 2 tablespoons eggnog. For thinner glaze add less eggnog, for thicker add more eggnog.
10
Spoon the glaze over the cooled eggnog pound cake. Allow the glaze to thicken and set before serving.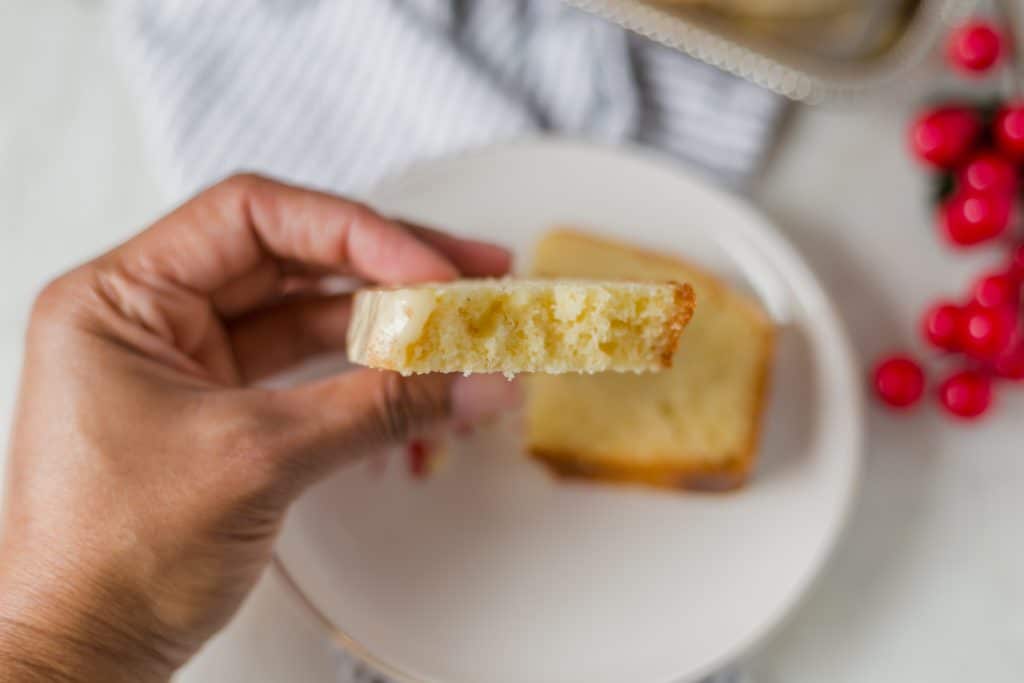 Do you have any entertaining tips, kitchen hacks, or other holiday ideas for this Eggnog Pound Cake? Please share them in the comments below!