Sheet Pan Breakfast Bake is a delicious one pan option for a full breakfast. Made with sausage, potatoes, eggs, tomatoes, and avocado. Quick and easy!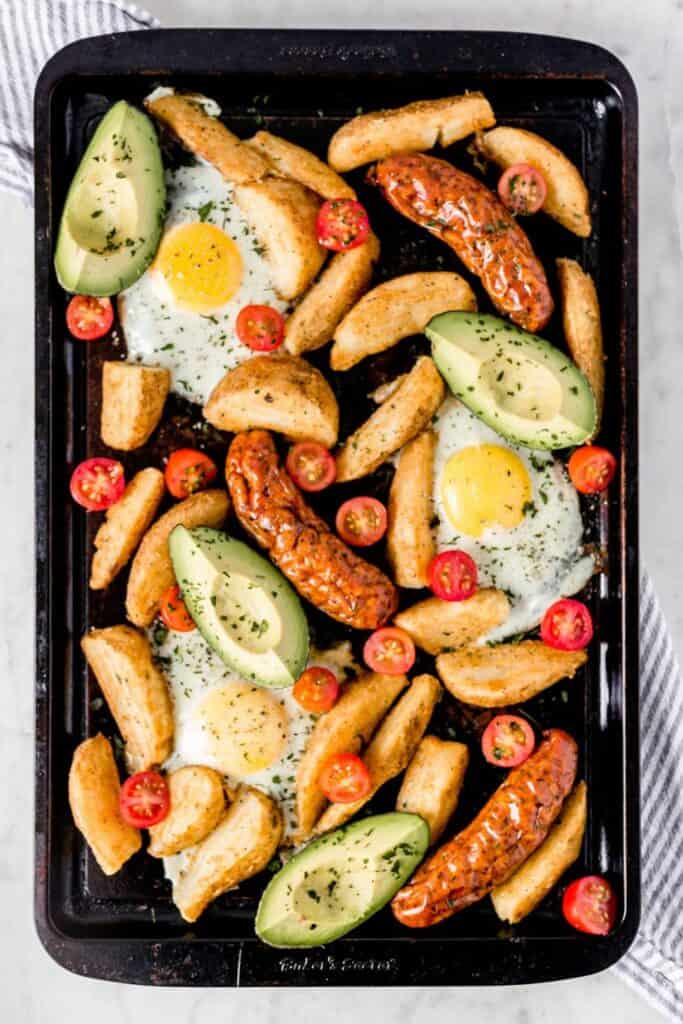 This is nothing like a good breakfast.
The only problem is that sometimes breakfast requires multiple baking dishes, skillets, and kitchen utensils. It can all be a bit much and have you scrapping the whole idea and opting to grab something at the nearest fast food restaurant. Believe me, I get it.
If you have been following me for any length of time, then you already know how I feel about spending too much time in the kitchen. It's a no for me. I try to offer simple solutions to get you in and out of the kitchen in the least amount of time as possible.
Today will not be any different. I will be offering you a simple breakfast solution that requires a few ingredients and a sheet pan. That's right. Feel free to read that part again. I said one sheet pan is all that you need to make a full breakfast. I am talking about eggs, potatoes, sausages, tomatoes, and avocado. Like I said a full breakfast!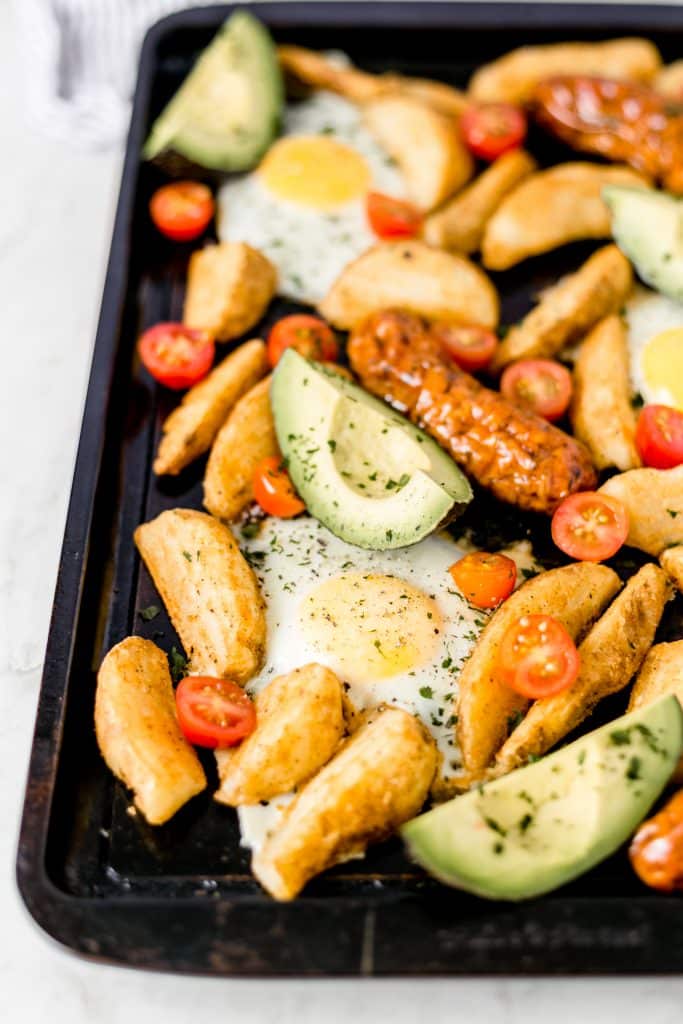 Let's get started with the sheet pan breakfast bake.
This recipe begins by lining a sheet pan with parchment paper. This one step alone will not only prevent your ingredients from sticking to the pan, but it will also make clean up much easier. Next add the chicken sausage, seasoned potato wedges, and olive oil. Give the ingredients a gentle toss until everything is coated with the oil. Spread evenly on the pan and place into the oven to bake for 15 minutes.
The Italian style chicken sausage that I used was already fully cooked so it just needed to brown and heat through. If you use a different kind of sausage, cook according to the package instructions.
Once this step is finished remove the sheet pan from the oven and crack the eggs on top. Return to the oven and cook for an additional 5 to 7 minutes until the egg whites are fully cooked. Prior to serving add the tomato halves and avocado. This recipe is one that you want to keep in your kitchen toolkit and feel free to double or triple the recipe if you have a bigger family or company.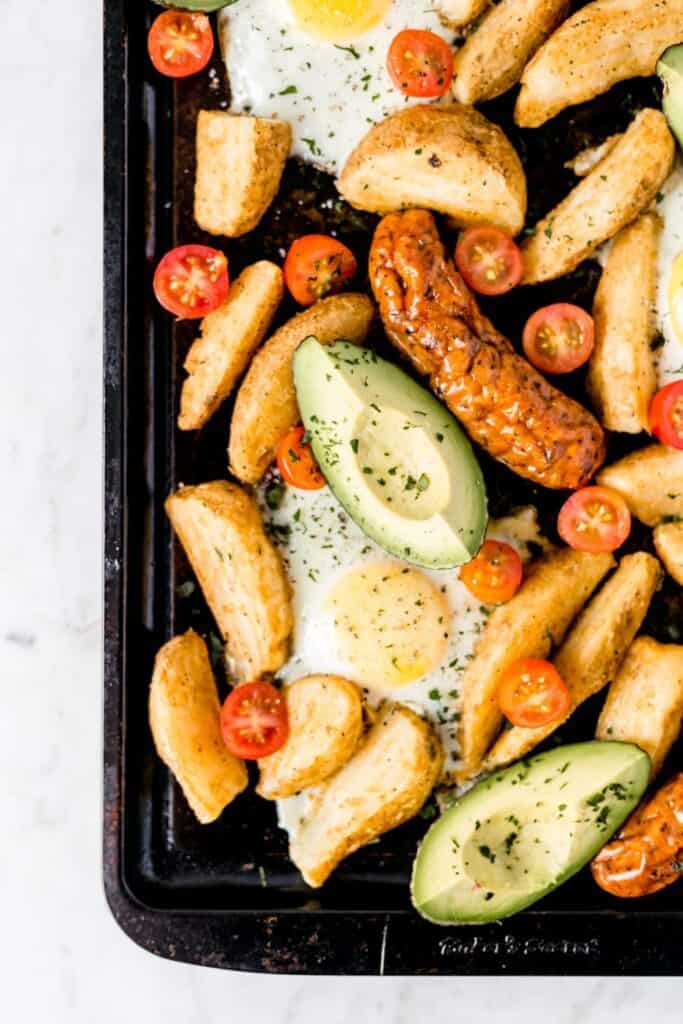 Ingredients
3 Italian style chicken sausage

2 cups frozen seasoned potato wedges

1 tablespoon olive oil

3 large eggs

1/2 cup grape tomato halves

1 avocado, quartered

salt and pepper to taste
Instructions
1
Preheat the oven to 400 degrees F.
2
Line a sheet pan with parchment paper.
3
Please the sausage and potato wedges on the prepared baking sheet and drizzle with olive oil.
4
Toss to distribute evenly and place in the oven to bake 15 minutes, until sausage is browned and potatoes are tender.
5
Remove the sheet pan from the oven and crack the eggs on top.
6
Carefully return to the oven and cook for an additional 5 minutes, until egg whites are cooked.
7
Remove from the oven, place tomatoes and avocado on top.
8
Season with salt and pepper. Serve immediately.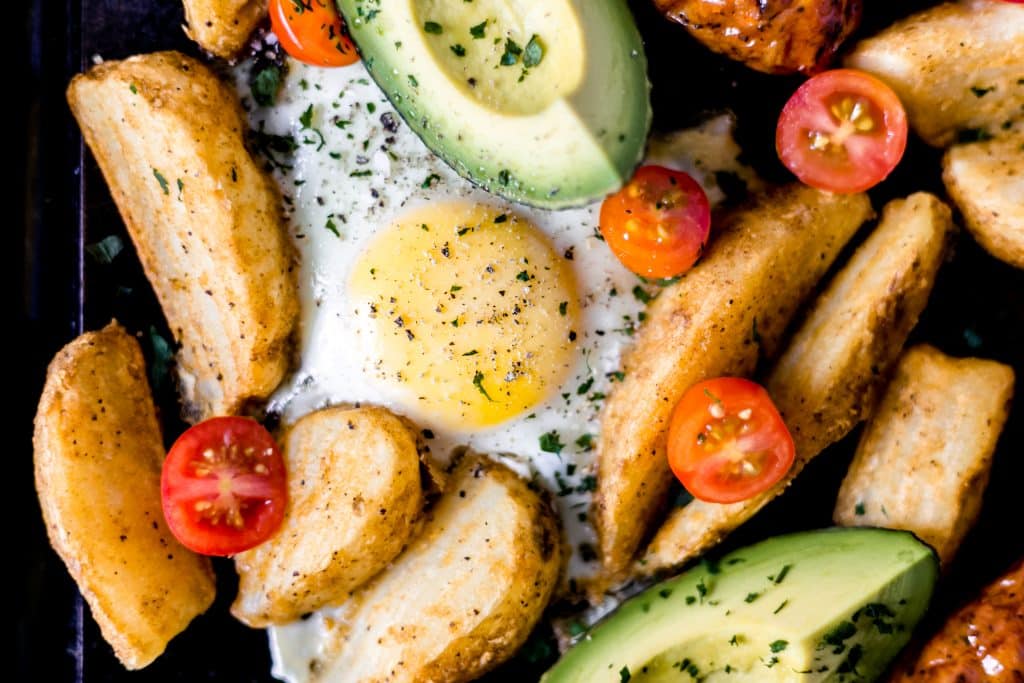 Do you have any tips, kitchen hacks, or ideas for this Sheet Pan Breakfast Bake? Please share them in the comments below!