This post may contain affiliate links. Please read my disclosure policy.
Croque Madame is a tasty breakfast or brunch sandwich that is made with buttery toast, ham, cheese, egg, and a tangy sauce. So many flavors are packed in one crispy sandwich.
Are you in the mood for a tasty breakfast sandwich?
Then I have just the recipe for you!
And please do not be intimidated by the Croque Madame because it is a fairly simple sandwich to make, it just requires multiple steps in order to assemble this savory sandwich. It all begins by whisking up the sauce, followed by a grilled ham and cheese sandwich, and ending with an egg on the top. This sandwich is perfect for those times when you want a special treat for breakfast or even a late night delight.
Croque Madame Ingredients:
3 Tablespoons butter
½ Tablespoon all-purpose flour
½ cup milk
1 pinch salt and black pepper
1 pinch ground nutmeg
1 teaspoons Dijon mustard
1 large eggs
2 slices of wheat bread
2 slices of ham
2 slices of cheese (I used Provolone)
Directions:
Place a small saucepan over medium-low heat and melt 1 Tablespoons of butter.
Whisk in the flour and cook for about 1 minute. Whisk in the milk and bring to a slow bubble, then drop heat to low.
Season the sauce mixture with salt and pepper. Add the nutmeg and Dijon; stir. When the sauce is thick enough to coat the back of the spoon, turn the heat off.
Heat 1 tablespoon of butter in a medium skillet over medium-low heat. When melted, crack in the egg, cook until the desired doneness.
Butter the bread with the remaining butter. Spread the Dijon sauce on the inside and build your sandwich, using both slices of ham and cheese.
Place sandwich in the skillet, butter-sides down, and cook until golden brown. Transfer to a plate.
Top sandwich with a cooked egg and more sauce, and garnish with a sprinkle of pepper.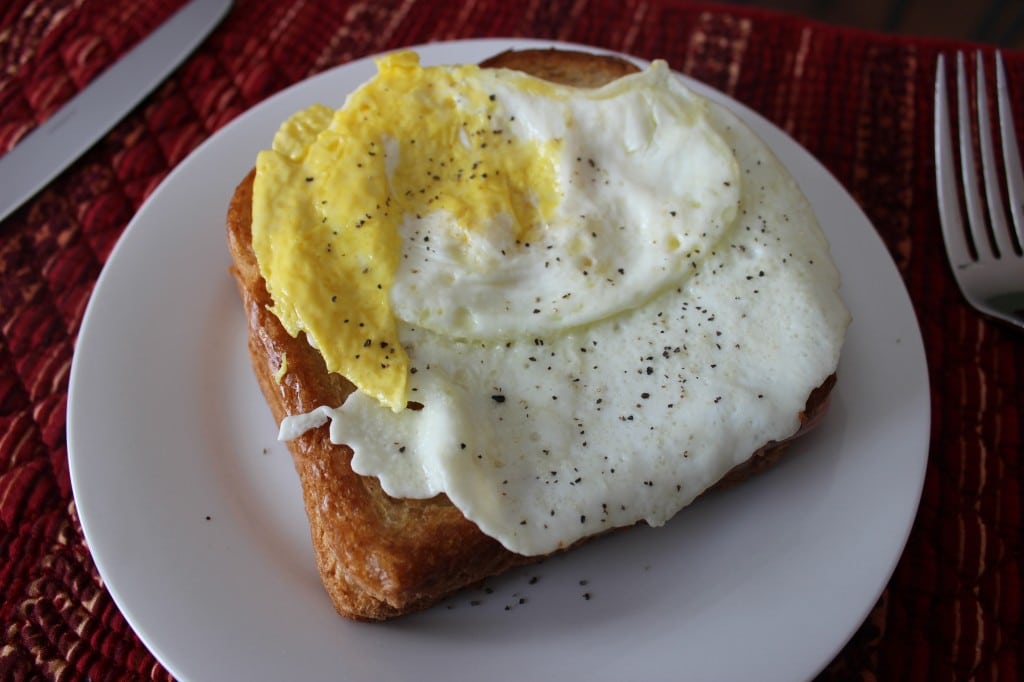 Enjoy!
*Original Recipe by Lauren Conrad
Got any comments, questions, or other ideas for Croque Madame? Share them in the comments below!