This post may contain affiliate links. Please read my disclosure policy.
Am I the only person who loves the smell of freshly baked cookies in the home??
There is just something about freshly baked cookies that really make the home more home-ly (yes I made that up) and inviting. I have heard, and I am really not sure if it is true or not, that people will bake cookies right before an open house to entice potential home buyers. I am not sure if that really works or not, but I bet it surely makes the guest want to go out and buy a cookie or two.
As much as I enjoy a homemade cookies every now and then, I really do not enjoy pulling out multiple cookie sheets and dropping individual cookies on each of them and waiting for all of the batches to be completely finished. Whew! I am getting tired just thinking about all of that work…I am all about keeping it quick and simple…nothing too complicated here.
So of course this time I decided to share with you my favorite way to make freshly baked cookies the easy way. Are you ready?? Once the cookie dough is finished and ready to be put into the oven…spread all of the dough into a skillet that has been lightly sprayed with non-stick cooking spray and put those bad boys into the oven and wait for the magical aroma to happen.
Chocolate Chip Cookie Skillet Ingredients:
1 and 1/2 sticks of melted and cooled butter
3/4 cup of firmly packed dark brown sugar
1/2 cup of granulated sugar
2 teaspoons of vanilla extract
1 1/4 teaspoons of kosher salt
1 large egg plus one egg yolk
1 3/4 cups of all-purpose flour
1/2 teaspoon of baking soda
12 oz. bag of semi-sweet chocolate chips
Directions:
Heat oven to 350°
Whisk melted butter, dark brown sugar, granulated white sugar, salt and vanilla extract in the bowl until combined.
Then add one whole egg, plus one egg yolk, and mix again until smooth.
In a separate bowl, whisk together baking soda and flour, then add to cookie dough mixture. Let mixer mix on low speed, or hand mix with wooden spoon, just until flour is combined (Careful not to over-mix).
Carefully fold in two cups of semi-sweet chocolate chips.
Spread cookie dough in a oven safe skillet that has been sprayed lightly with non-stick cooking spray and bake for 18-20 minutes.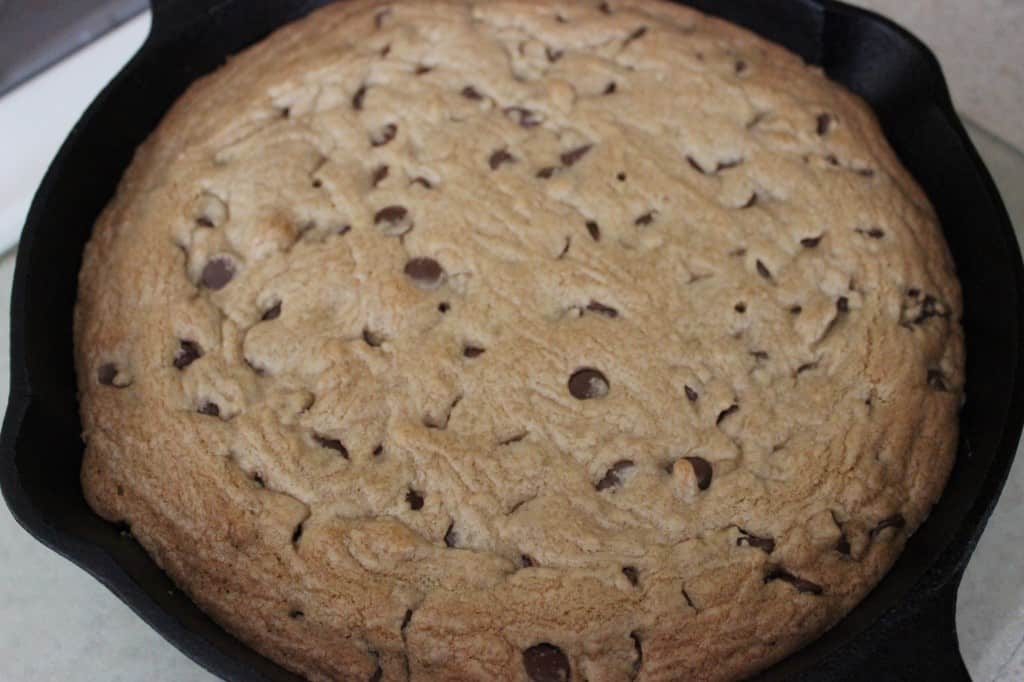 Enjoy!