This post may contain affiliate links. Please read my disclosure policy.
Vanilla Buttermilk Rainbow Cake – Bright, colorful, and cheery cake that is sure to brighten the day of anyone. Perfect for those times when you need something special.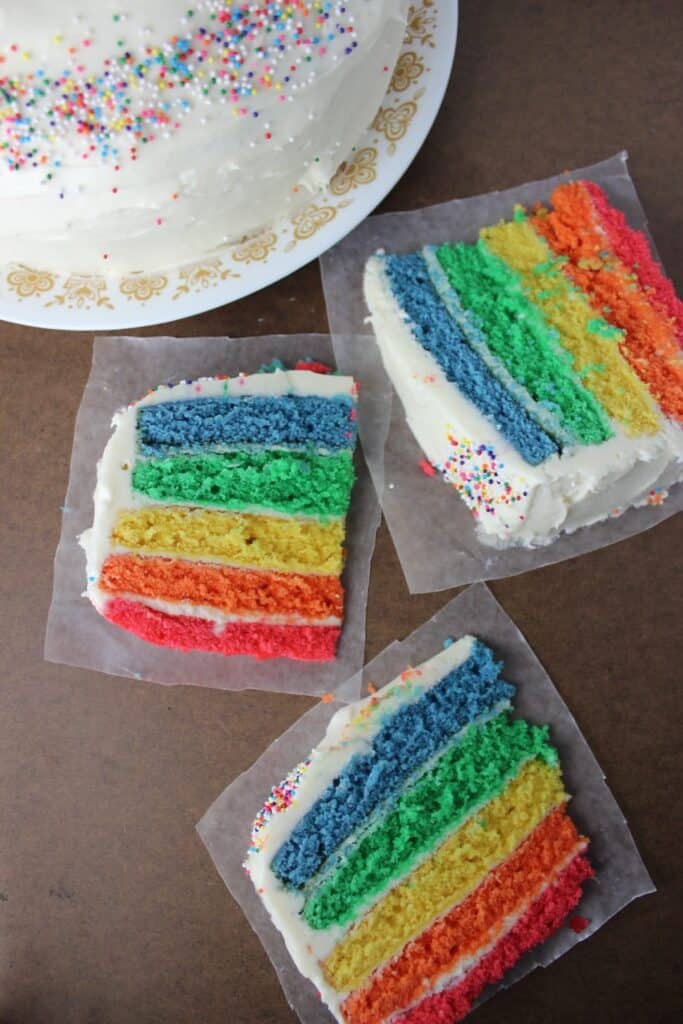 The weather has been so rainy lately here in Florida.
For about the last few weeks it has rained each afternoon like clockwork. I am beginning to make sure that I have an umbrella with me each day to make sure that I don't get stuck in it. I always thought the saying was April showers bring May flowers, not May showers bring whatever in June. Hopefully, with the first day of June tomorrow and summer coming soon we will have more sunny days. Either way, it should be a very interesting month and I am wondering what the weather will bring.
So until we find out exactly what's in the store I figured today I would share a little rainbow with you… a rainbow cake that is. This cake has a different color layer and a delicious cream cheese frosting that is sure to bring a smile to the face of anyone…even on a stormy day.
Vanilla Buttermilk Rainbow Cake Ingredients:
2½ cups granulated sugar
1 cup unsalted butter, softened
3 large eggs
1 Tablespoon vanilla extract
1 cup buttermilk
¼ cup heavy whipping cream
3 cups all-purpose flour
1 Tablespoon baking powder
½ teaspoon salt
Food coloring: red, yellow, blue, green
12 oz cream cheese, softened
1½ cups unsalted butter, softened
6 cups powdered sugar
1 Tablespoon vanilla extract
Instructions:
Preheat oven to 325 F. and generously grease and flour 5 (9-inch cake pans), if you only have three pans or less then you will have multiple batches rotating time in the oven.
In a large bowl cream together sugar and butter. Mix in eggs until thoroughly incorporated. Mix in vanilla extract, buttermilk, and heavy cream.
Mix in half of the flour, baking powder, and salt and when the mixture is combined, mix in the rest of the flour.
Divide the batter into five bowls (about 1 cup of batter per bowl) and add food coloring to each bowl to create a vibrant red, orange, yellow, green, and blue. Pour each colored batter into the prepared pans and spread out in an even thin layer.
Bake for 10-15 minutes or until the center is set. Do not over-bake! Once they are finished baking, remove them from the oven and pan and place on a cooling rack and allow them to cool completely.
While waiting for the layers to cool begin making the cream cheese frosting by creaming together the cream cheese and butter. Next mix in the powdered sugar and vanilla until smooth.
Place the first layer down and frost, followed by the next layer and frosting, and continue this system until finished.
Place the cake in the refrigerator for 30 minutes in order for the frosting to set and sprinkle with rainbow sprinkles, slice, and Enjoy!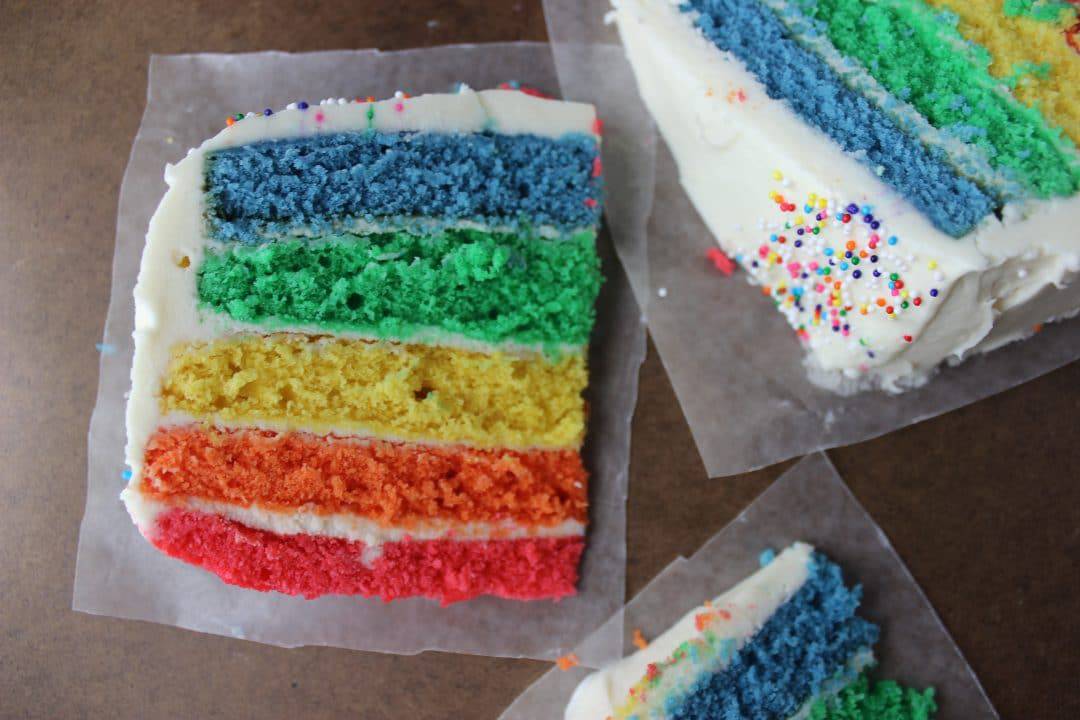 *Recipe modified from Divas Can Cook
Now it's your turn…
What has the weather been like in your neck of the woods? Have you had more sunny days or more rainy days?
Have you got any comments, questions, or ideas for this Vanilla Buttermilk Rainbow Cake? Share them in the comments below!