This post may contain affiliate links. Please read my disclosure policy.
Homemade 9 Layer Chocolate Cake Recipe made from scratch using simple ingredients and is completely delicious. Give it a try.
As long as I can remember I have loved a 7, 9, or 12 layer chocolate cake. These cakes have some many delicious layers and the homemade chocolate icing definitely amps up the flavor factor way up. I have always thought the cakes were super hard to make simply because so many layers to me translated to lots of time in the kitchen and you already know how I feel about spending hours in the kitchen...so that is mainly why I never even thought about giving this cake a try...well that is until now.
I decided to take the plunge and give it a try and that is mainly due to the fact that I have not had a multi-layer cake in awhile and so it seemed as though the only way that I was going to have one was to make it myself and so I did.
Now I have to be honest with you that making the actual cake frosting, which you could probably could cheat and use store brought frosting instead, and making the cake layers was not difficult at all. The only real part of the process that takes time is waiting for the layers to actually cook. I only could fit 3 round cake pans into the oven at a time so that meant I would have to wash and re-prepare those pans in between each rotation which is why I decided to make a 9 layer chocolate cake instead of 7, I mean really what difference was 2 more pans in the oven going to make?!? If you want to make a 7 layer cake, then you will use the same recipe and just add more cake batter to the layers and if you want 12 layer then add less.
This cake is rich and delicious...you only need a small slice and this it a cake that you will want to share with your friends and family which makes it a perfect cake to make during the holidays or for a pot-luck supper.
9 Layer Chocolate Cake Ingredients:
For the Chocolate Icing-
3 cups granulated sugar
3-½ small blocks unsweetened baking chocolate
2 (5 oz.) small cans evaporated milk
½ cup butter (1 stick)
1 teaspoon vanilla extract
For the Cake Layers-
1 cup butter (2 sticks)
1 -½ cups granulated sugar
6 large eggs
3-½ cups self-rising flour, sifted
1-¾ cups water
1 teaspoon vanilla extract
Instructions:
Allow all of the ingredients to be at room temperature and preheat the oven to 400 degrees F. and grease at least three 8-inch round cake pans with shortening and set aside. Make the chocolate icing first, by placing in a medium (heavy bottom) pot over medium-low heat and adding in the sugar, unsweetened chocolate, milk, butter, and vanilla and allow to fully dissolve (sugar to completely melt) and stir constantly or whisk. You may need to adjust the temperature to make sure that it does not burn. Do not allow the icing to boil. Turn on low or off and begin making the cake layers.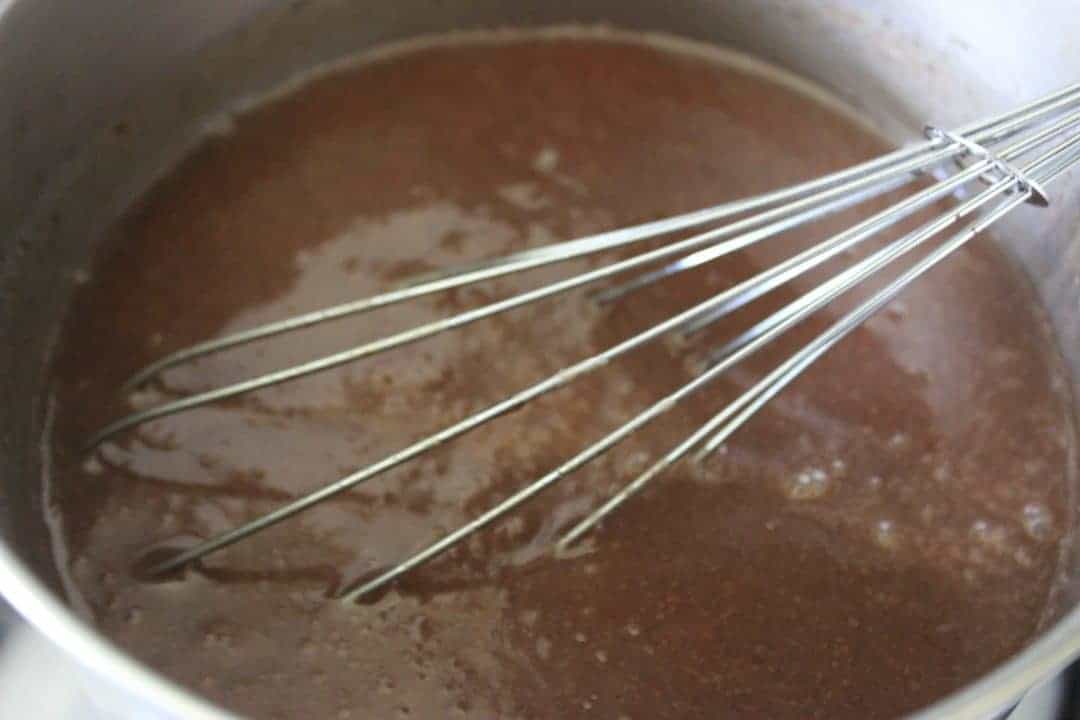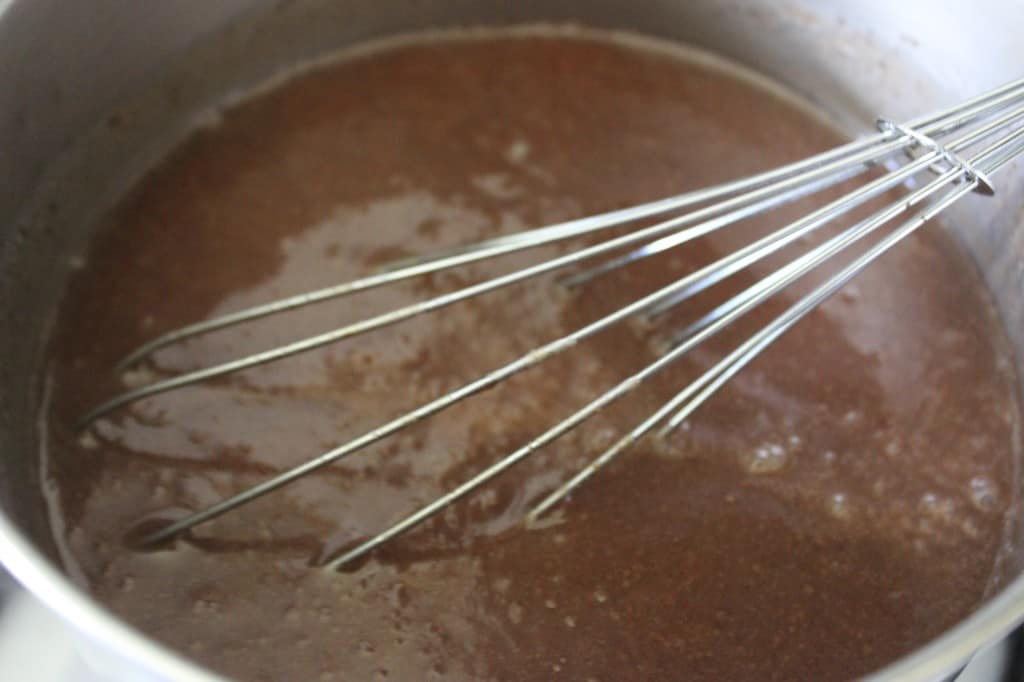 In a large mixing bowl, using an electric mixer, cream together the sugar and butter. Then add in all 6 large eggs into the mixture at once and mix well until incorporated. Add in the flour and alternate with the water, beginning and ending with flour. Mix in the vanilla extract and grab your cake pans.
Pour about ¾ cup of cake batter into each prepared pan and smooth (pat the bottom of the pans) until the batter reaches the edges. Place into the oven and bake for 7 to 10 minutes until golden brown and a cake tester comes out clean. I used 3 pans at a time and washed and re-greased with shortening for a total of three times.
Once you remove the baked cake layers from the oven turn one layer onto plate and frost with icing all the way to the edges until it covers the sides, then add another layer and frosting until you have a total of 9 layers. When all of the layers have been stacked and frosted...spread the remaining icing over the top and sides to cover the entire cake. As the icing cools it will become thick.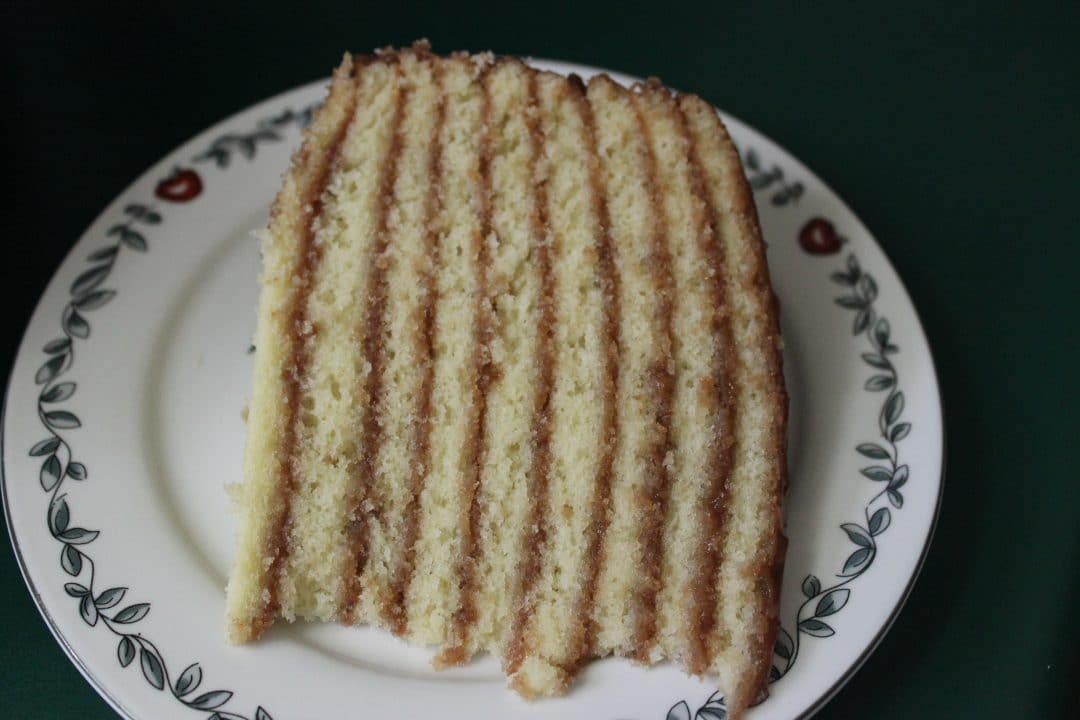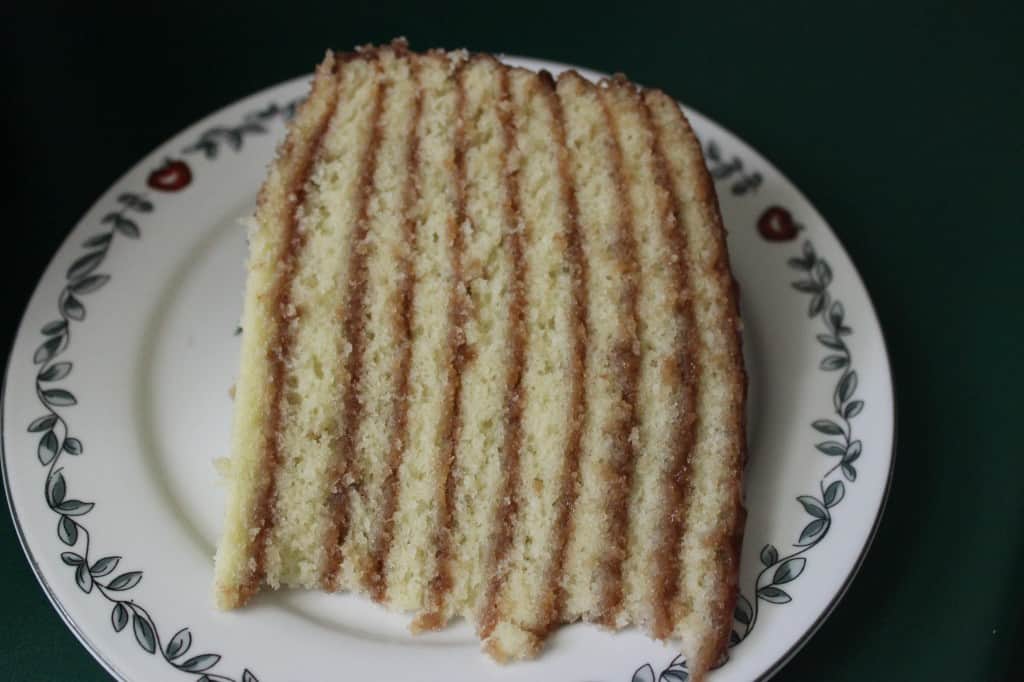 Enjoy!