This Everyday Salad is the perfect no-frills way to pack healthy vegetables into your day. It is fresh and flavorful with a delicious balsamic vinaigrette.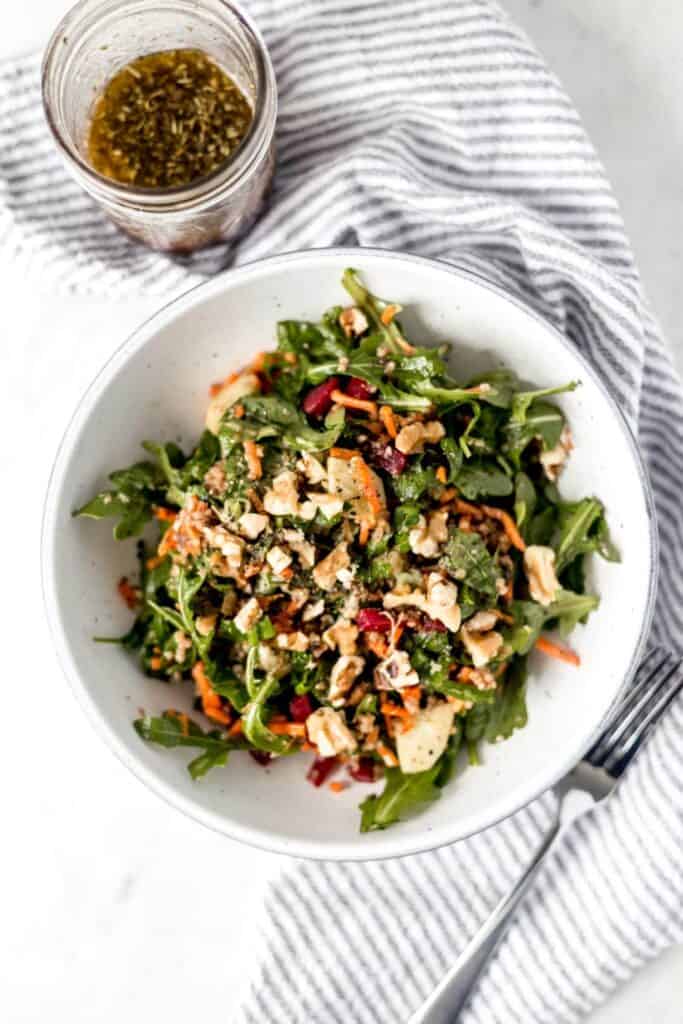 It is the beginning of a New Year and some of you may have made a resolution to eat healthier. I am here to help you with that.
One way that I try to achieve this is by eating more fruits and vegetables. The best way that I make sure this happens is by eating a salad. I am not talking about a sad little salad with iceberg lettuce and a few tomatoes, but instead a salad with plenty of filling and delicious ingredients. Clearly, I just love a salad with a bunch of stuff in it. I believe this is what sets apart a side salad from being a meal.
For this salad, I decided to use some yummy ingredients.
Arugula.
Cucumber.
Shredded carrots.
Beets.
Cooked quinoa.
Green onions.
Walnuts.
Plus an easy to make balsamic vinaigrette. This salad is simple enough to pull together in minutes to make it the perfect everyday salad. This salad can also be turned into a full meal by adding in some sliced chicken or pan-fried seasoned shrimp. Either way, it will surely satisfy your salad craving and add more vegetables to your day. Talk about a win, win!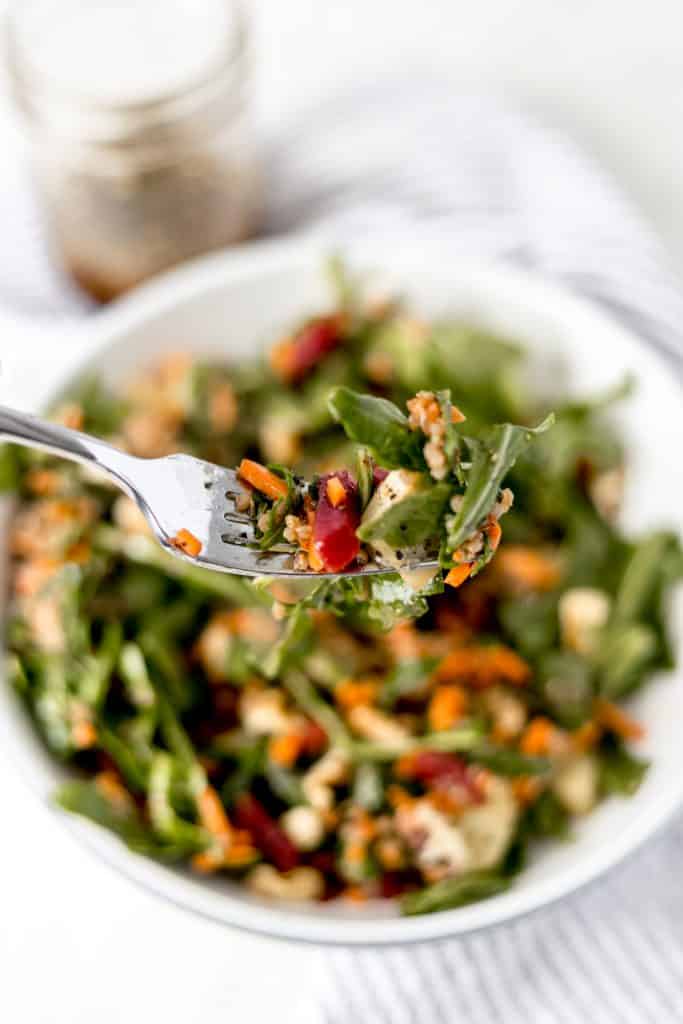 How to make the salad.
Begin making the salad by adding the arugula, cucumber, carrots, beets, and quinoa to a bowl. Toss all of these ingredients to make sure they are fully combined. Next, place the salad dressing ingredients in a small jar with a lid and shake to make sure the oil, vinegar, and seasoning mix well. Drizzle on the salad and toss to coat. Top with the green onion and walnuts before serving.
A short cut for the quinoa that I use is to purchase the quinoa that steams in the bag in 90 minutes. It can be made in minutes and take the extra work out of making this salad. Give it a try!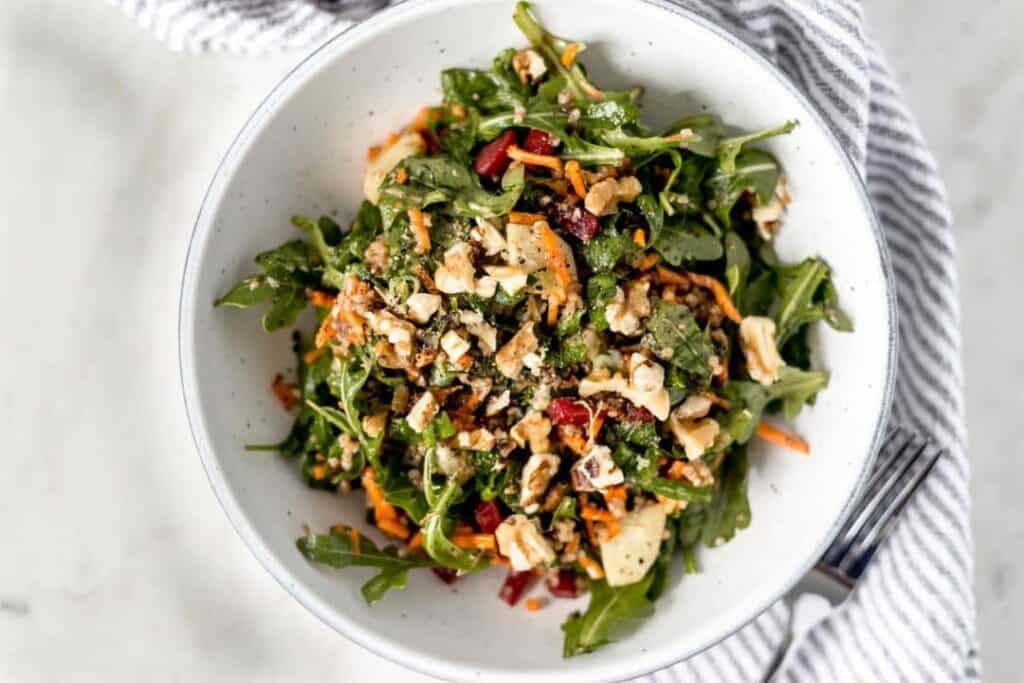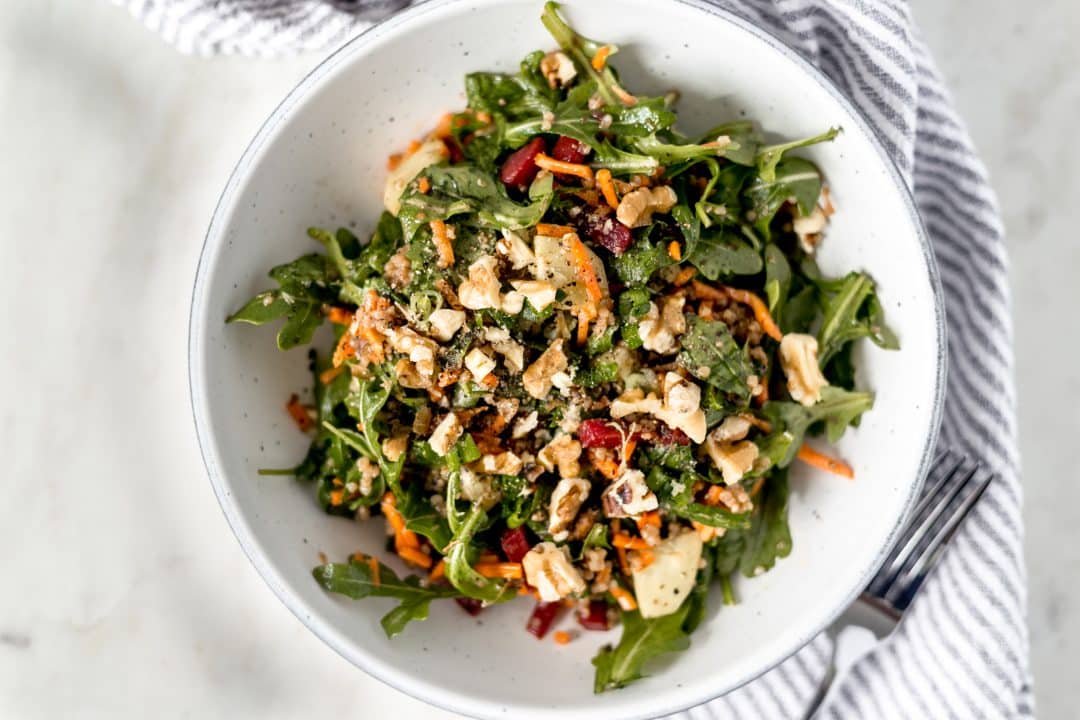 Ingredients
3 cups arugula

1/2 cucumber, chopped

1/2 cup sliced beets

1/2 cup shredded carrots

1/3 cup cooked quinoa

4 tablespoons olive oil

2 tablespoons balsamic vinegar

1/2 teaspoon Italian seasoning

salt and pepper to taste

1 green onion, thinly sliced

1/2 cup toasted walnuts, chopped
Instructions
1
In a large bowl, toss together the arugula, cucumber, beets, carrots, and quinoa together until combined.
2
In a small jar with a lid, add the olive oil, balsamic vinegar, Italian seasoning, salt, and pepper.
3
Cover with the lid and shake to combine.
4
Drizzle on the salad and toss until coated.
5
Top the salad with the sliced green onion and chopped walnuts.
6
Serve immediately and season with additional salt and pepper if you prefer.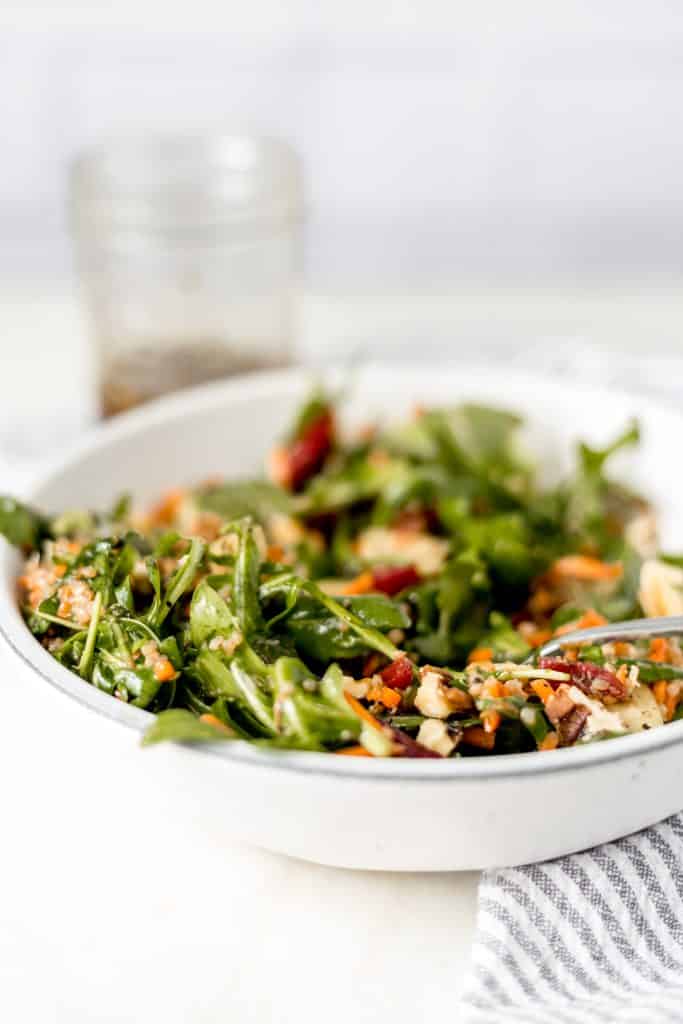 Do you have any tips, kitchen hacks, or ideas for this Everyday Salad? Please share them in the comments below!