This post may contain affiliate links. Please read my disclosure policy.
Easy Orange Olive Oil Cake Recipe that is so easy to make in one bowl and bake in the oven in one pan. Great flavor!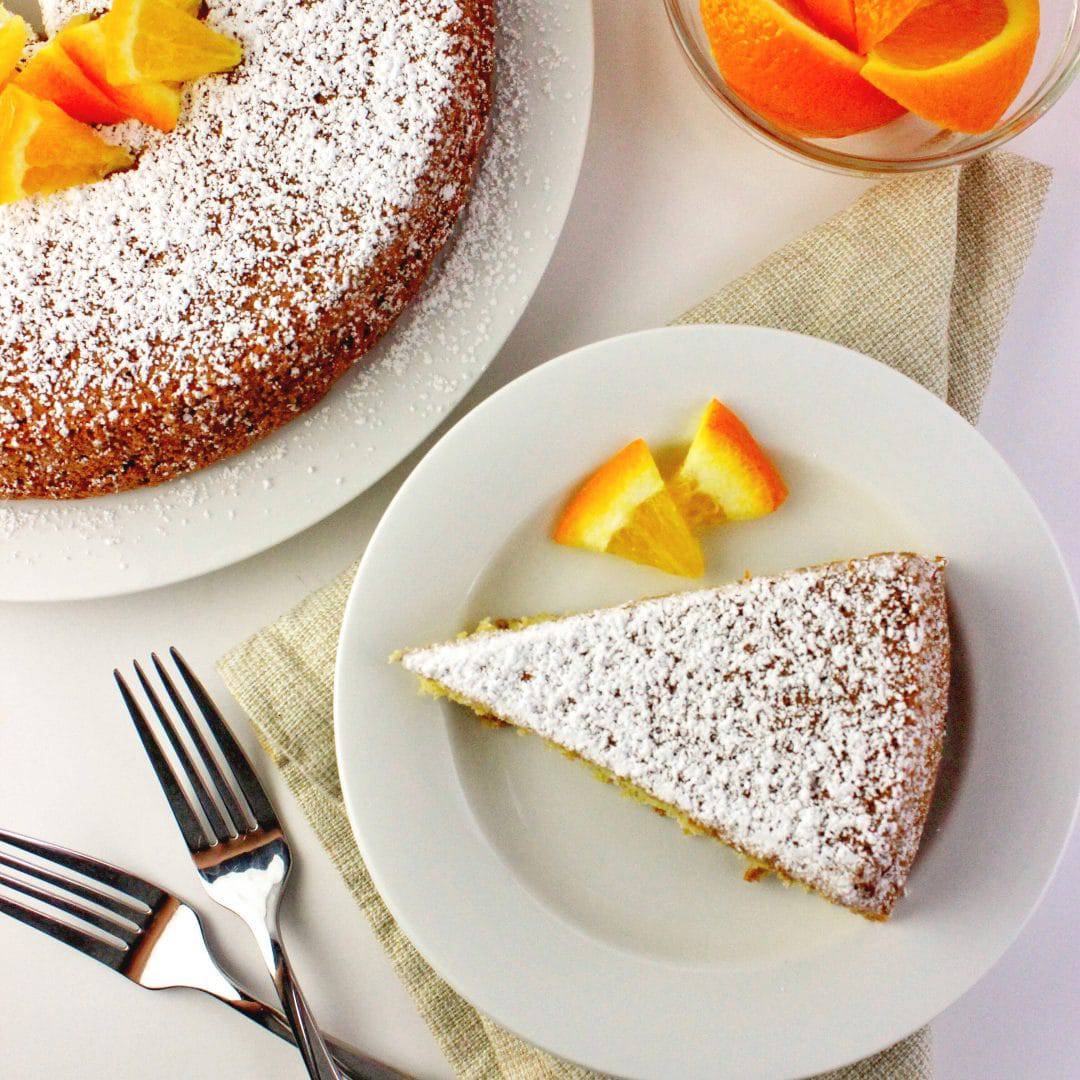 It has been a very rough week!
This week has been the longest and had so many things going and I have found myself drinking more and more cups of coffee than usual and sleeping way last hours that I probably need. The interesting thing is that I cannot even see where this week is any different than any other week with work, blog, family, dog, etc. But for some reason mentally it has been a very draining week.
The kind of week when you find yourself having to have one too many difficult adult conversations than the level of your comfort will allow. The kind of week when you have to make way more business (and life) decisions than you ever thought you would have to make. It has been a week of self-reflection on things and being in my head way too much. It has also been the kind of week that I could have probably used something to drink a bit stronger than coffee, but alas I'm merely a social drinker/total light-weight and so no that won't work either.
Perhaps the universe is just bringing all of the 'stuff' my way this week so I can have a restful week next week while on vacation, perhaps I'm just in my feelings this week too much, or perhaps its just mother nature aka that time of the month looming. This whole post is starting to feel like you should be charging me for a therapist couch session for all of this rambling nonsense. At any rate, this week just like any other will pass and all things will be just as they should once again. Life is always moving and that is certainly a good thing. And since I can't thank you in person for listening to me vent…I will share with you a new recipe for Orange Olive Oil Cake.
This cake requires one baking pan and is so easy and quick to make. It is also extremely light and refreshing that it can be enjoyed any time of day. Hello…Cake for Breakfast!! If you do use the orange extract, then the orange flavor will really come through, but if you have to use vanilla extract the cake will still be just as delicious but the orange flavor will not be as strong. I have made it with vanilla and orange and either way is fine. The layer of powdered sugar on the top gives this cake a layer of sweetness that really blends well with the citrus flavor. This cake is also just enough to be enjoyed by the family without having tons of olive oil cake leftover…perfect for when you need something sweet and in a hurry.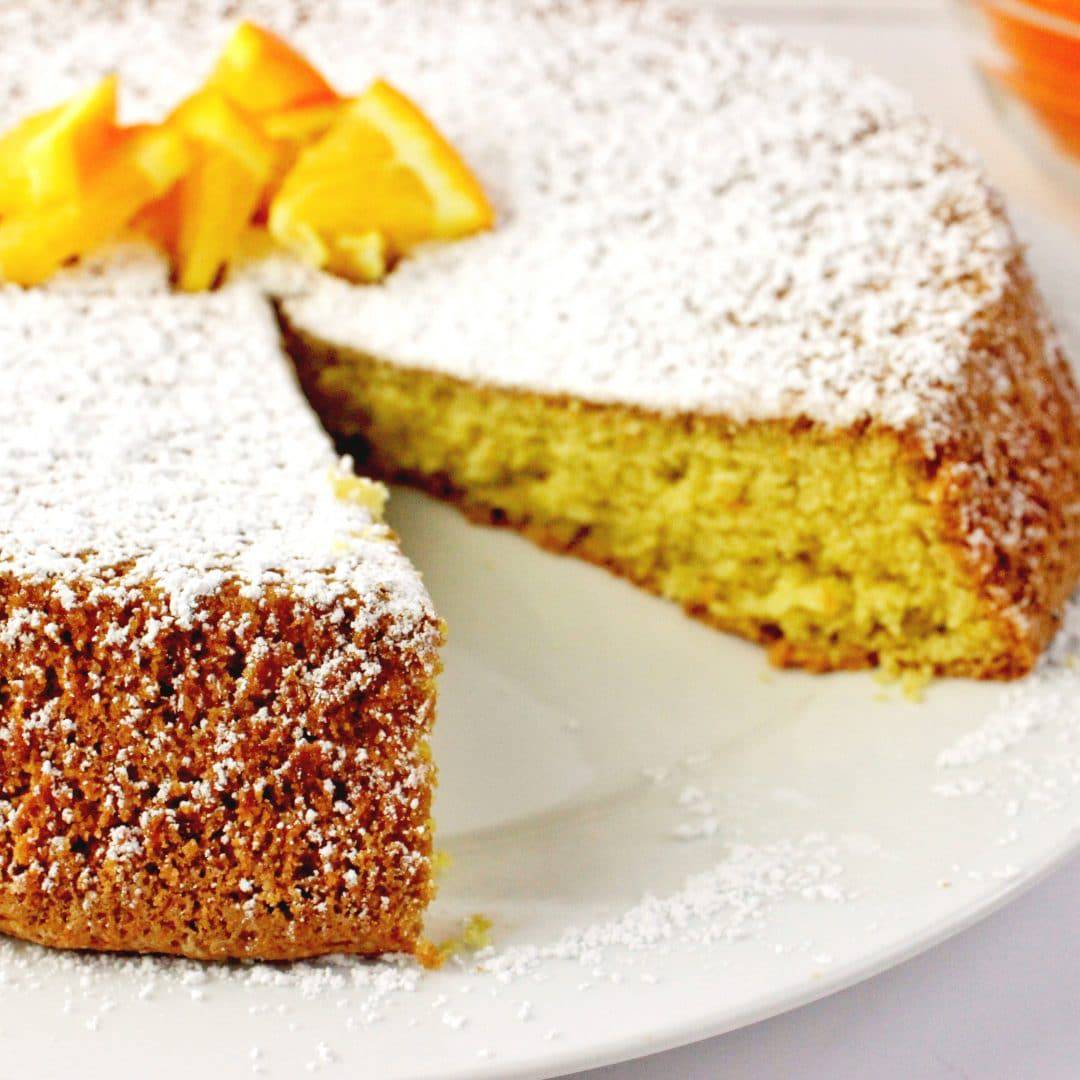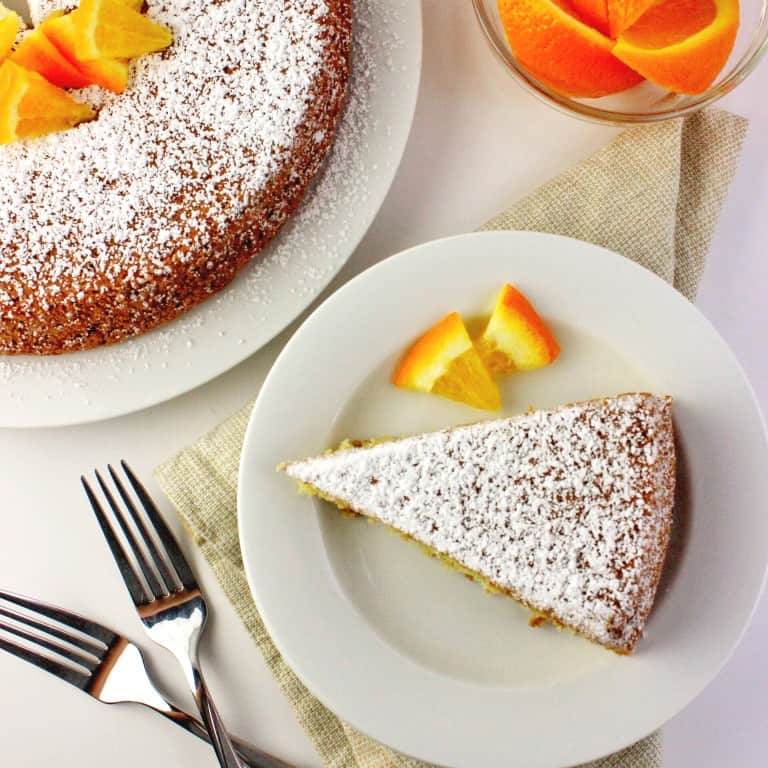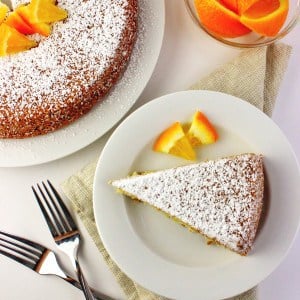 Orange Olive Oil Cake
Easy Orange Olive Oil Cake Recipe that is so easy to make in one bowl and bake in the oven in one pan. Great flavor!
Print
Rate
Ingredients
1 1/4

cups

all-purpose flour

1

teaspoon

baking powder

1/2

teaspoon

baking soda

1

teaspoon

salt

2

large

eggs

3/4

cup

sugar

1/3

cup

olive oil

1

teaspoon

orange extract (or vanilla extract)

zest and juice of 1 orange

powdered sugar, for dusting
Instructions
Preheat the oven 350 degrees F. and lightly spray an 8-inch round cake pan with non-stick cooking spray and set aside.

In a small bowl, whisk together the flour, baking powder, baking soda, salt, and set aside.

Using a stand or hand mixer in a medium bowl cream together the eggs and sugar until they are well blended and thick. Add the olive oil and vanilla and beat until the batter is smooth.

Mix in the orange juice and zest. Reduce the speed of the mixer to low and add half of the flour mixture and blend just until incorporated and then add the rest of the flour mixture.

Once fully combined, turn off the mixer and pour the cake batter into the prepared cake pan and bake 30 to 35 minutes, until a cake tester comes out clean.

When the cake is finished baking allow the cake to cool completely in the pan and when ready to serve to turn the cake onto a platter and dust the top with sifted powdered sugar.
Nutrition
Calories:
244
kcal
|
Carbohydrates:
34
g
|
Protein:
4
g
|
Fat:
11
g
|
Saturated Fat:
2
g
|
Cholesterol:
53
mg
|
Sodium:
380
mg
|
Potassium:
91
mg
|
Fiber:
1
g
|
Sugar:
19
g
|
Vitamin A:
77
IU
|
Calcium:
33
mg
|
Iron:
1
mg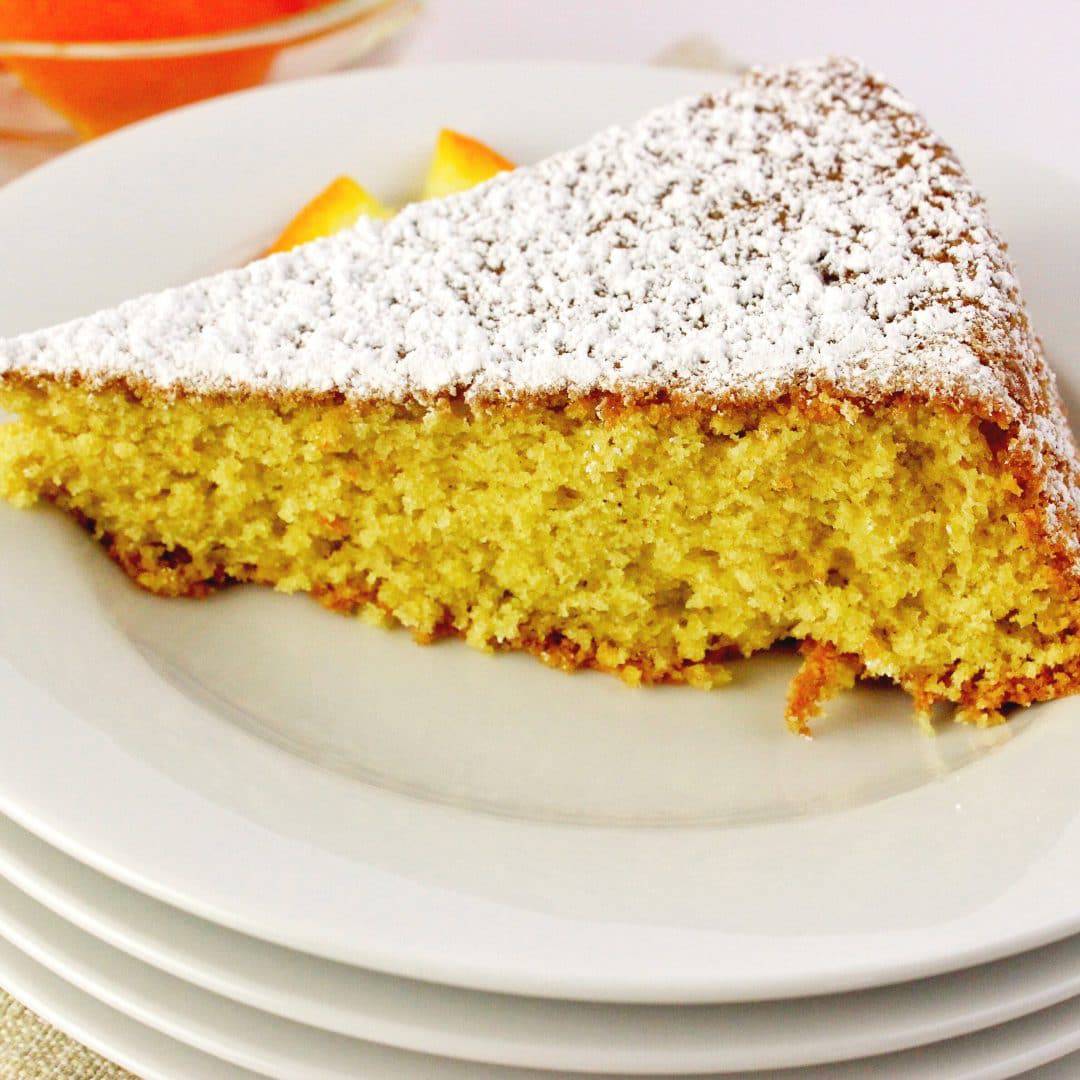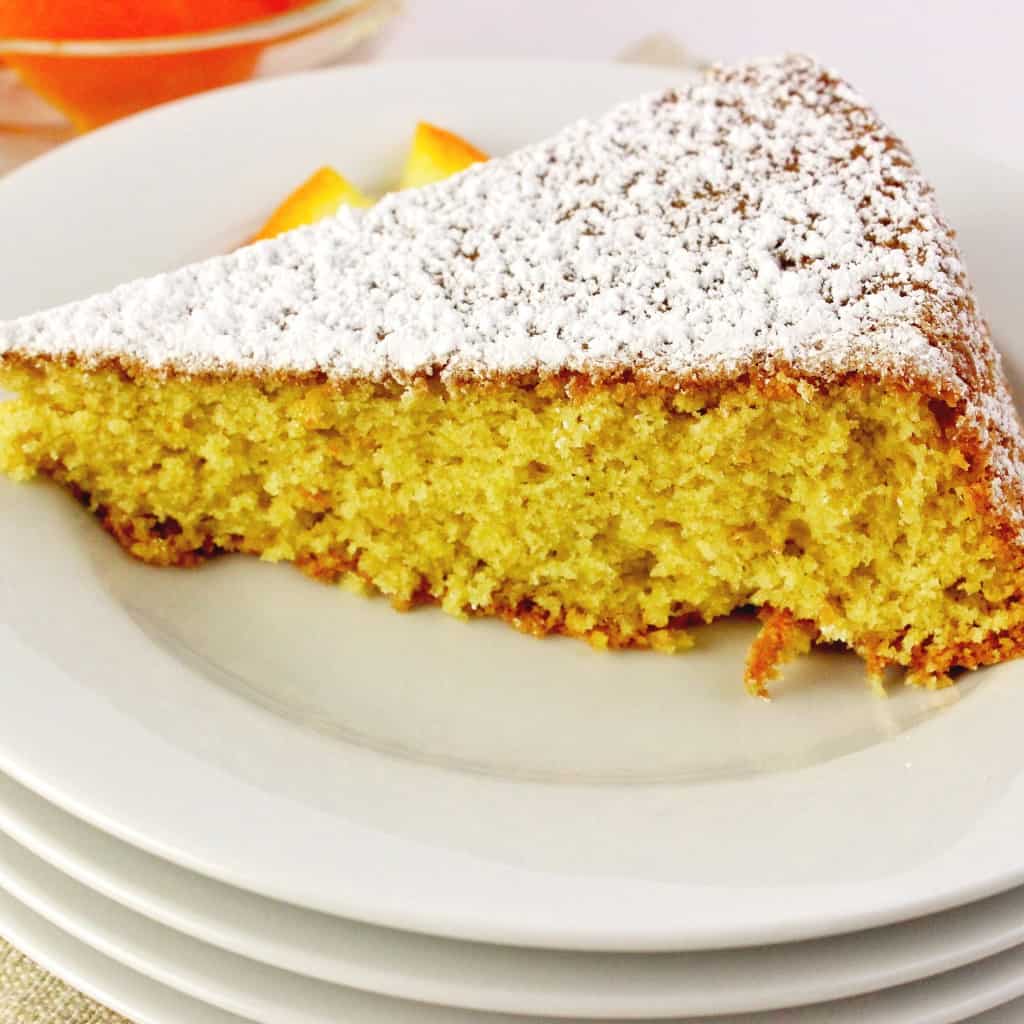 Got any comments, questions, or other ideas for this Olive Oil Cake? Share them in the comments below!
Related Recipes:
Soda Cake with Whipped Strawberry Topping – So soft, moist, and really is the BEST and perfect for the days when you want something light and sweet!
Glazed Lemon Loaf Bread – An easy little sweet loaf bread with BIG lemon flavor! Sweet, moist, and full of lemon flavor.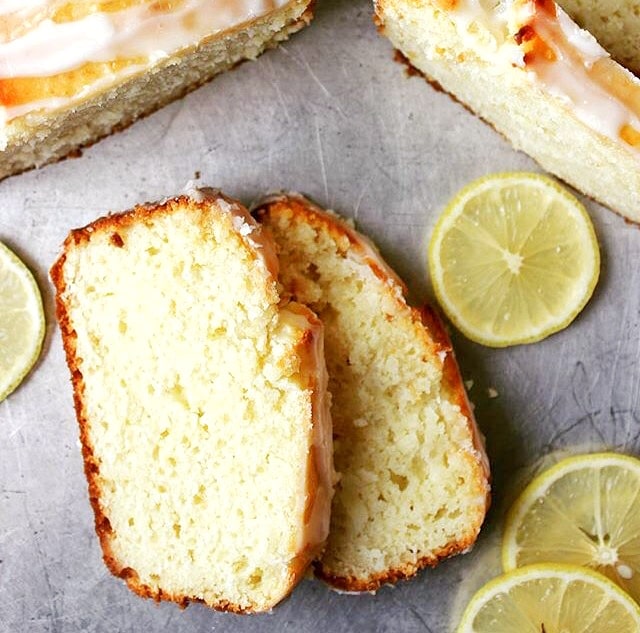 Blueberry Pecan Streusel Coffee Cake – The perfect combination of flour, butter, and sugar to form a crumbly topping for this AMAZING coffee cake!