Instant Ramen is a quick and easy recipe that amps up cup ramen with a few additions. A fried egg, sauteed mushrooms, and spinach make this recipe so delicious!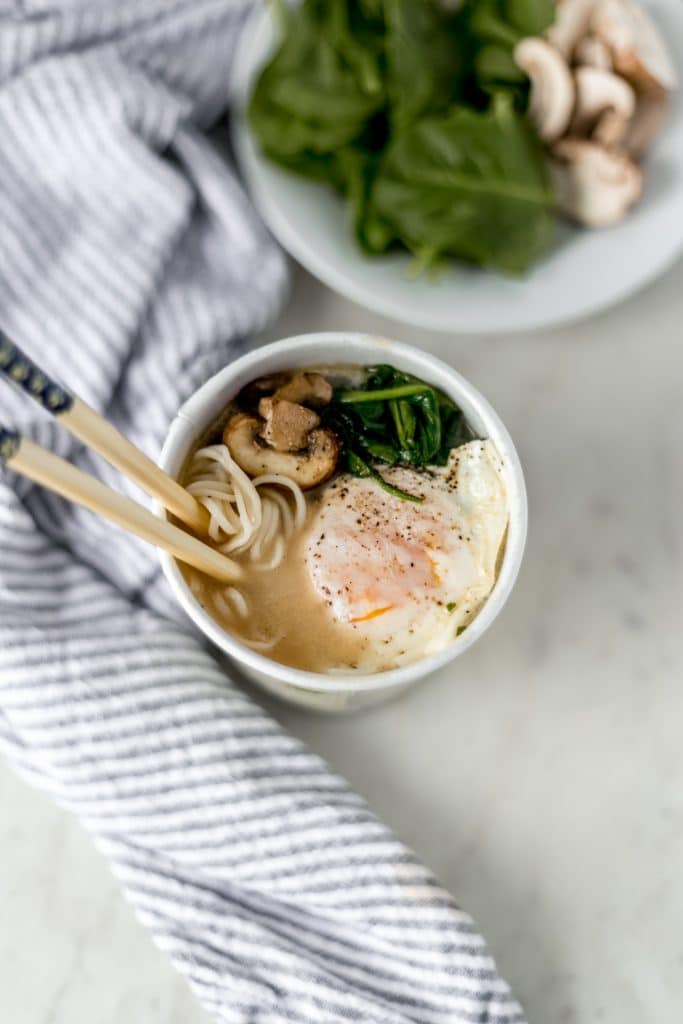 When I was in college, I had my share of instant Ramen.
It was cheap, quick, and easy to make. It was also warm, comforting, and filling. I actually ate so much of it that I decided to give it a rest and I really didn't eat much of it again after college. Not having this in my diet, did not really bother me much because there are so many other things that I could be enjoying…minus all of the MSG that is loaded in the seasoning packet.
It is not a secret that the instant ramen you find in the stores is not the healthiest thing that you could eat. However recently ramen has become trendy in mainstream culture and now you can find so many delicious versions in restaurants all over the country. This new resurgence of ramen has definitely made me open to giving it a try again and I do love making it at home.
But you already know that my goal in the kitchen is to make things simple and delicious, so I decided to incorporate the cup of ramen version on my table with a few extra additions. I also prefer to opt for healthier versions, such as Mike's Mightly Good Craft Ramen or Dr McDougall's Right Foods Ramen. However, if you still prefer to use the cheap cup of ramen, feel free to do so as you will receive no judgement from me. The recipe will still work the same for any option that you choose.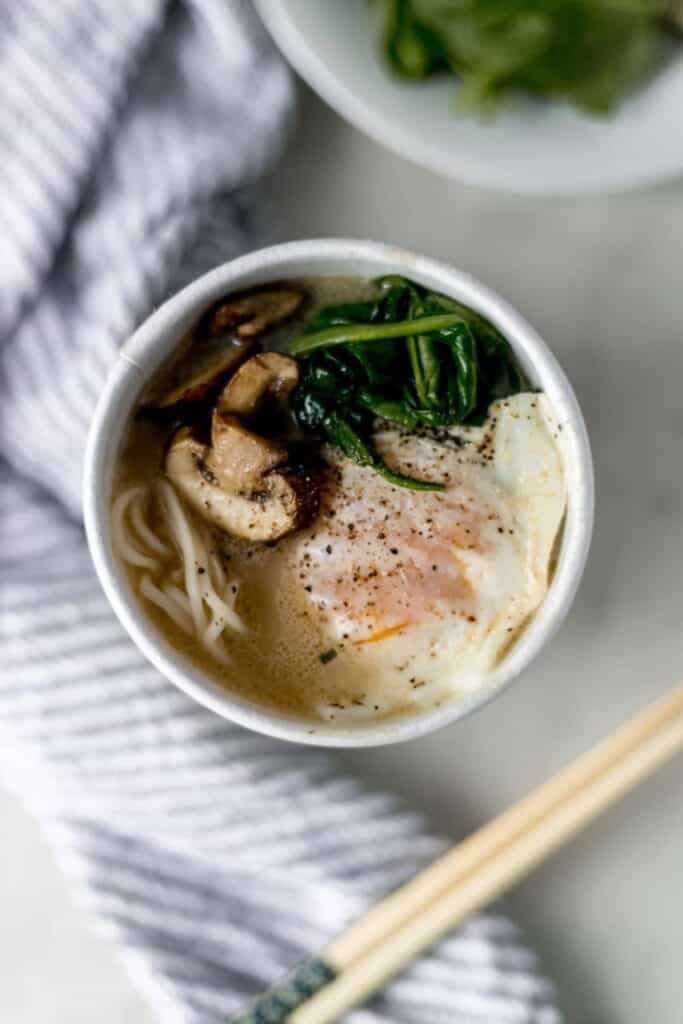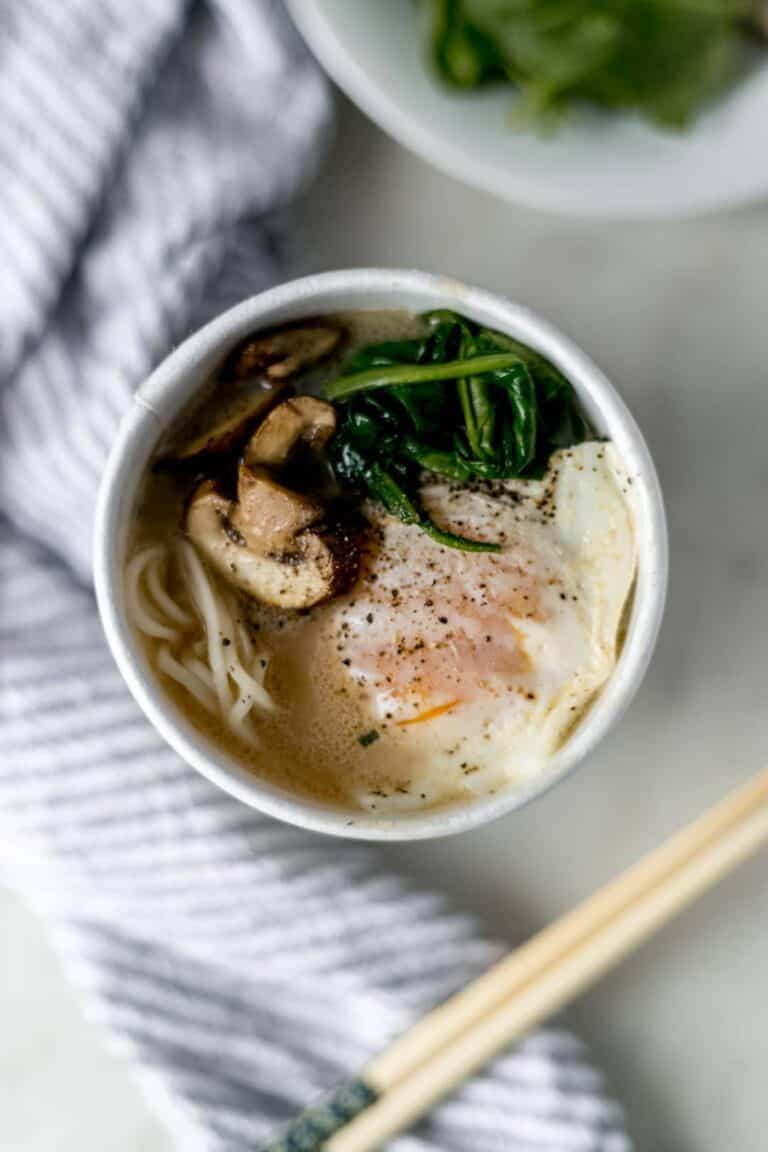 Ingredients
1 cup Ramen

hot water

1 tablespoon olive oil, divided

1/2 cup spinach

1/4 cup mushrooms

1 egg

salt and pepper to taste
Instructions
1
Begin the recipe by preparing the cup Ramen with hot water, cover and set aside to allow it to finish steaming.
2
To a small skillet, on medium-high heat, add the half of the olive oil and allow it to become hot and swirl in the pan.
3
Toss in the mushrooms and allow them to cook until tender. Move to the side of the skillet.
4
Add the spinach to the skillet and toss until it begins to wilt.
5
Uncover the cup Ramen and top with the cooked mushrooms and spinach.
6
To the same skillet, add in the other half of the olive oil and fry the egg to your desired doneness.
7
Add the egg to the cup Ramen and serve immediately.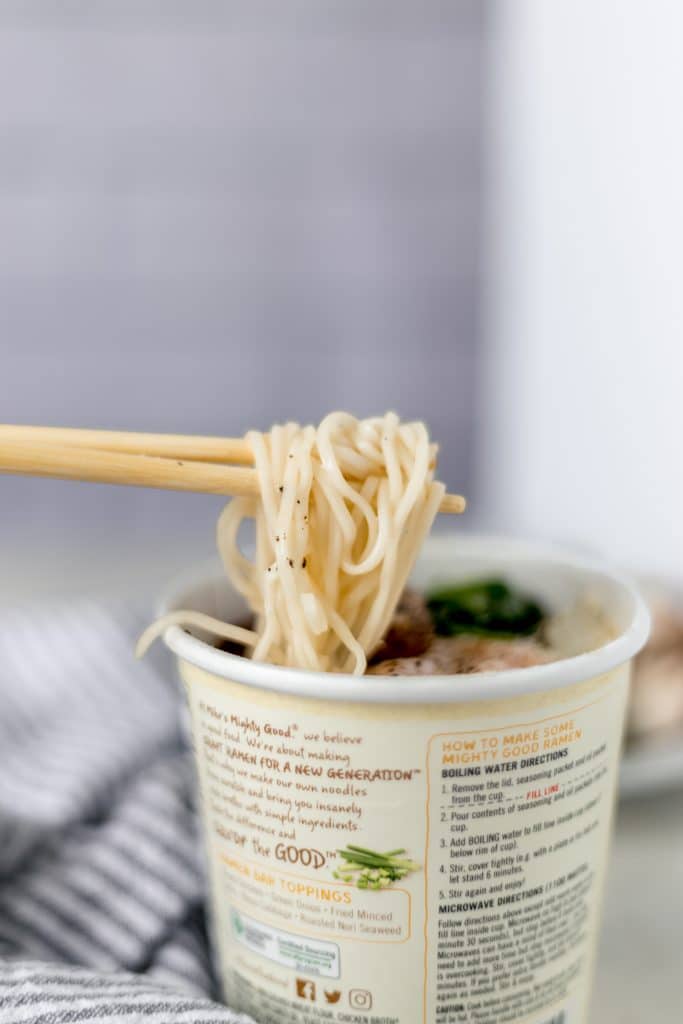 Do you have any tips, kitchen hacks, or ideas for this Instant Ramen? Please share them in the comments below!