This post may contain affiliate links. Please read my disclosure policy.
Chocolate Angel Food Cake with Strawberries is a healthier option that is light, fluffy, and loaded with the chocolate flavor. Pair with a side of strawberries for an extra layer of flavor.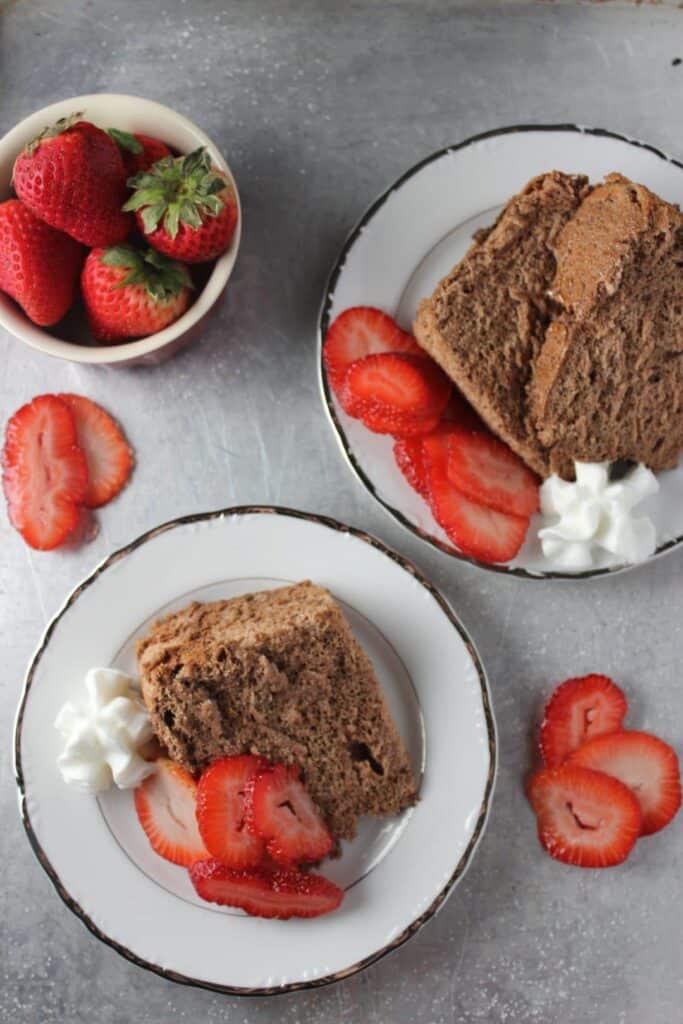 Sunday is the day that I love to just sit around, relax, and enjoy the day.
It is also the day in which I love to watch cooking shows on television with absolutely no motive other than to enjoy watching people cook some amazing dishes.
And of course, Food Network is so helpful in providing me with an endless amount of hours of cooking shows to watch. It is probably a good thing that I do not watch much television during the week or else I would get very little accomplished.
Anyway…Today I was watching Trisha Yearwood, on the show Trisha's Southern Dish, make some healthier options with her niece in an effort to find balance and develop better eating habits. On the show she made some tasty looking raspberry chicken, a salad packed full of items with a homemade dressing (seriously I cannot do salads with only lettuce and tomatoes), some Parmesan edamame to snack on, and for dessert a chocolate angel food cake topped with strawberries.
All of the dishes looked so delicious, but I had to give the angel food cake a try in my kitchen simply because I have had angel food cake with strawberries and whipped cream before…but never a chocolate angel food cake.
Chocolate Angel Food Cake with Strawberries Ingredients:
¾ cup sifted cake flour
¼ cup unsweetened cocoa powder
1½ cups sugar
12 large egg whites
pinch of salt
1½ teaspoons cream of tartar
¾ teaspoon vanilla extract
3 cups fresh sliced strawberries
2 tablespoons sugar
Instructions:
Preheat oven to 375°F.
In a large bowl, sift together the cake flour, cocoa powder, and ¾ cup of the sugar.
Using an electric mixer fitted with the whisk attachment or a hand mixer, beat the egg whites with a pinch of salt until foamy.
Sprinkle the cream of tartar over the egg whites and continue to beat until they hold a soft peak and then add the vanilla extract and gradually blend in the remaining ¾ cup of sugar about 2 tablespoons at a time.
Remove the bowl from the mixer and using a spatula gradually fold in the flour mixture sprinkling in about ¼ cup at a time.
Pour the batter into an ungreased 9-inch tube pan and bake until the cake springs back when pressed with your finger; about 30 minutes.
Let cool in the pan for 1 hour, then loosen the cake from the sides and center of the pan with a knife before unmolding.
Combine the strawberries with 2 tablespoons of sugar in a medium bowl and toss gently to coat each slice. Let the strawberries stand for about 30 minutes to sweeten and serve over the chocolate angel food cake.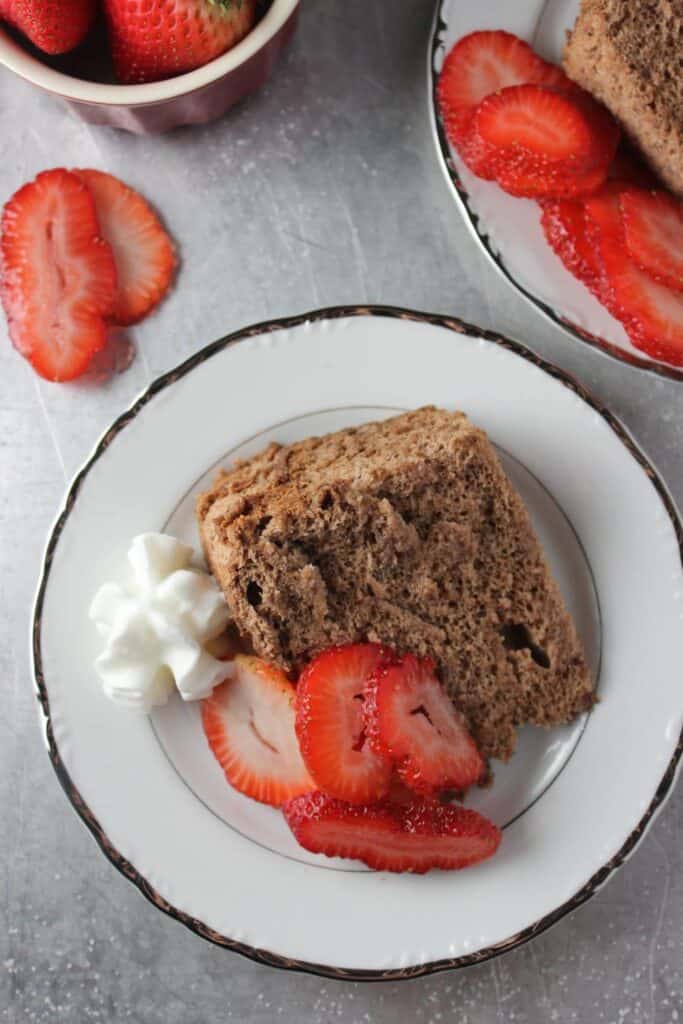 *Original recipe from Trisha's Southern Kitchen
This cake smelled so delicious while I was mixing it up and the chocolate flavor is certainly the star of this lite dessert. If you are a fan of chocolate and angel food cake, then you will certainly want to give this recipe a try.
Got any comments, questions, or other ideas about Chocolate Angel Food Cake? Share them in the comments below!