This post may contain affiliate links. Please read my disclosure policy.
Steamed Tilapia with Pineapple Salsa is a simple dinner solution for those times when you are short on time and need a meal in a hurry. Spicy, sweet, tangy, and full of flavor.
I absolutely love a meal that takes me minutes to make and one that I do not have to put in much work. I mean do not get me wrong spending hours in the kitchen cooking is cool for special occasions such as Thanksgiving, but I do not have that kind of time or patience to do that during the week. So I have to find or create meals that take minutes to prepare during the week such as this one which is a family favorite.
I do not even have to really give you any instruction or ingredients for this...but here goes 🙂
Steamed Tilapia with Pineapple Salsa Ingredients:
Your favorite fish...I chose Tilapia
Your favorite produce...I used red onion, red bell pepper, a little parsley, and pineapple. I have used mango and oranges before as well and you really cannot mess this up, so be creative or simply use what you have on hand. I also add a sprinkle of sea salt and pepper.
Season fish with your favorite seasoning...I used salt, pepper, old bay seasoning
Aluminum Foil
Directions:
Preheat oven 350 degrees F.
Chop produce and mix together with a sprinkle of sea salt and pepper.
Season Fish and place on aluminum foil. You can make one large foil packet or individual foil packets, either way, is fine but you want to be sure that you use enough foil to loosely wrap the fish so it will steam.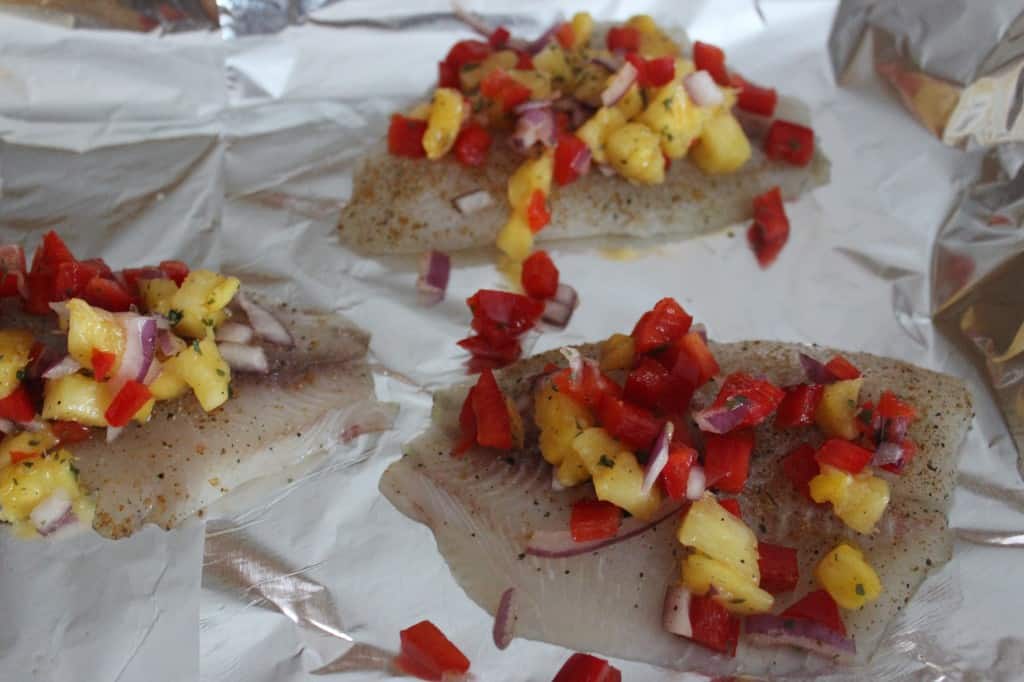 Loosely wrap in foil and cook in the oven 350 degrees F. for 20 to 30 minutes.
Once finished please be careful opening the foil packet because it will be full of steam, but the fish will be so moist and flavorful. I usually serve with rice pilaf and broccoli...which I cook while the fish is in the oven...a quick meal in minutes.
Enjoy!
Got any comments, questions, or other ideas for Steamed Tilapia with Pineapple Salsa? Share them in the comments below!