This post may contain affiliate links. Please read my disclosure policy.
Skillet Hot Gingerbread Cookies-The best thing about making cookies in a skillet is that it is so easy. These gingerbread cookies are topped with pineapple.
The best thing about making skillet cookies is that it is so easy! You don't have to worry about dropping individual balls of cookie dough onto a cookie sheet and hanging around the kitchen waiting to bake one sheet after the other.
Nope…none of that…you just grab your skillet and place all of the cookie dough into it and put it in the oven to bake and then you have one large delicious cookie to share.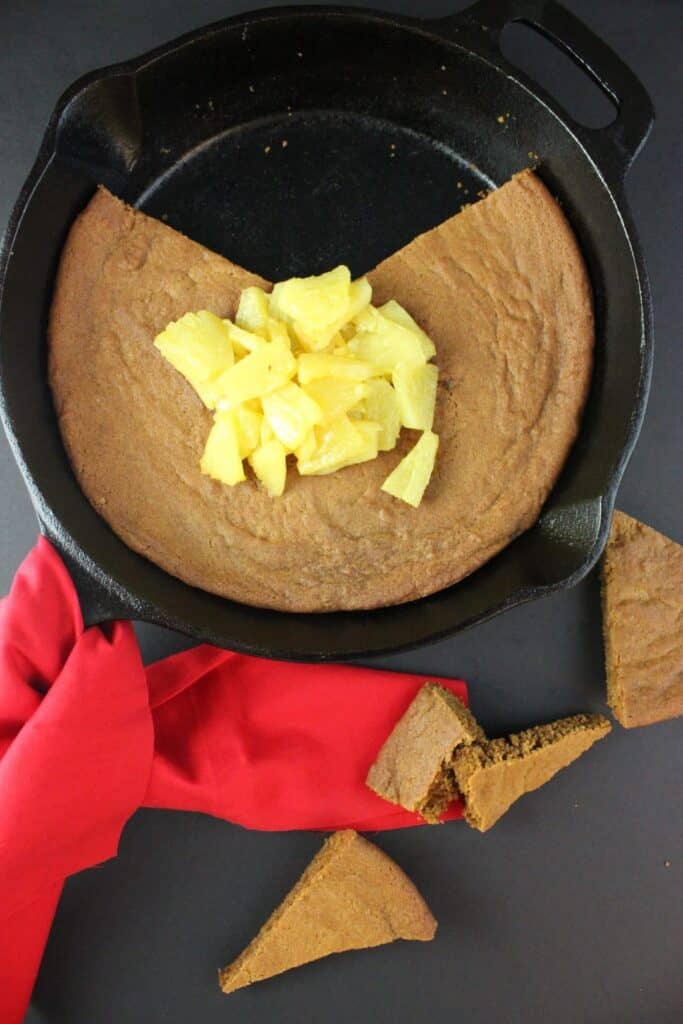 This recipe is so easy and it will have your house smelling wonderful and with the holiday season coming up very quickly then it is the perfect time for some gingerbread cookies.
Skillet Hot Gingerbread Cookies Ingredients: 
1 Tablespoon unsalted butter, softened
1 cup all-purpose flour
1 teaspoon ground ginger
1/2 teaspoon baking soda
1/4 teaspoon ground cinnamon
1/4 teaspoon ground cloves
dash of salt
1/3 cup shortening
1/2 cup sugar
1 large egg
2 Tablespoons molasses
4 slices fresh pineapple, chopped
1 Tablespoon butter
Instructions: 
Preheat oven to 350 degrees F. and using the softened butter, generously butter a 8-inch cast iron skillet.
Using a small bowl, whisk together flour, ginger, baking soda, cinnamon, cloves, salt, and set aside.
In medium bowl with an electric mixer blend shortening and sugar until combined and scraping the sides of the bowl as needed. Add in the egg and molasses until combined. Mix in the flour little by little until completely combined.
Spread the batter evenly into the prepared skillet and bake until the edges are set about 15 minutes.
With a small skillet on medium-high allow the butter to melt and add in the chopped pineapple and cook 5 minutes until it is golden brown. Remove your skillet cookie from the oven and top with the buttery pineapple and serve while still warm.
Another good thing about a skillet cookie is that you can serve it a la mode with your favorite ice cream and it is sure to be enjoyed by all.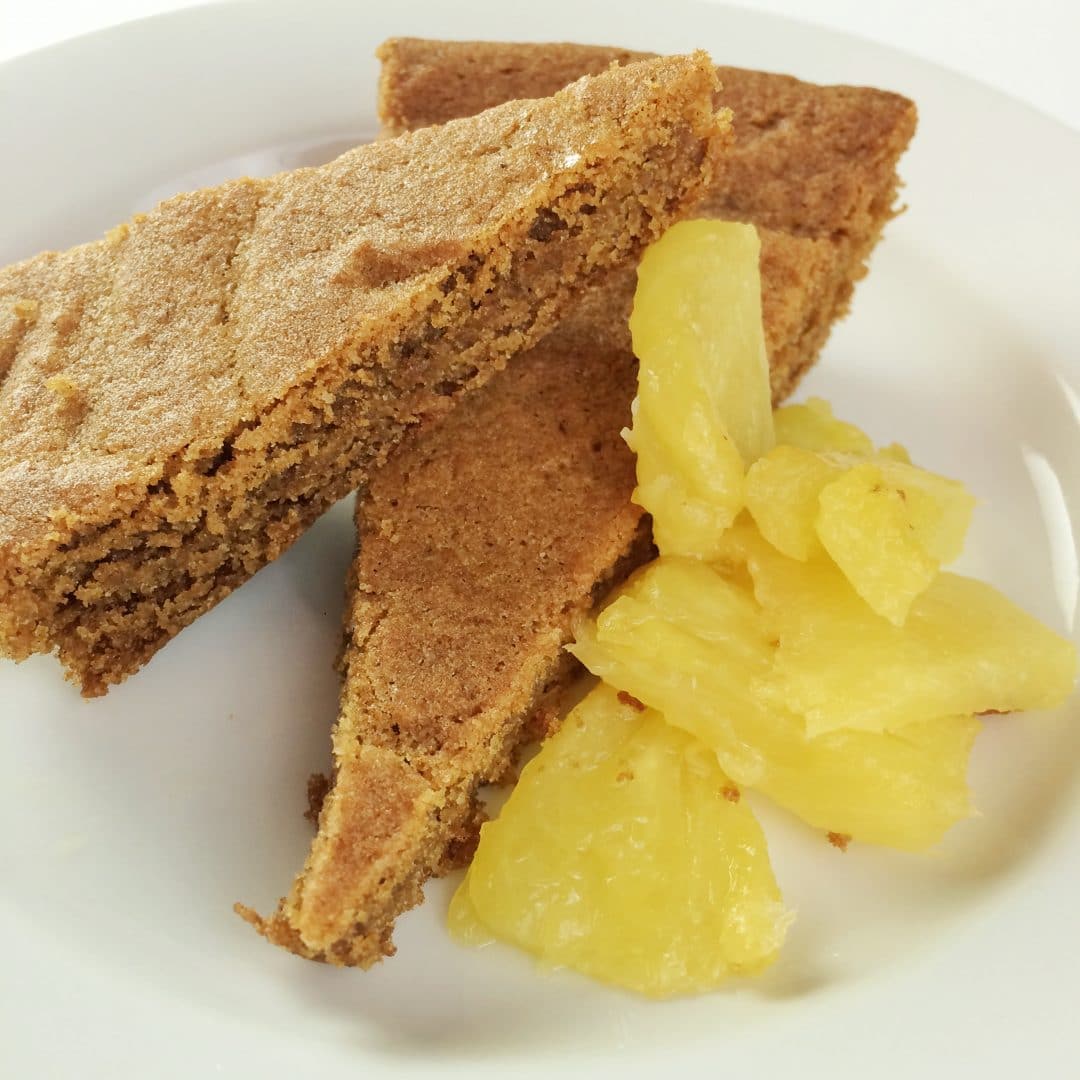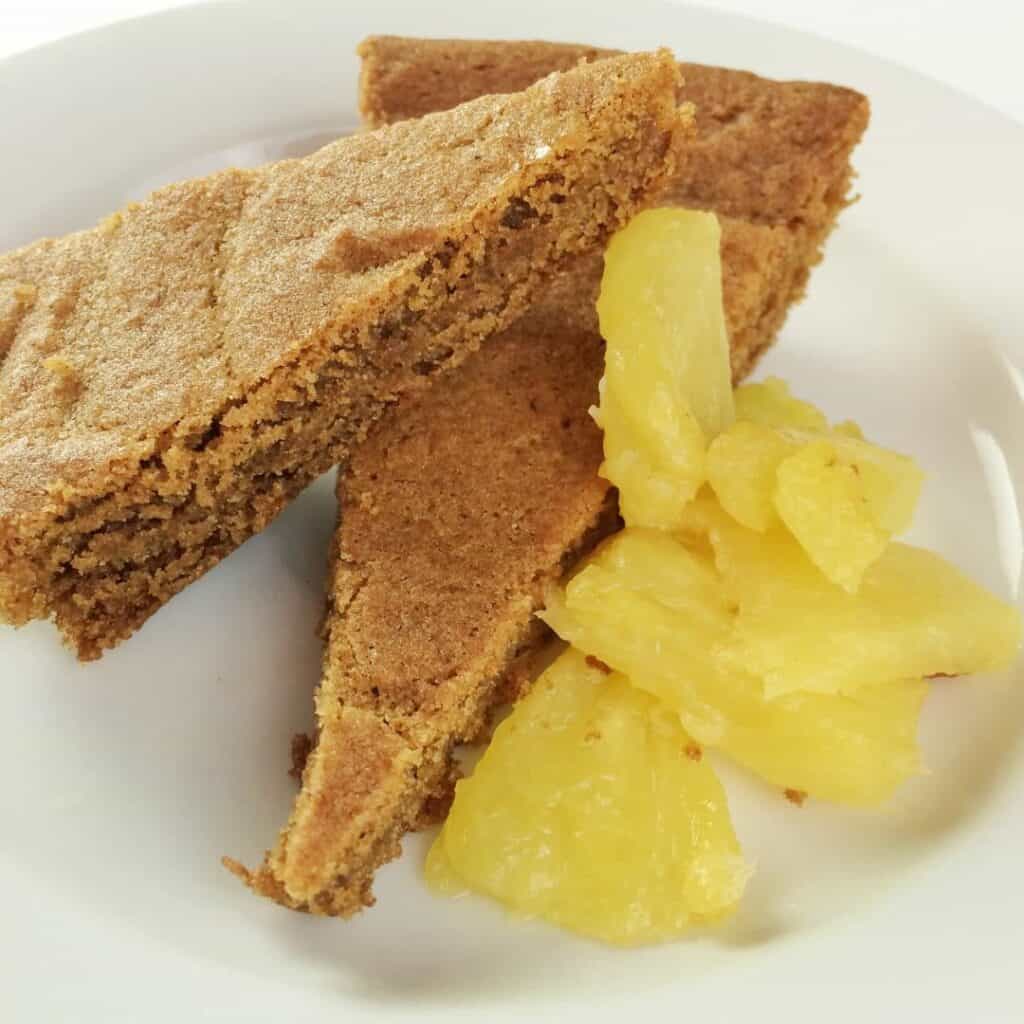 Enjoy!