This post may contain affiliate links. Please read my disclosure policy.
Skillet Chocolate Chip Cookie is a chewy, sweet, and chocolate recipe that is perfect for those times when you need a lot of cookies in a short amount of time. Perfect for the whole family.
I love homemade chocolate chip cookies, but I do not like having to pull out cookie sheets and drop each individual cookie dough onto the sheet, and wait for them to bake...so this time I simply made one large cookie by spreading the dough into a skillet.
And let me tell you...The skillet made the bottom of the cookies crispy, but the inside was gooey and super moist. If you decide to give this recipe a try, then keep in mind the larger the skillet you use, the thinner your cookie will be. I chose to use my 9-inch cast iron skillet, so my cookie was pretty thick and I was okay with that because it reminded me of a pie instead of a cookie and I only needed a little square to satisfy the sweet craving.
Skillet Chocolate Chip Cookie Ingredients:
1 and ½ sticks of melted and cooled butter
¾ cup of firmly packed dark brown sugar
½ cup of granulated sugar
2 teaspoons of vanilla extract
1 ¼ teaspoons of kosher salt
1 large egg plus one egg yolk
1 ¾ cups of all-purpose flour
½ teaspoon of baking soda
12 oz. bag of semi-sweet chocolate chips
Directions:
Heat oven to 350°
Whisk melted butter, dark brown sugar, granulated white sugar, salt, and vanilla extract in the bowl until combined.
Then add one whole egg, plus one egg yolk, and mix again until smooth.
In a separate bowl, whisk together baking soda and flour, then add to cookie dough mixture. Let mixer mix on low speed, or hand mix with wooden spoon, just until flour is combined. (Careful not to over-mix)
Carefully fold in two cups of semi-sweet chocolate chips.
Spread cookie dough in an oven-safe skillet and bake for 18-20 minutes.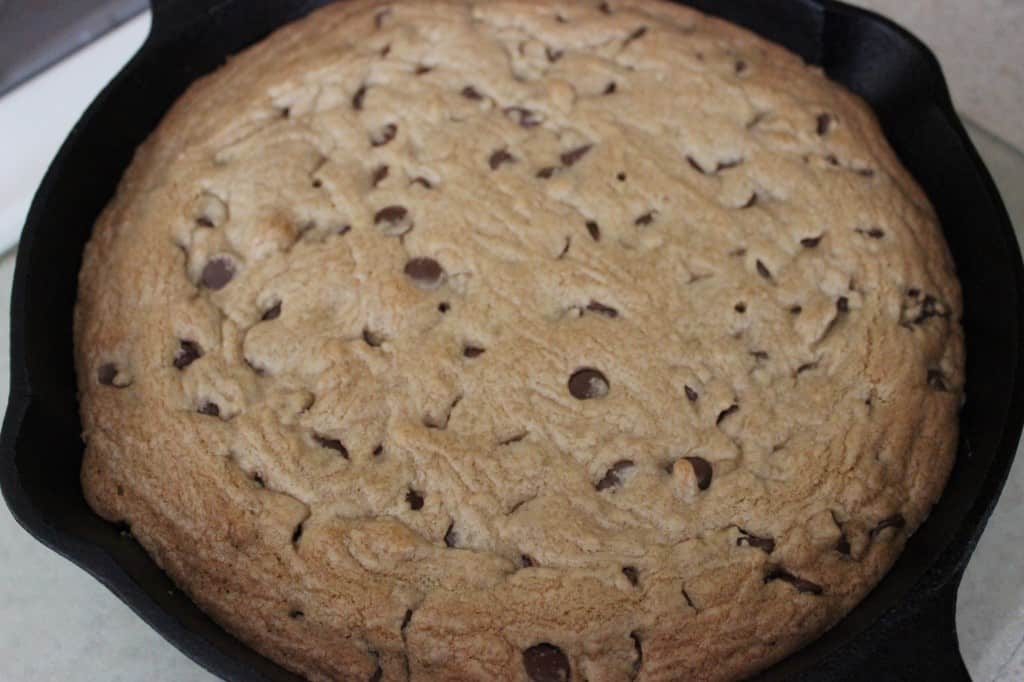 It was so easy and delicious.
Enjoy!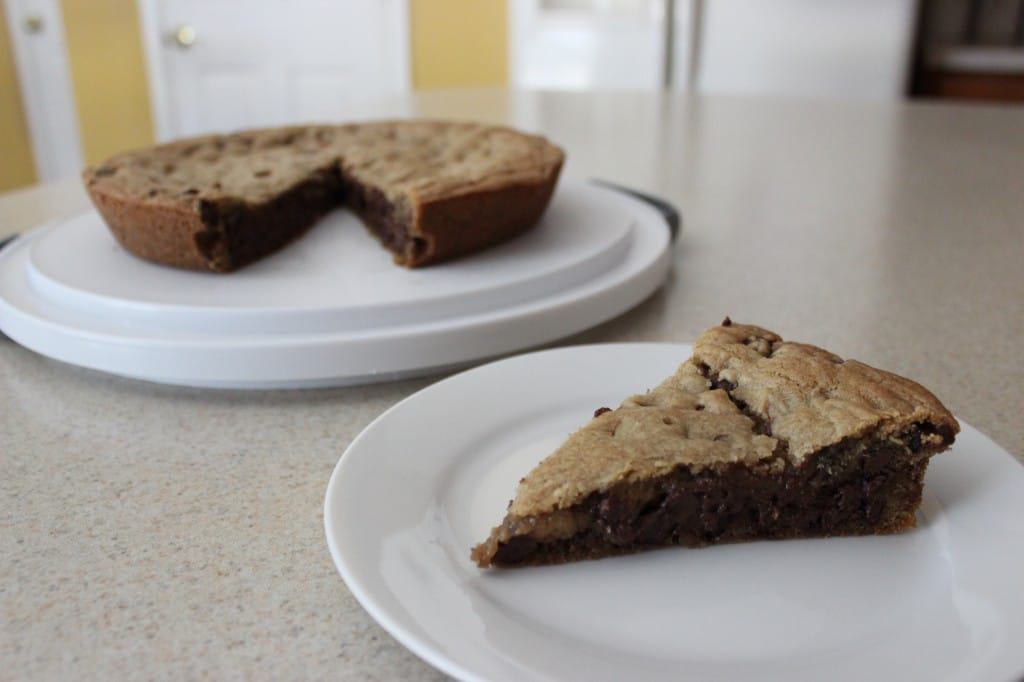 Got any comments, questions, or other ideas about Skillet Chocolate Chip Cookie? Share them in the comments below!