This post may contain affiliate links. Please read my disclosure policy.
Make any one for these 20 Peach Recipes to enjoy this summer and beyond. Find something on this delicious list of recipes to make for breakfast, lunch, dinner, and of course dessert!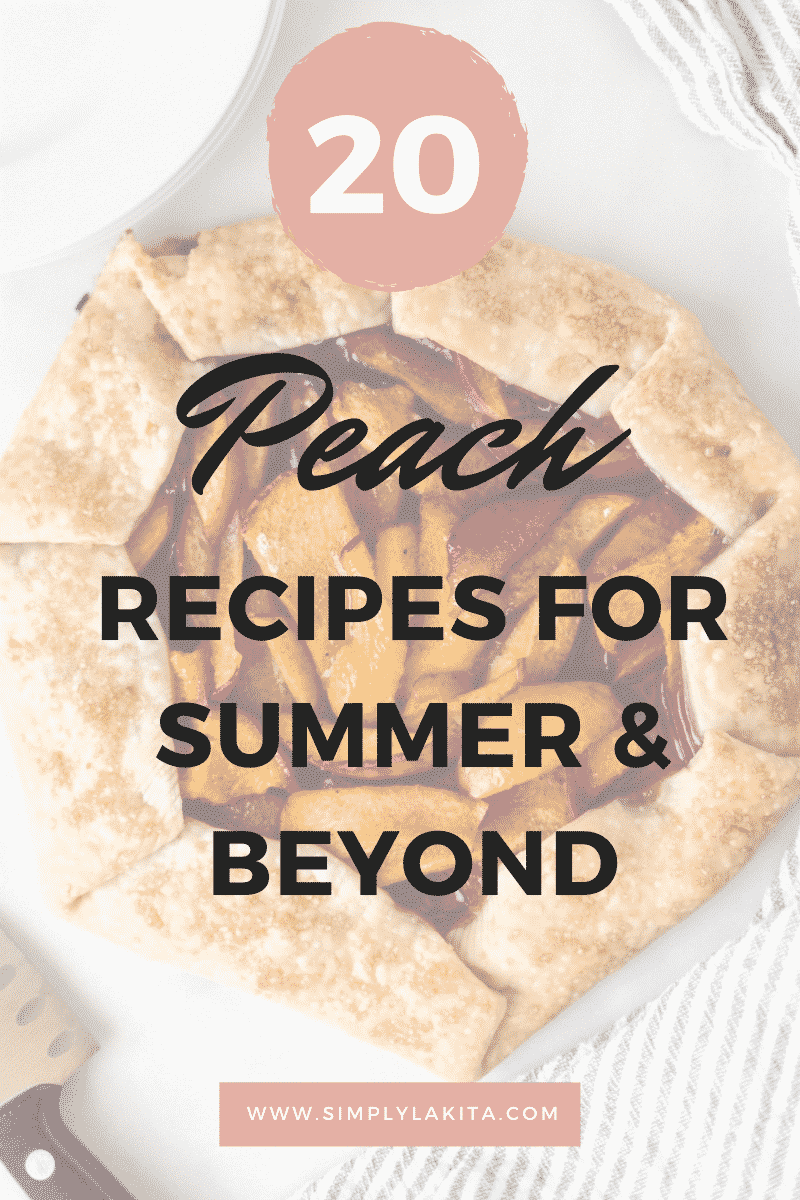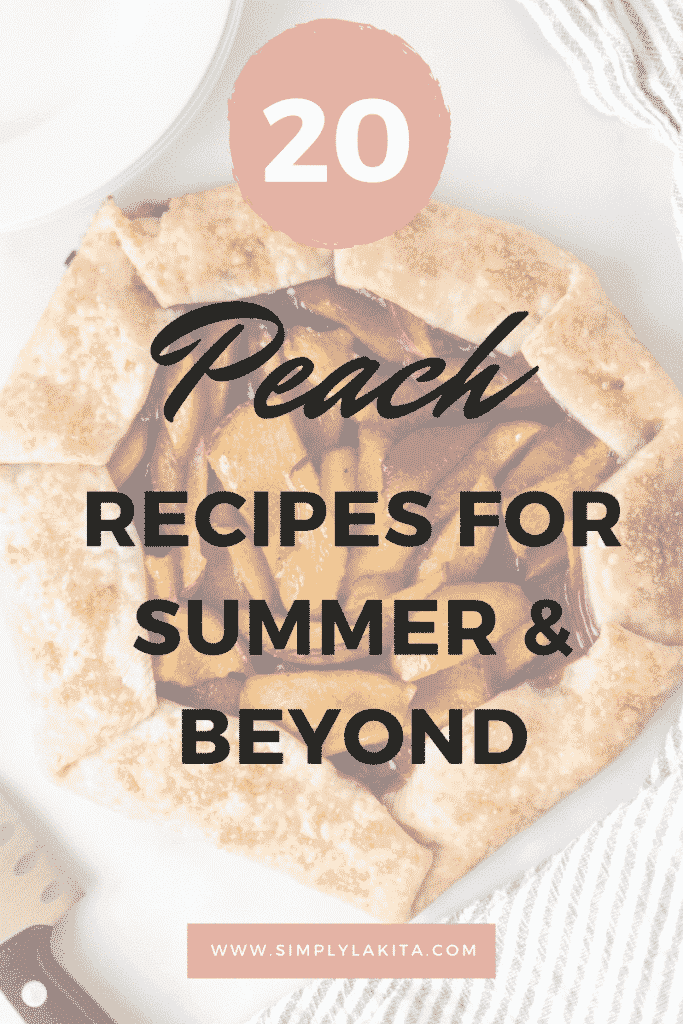 Peaches are a seasonal fruit in the United States, and millions of households anticipate their harvest each and every year. While they're delicious on their own, they also work wonderfully in fruit cobblers, salads, and sweet baked goods. If you have not made peaches a staple in your summer recipes yet, now is the time to do so!
These peachy meals, snacks, and desserts are perfect for any occasion. No matter how many people you're serving, your dish is sure to be a hit if it uses a peach or two!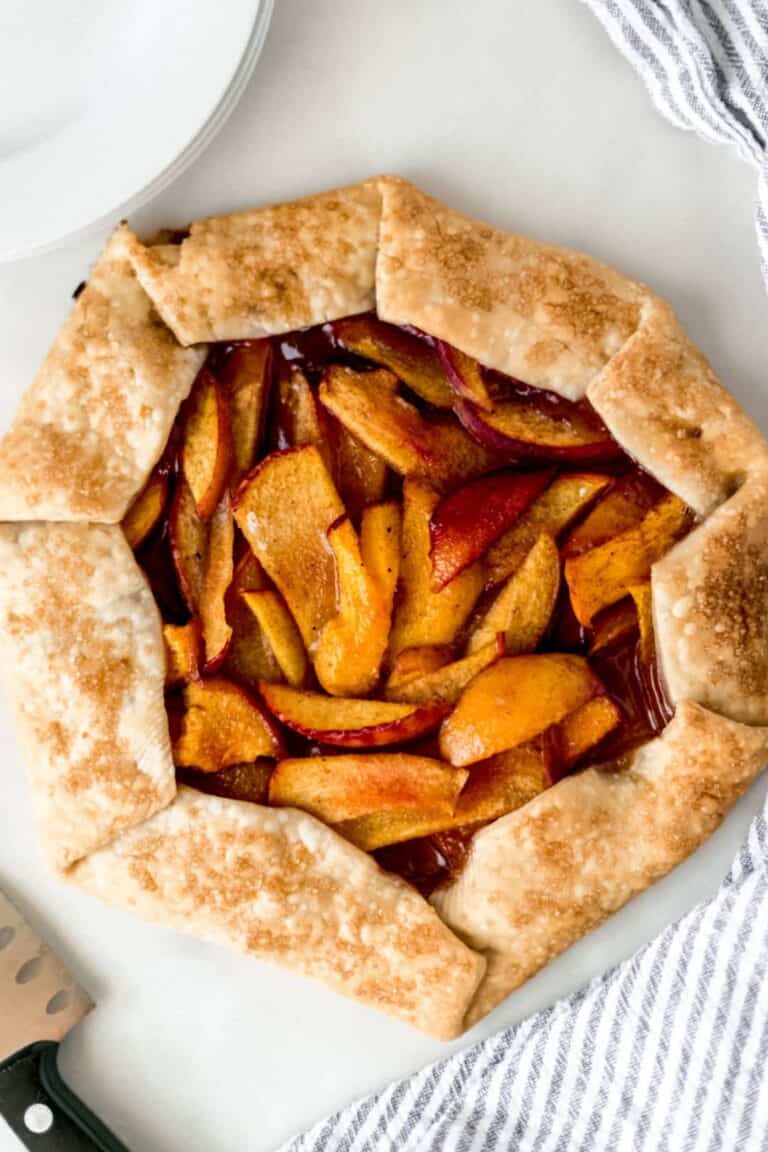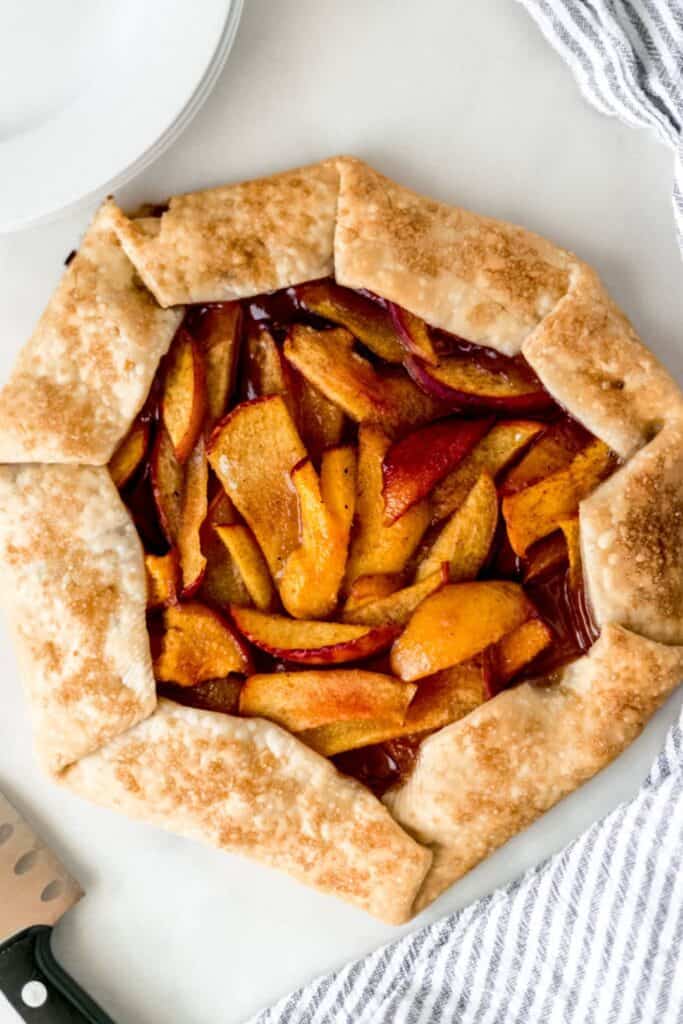 Peach Galette by Simply LaKita is a simple dessert recipe that is made using a ready-made crust and fresh peaches. Quick, easy, delicious, and the perfect summer treat.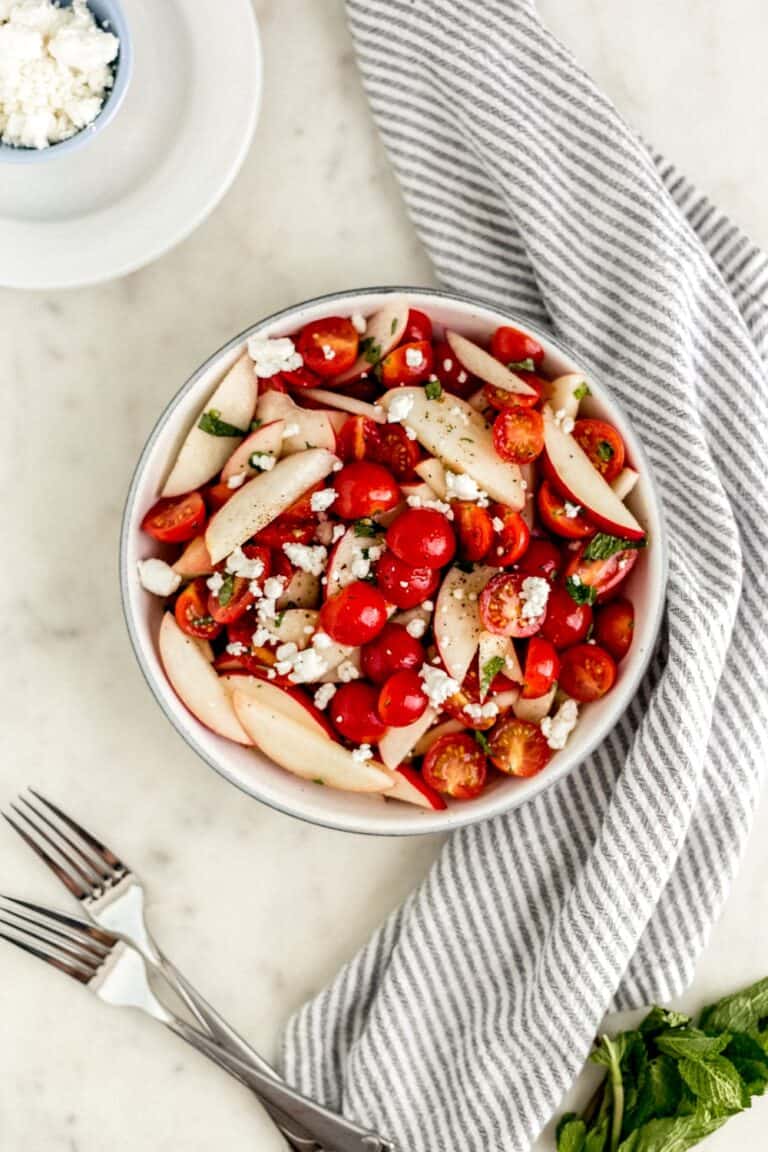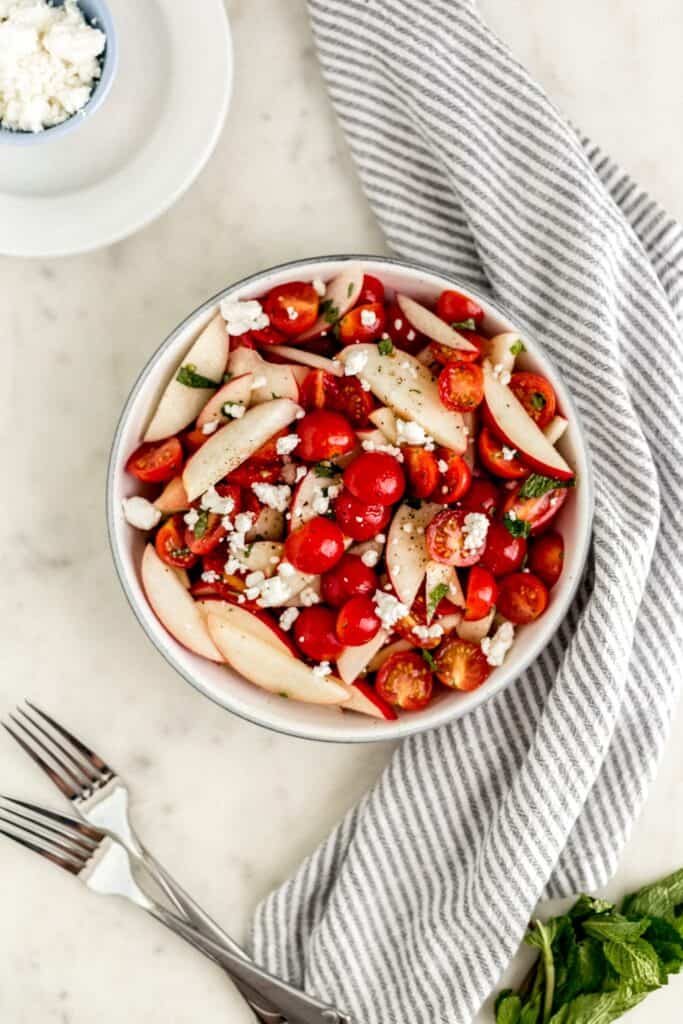 A Tomato Peach Salad by Simply LaKita is a super quick and simple salad made with fresh tomatoes, sliced peaches, mint, a light dressing, and topped with goat cheese. Fresh, delicious, and perfect for summer!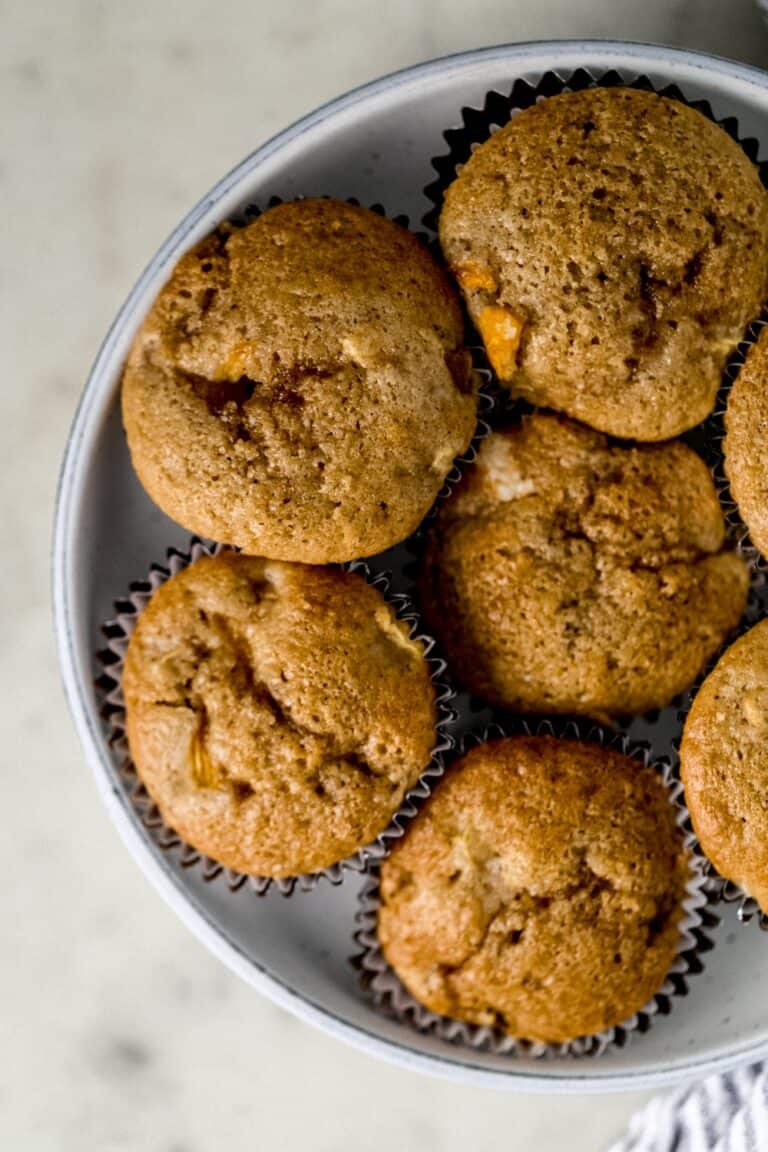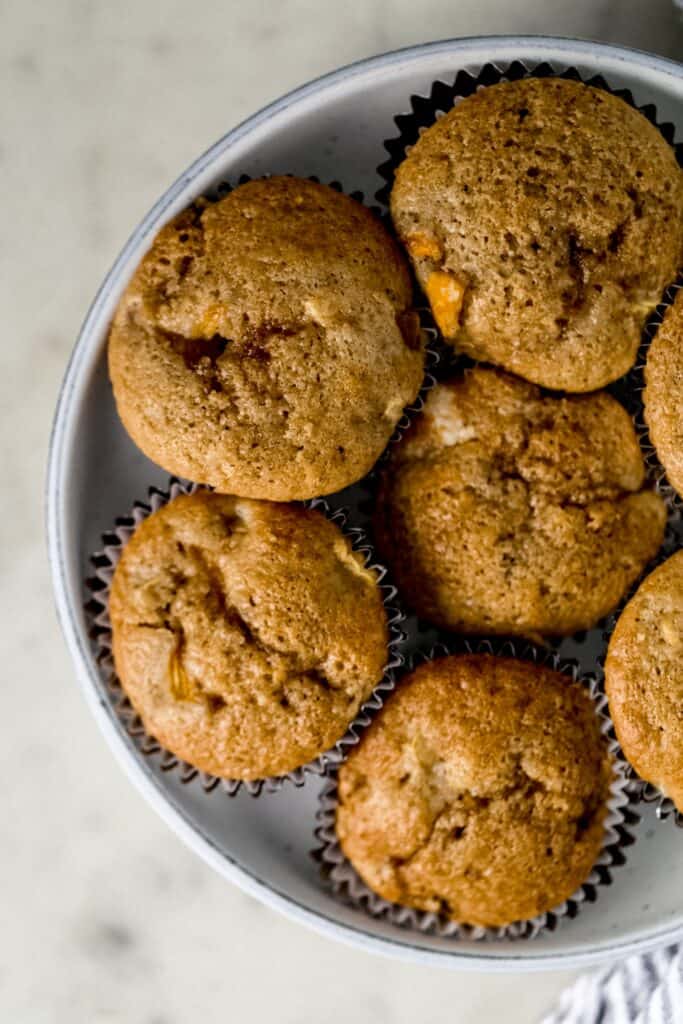 If you love peaches, then you will love Peach Cobbler Muffins from Simply LaKita. With the flavor of peach cobbler packed into a delicious muffin, you will enjoy for breakfast or brunch.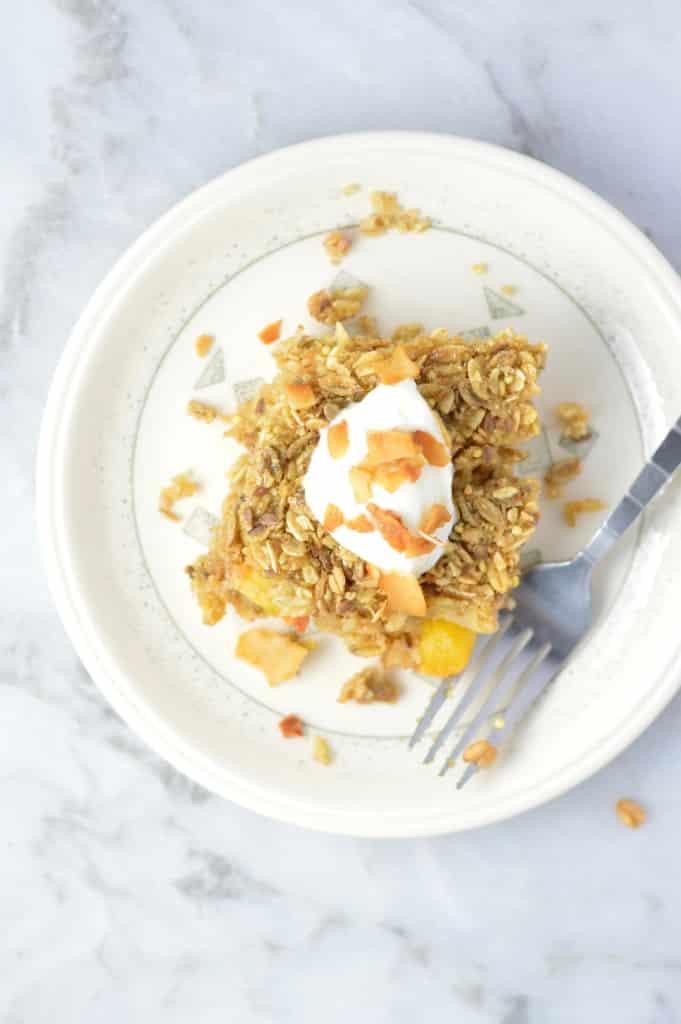 This Ginger Peach Baked Oatmeal from A Taste of Madness is the perfect recipe idea for breakfast. Ready in 30 minutes. It is best when topped with some yogurt and a few toasted coconut chips.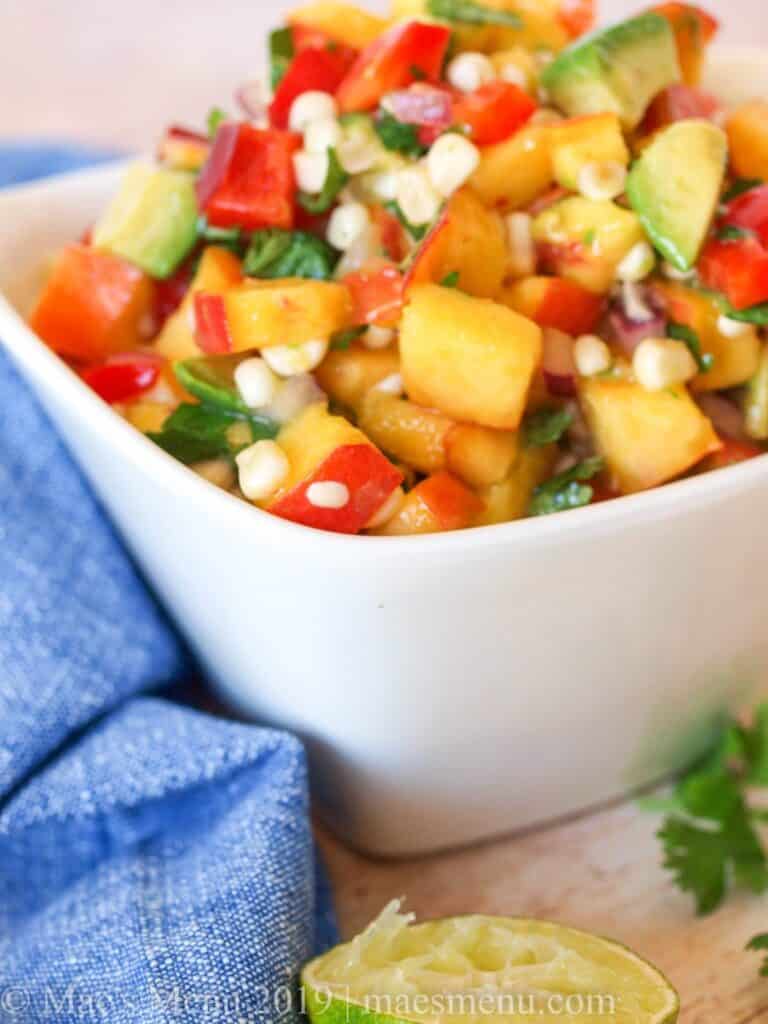 Enjoy this fresh and naturally sweet Peach Avocado Salsa shared by Mae's Menu with a few tortilla chips, some of your favorite grilled meats, or any other way that you prefer to enjoy salsa.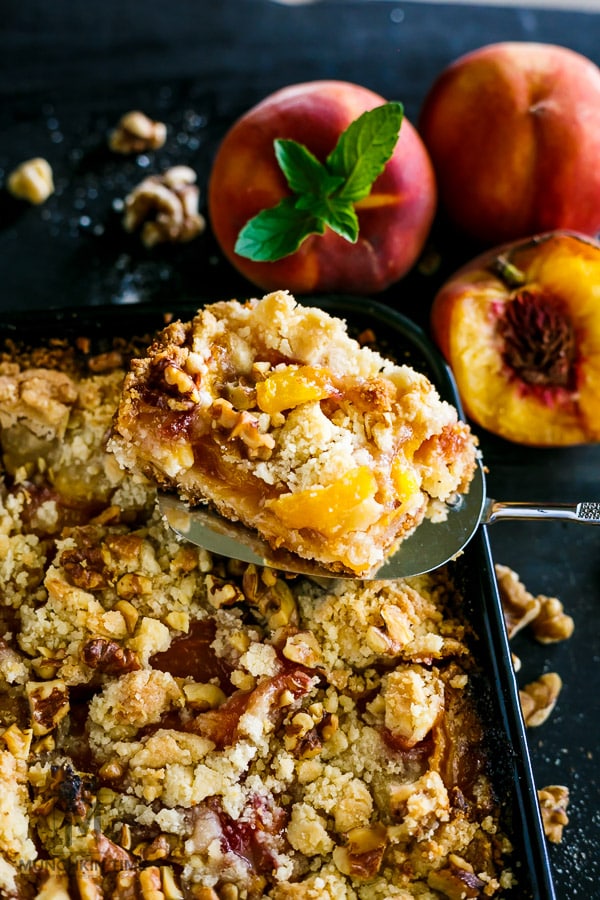 These Peach Pie Bars by Munchkin Time look so very good. They are a delicious blend of ripe peaches, with a crispy crumbled top, and some toasted walnuts. Moist in the middle, crispy on the top and altogether amazingly delicious.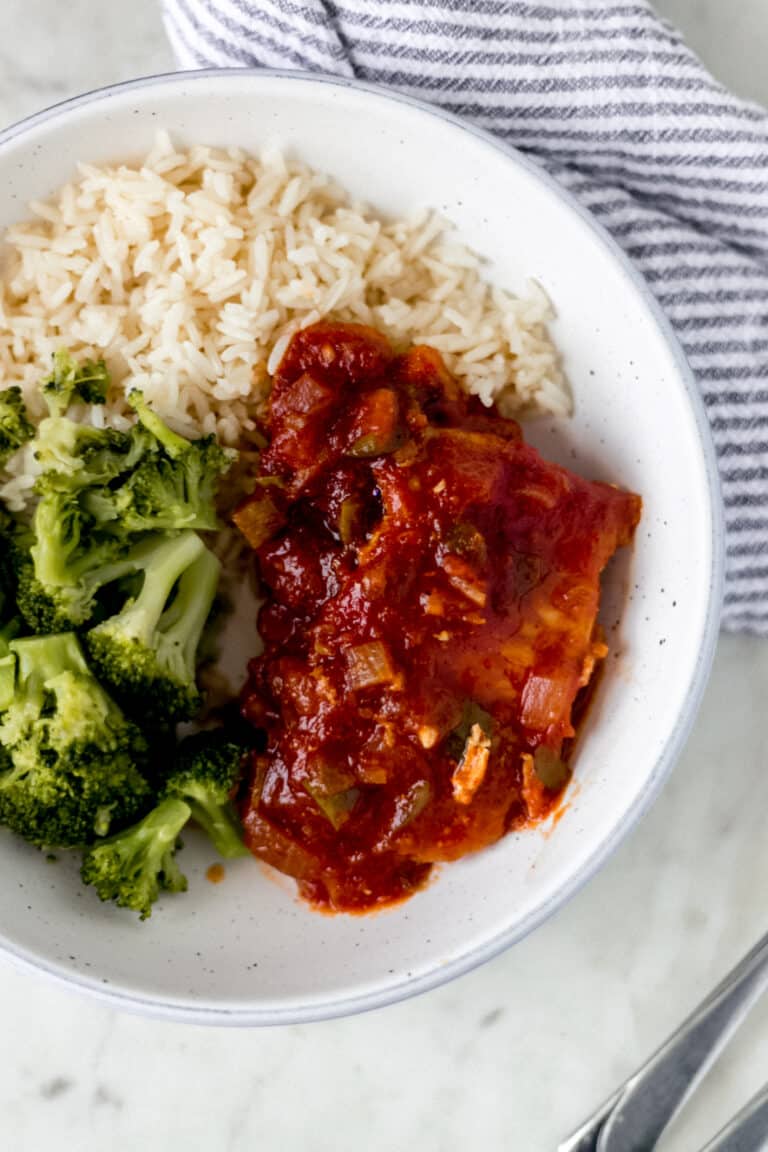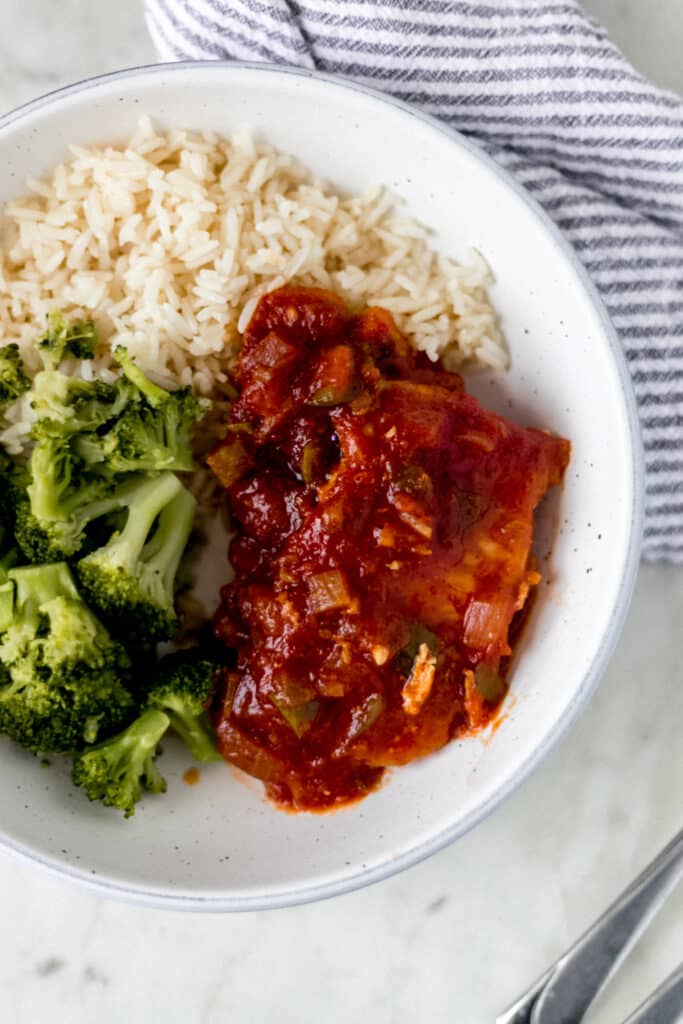 Peachy Salsa Pork Chops by Simply LaKita is a delicious balance of sweet and spicy is all wrapped up in this quick stove top dish that can be whipped up in 20 minutes. Perfect weeknight meal!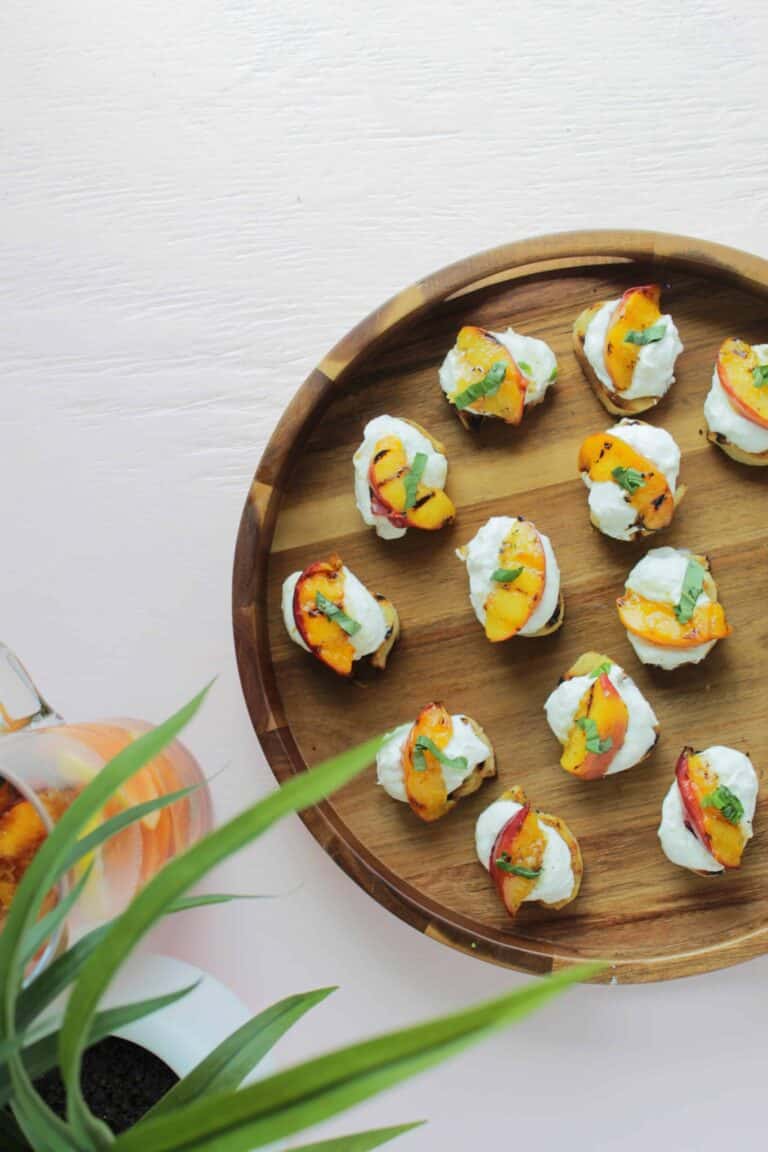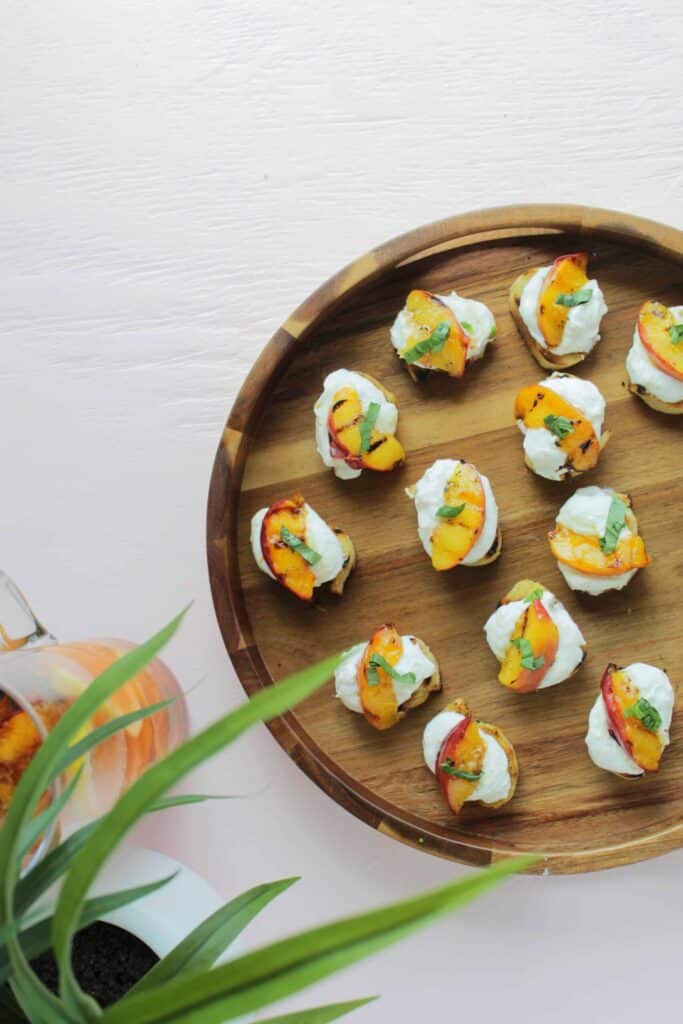 Grilled peach and lemon ricotta crostini from Homebody Eats is an elegant, but simple appetizer. The grill infuses just the right amount of smokiness to this peach inspired dish. It is ideal for entertaining because it comes together so quickly and effortlessly!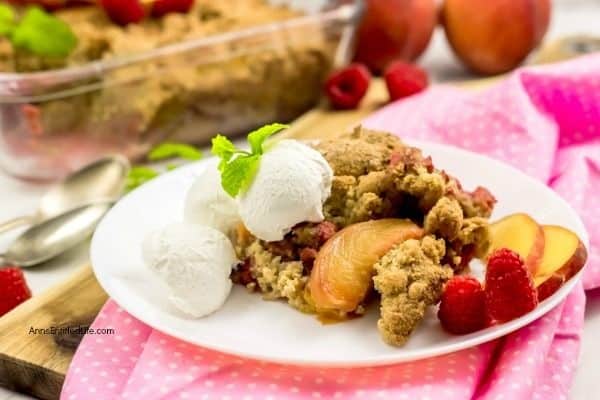 The sweet taste of plump and juicy peaches along with the tart taste of raspberries combine for a lovely cobbler that will have your whole family begging for seconds. Give this old-fashioned, easy to make, raspberry peach cobbler recipe by Ann's Entitled Life a try tonight!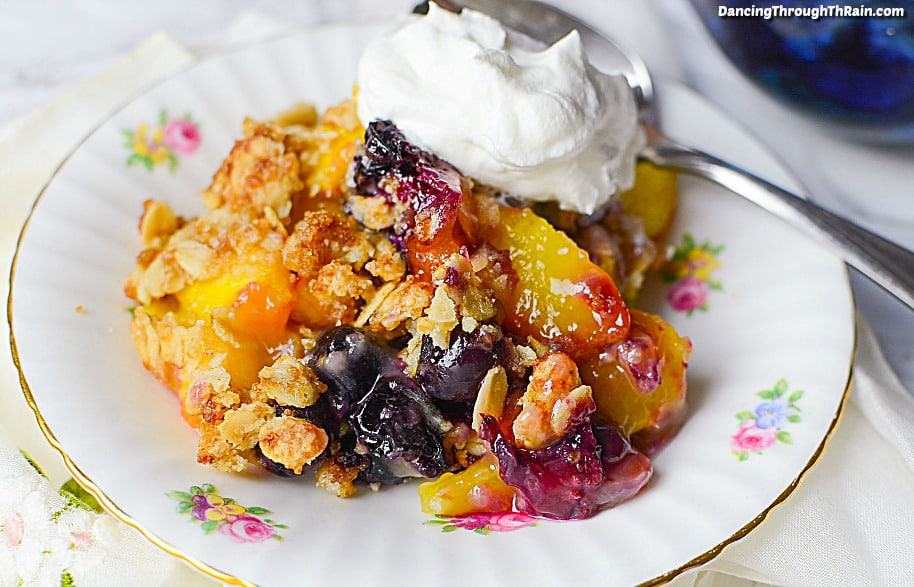 Dancing Through the Rain shares a delicious looking peach crisp that is the perfect summer dessert for any day or occasions. Add in some blueberries to this easy recipe and you'll have the star of the treats table.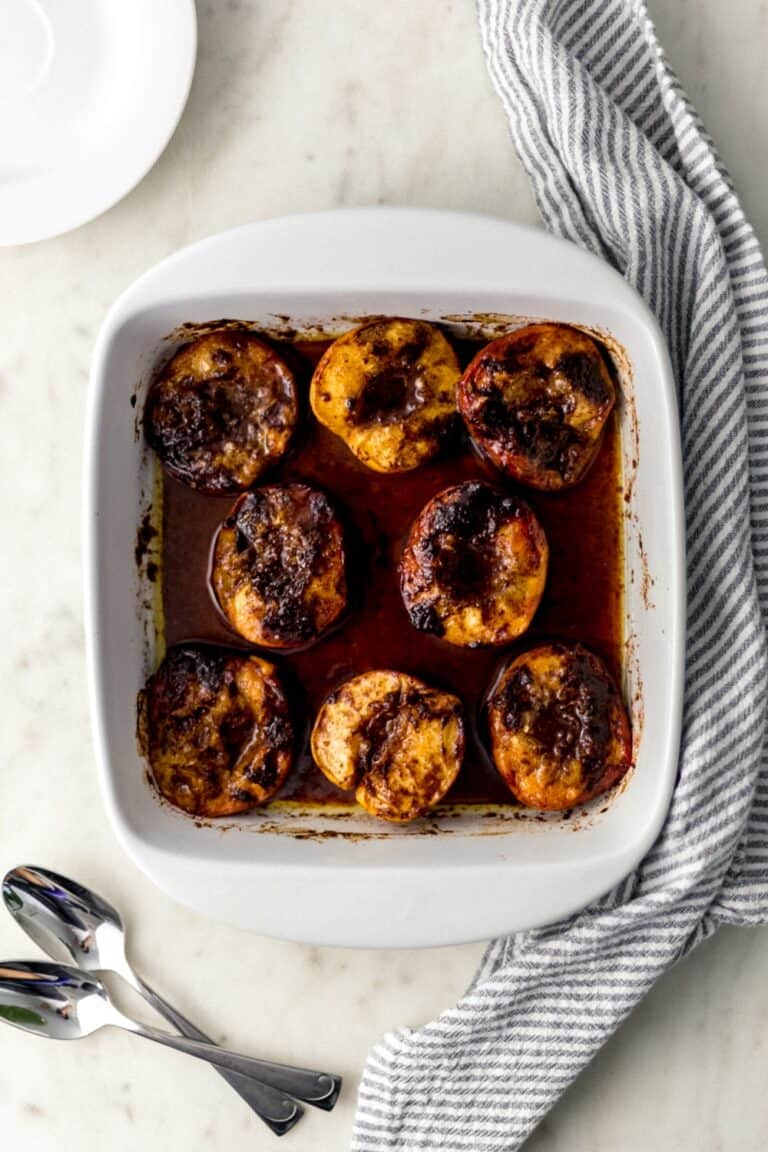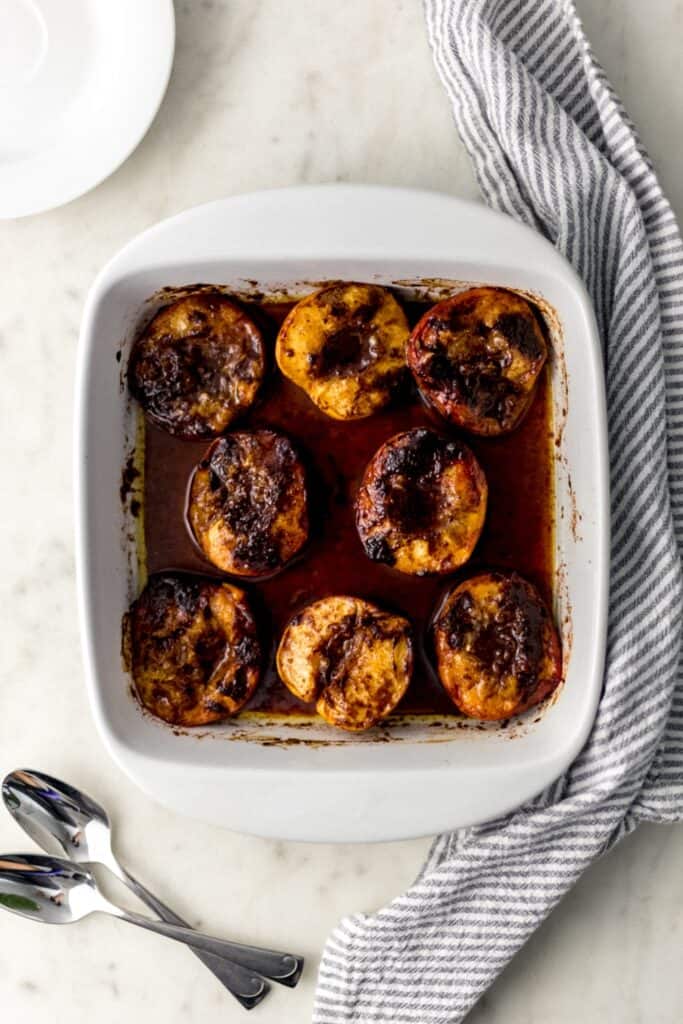 Brown Sugar Baked Peaches from Simply LaKita is a quick and easy dessert that is made with fresh peaches, brown sugar, butter, and ground cinnamon. A perfect simple treat to pair with your favorite scoop of ice cream.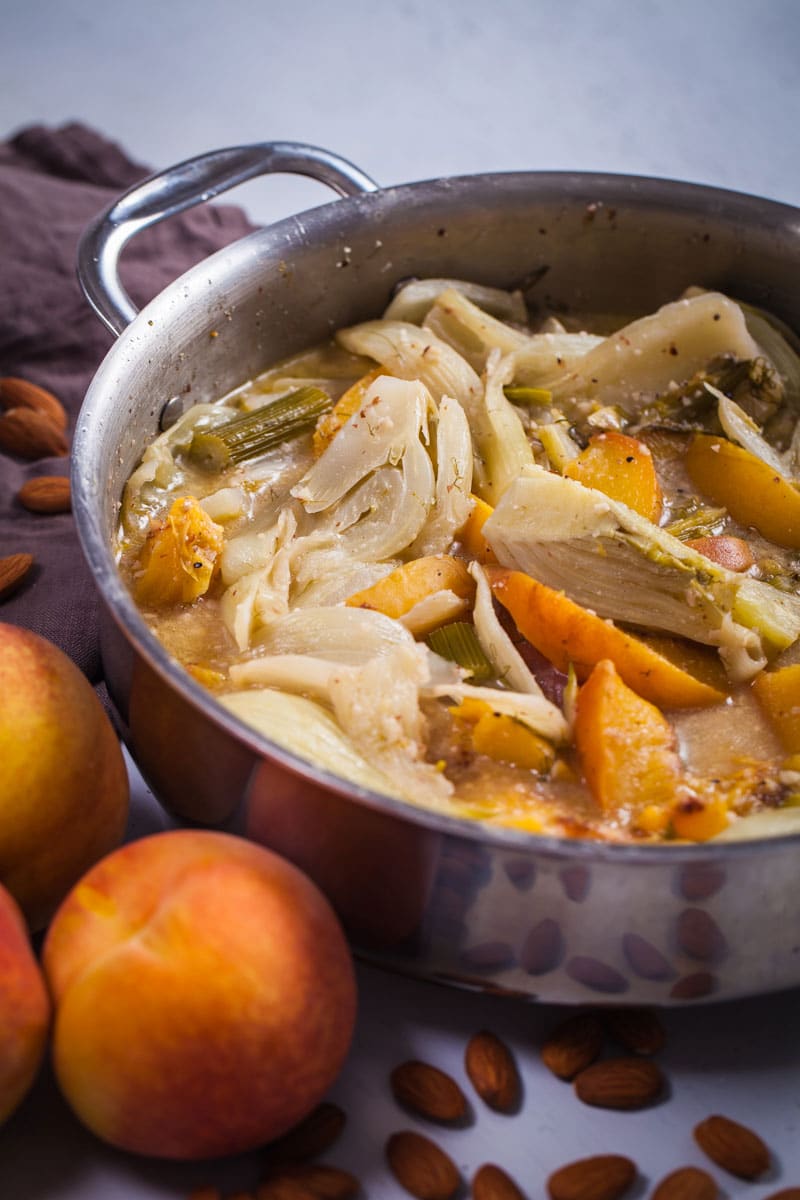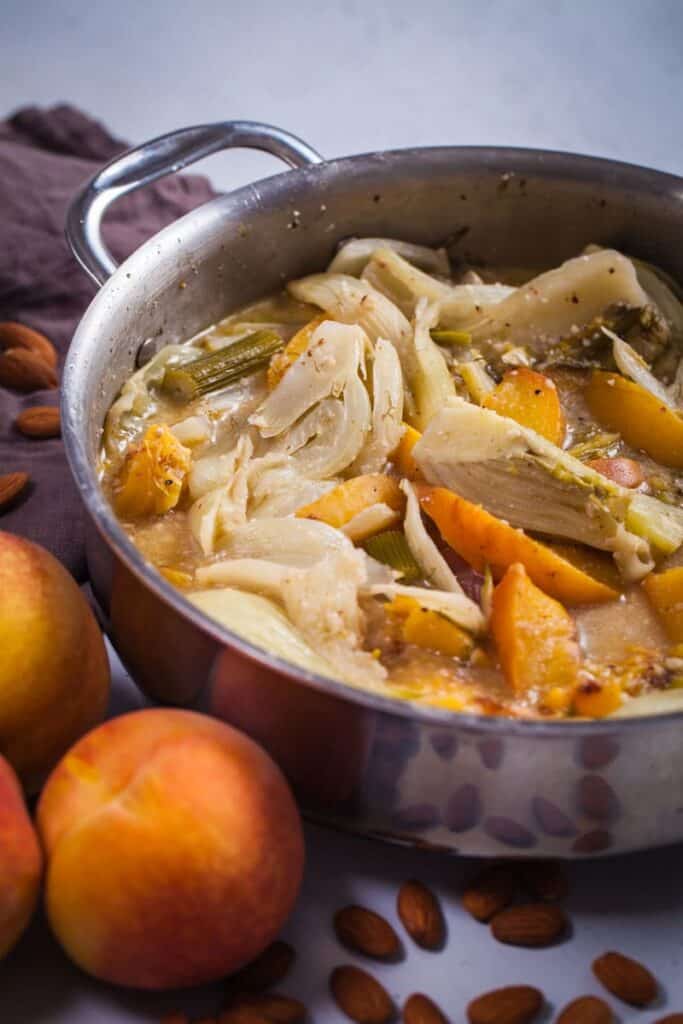 This fennel recipe by My Chef's Apron is deliciously paired with sweet peaches and almonds, then braised quickly in butter until tender, and flavored with salt and vegetable seasoning. A must-make vegetable dish any day of the week!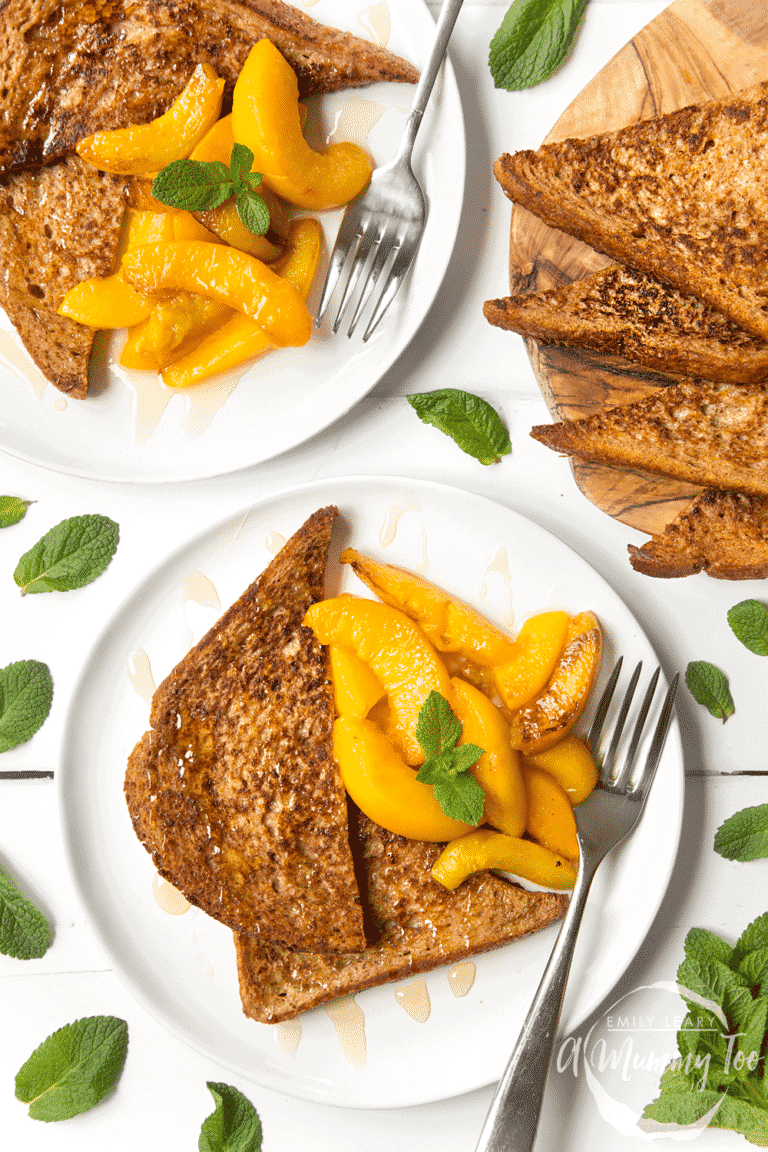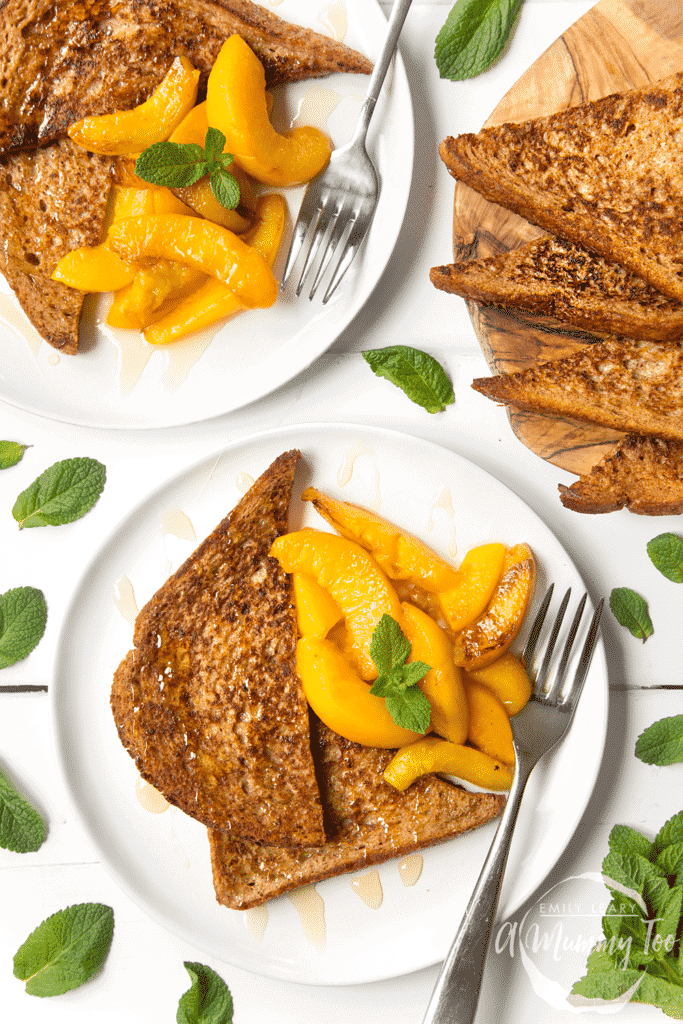 This simple, easy, delicious cinnamon french toast from A Mummy Too works perfectly with warm peaches. It can be whipped up in less than fifteen minutes and counts as one of your five fruit servings for the day.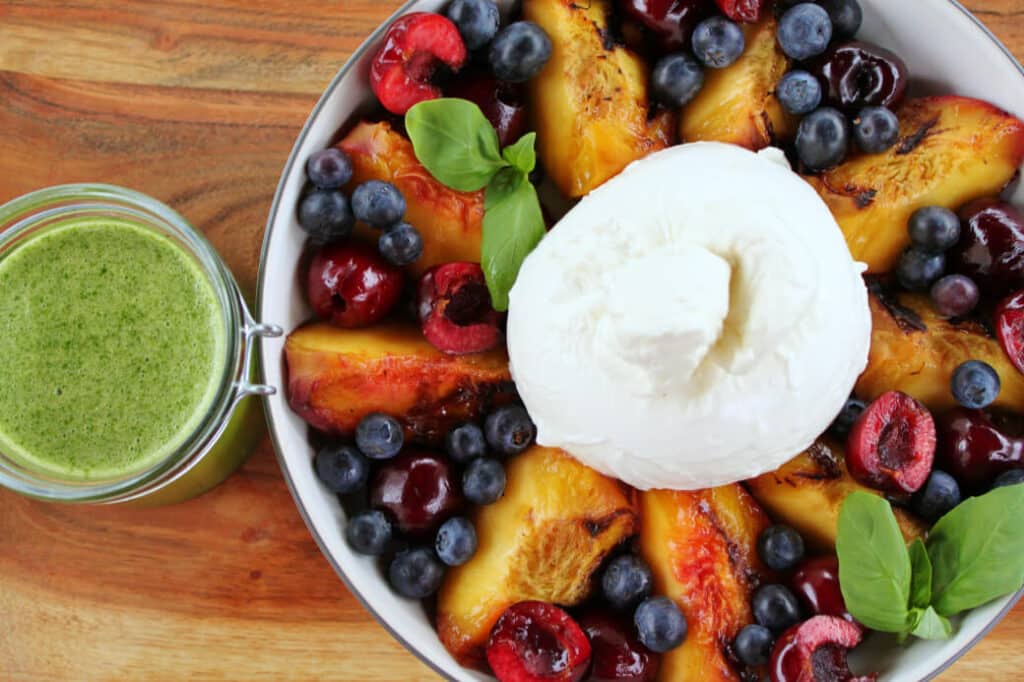 Grilled Peach Fruit Salad with Burrata and Lime Basil Vinaigrette by Dish n the Kitchen is a delicious combo of grilled peach, cherries, and fresh blueberries with some creamy fresh burrata. Top it with a simple lime basil vinaigrette for the perfect summer salad.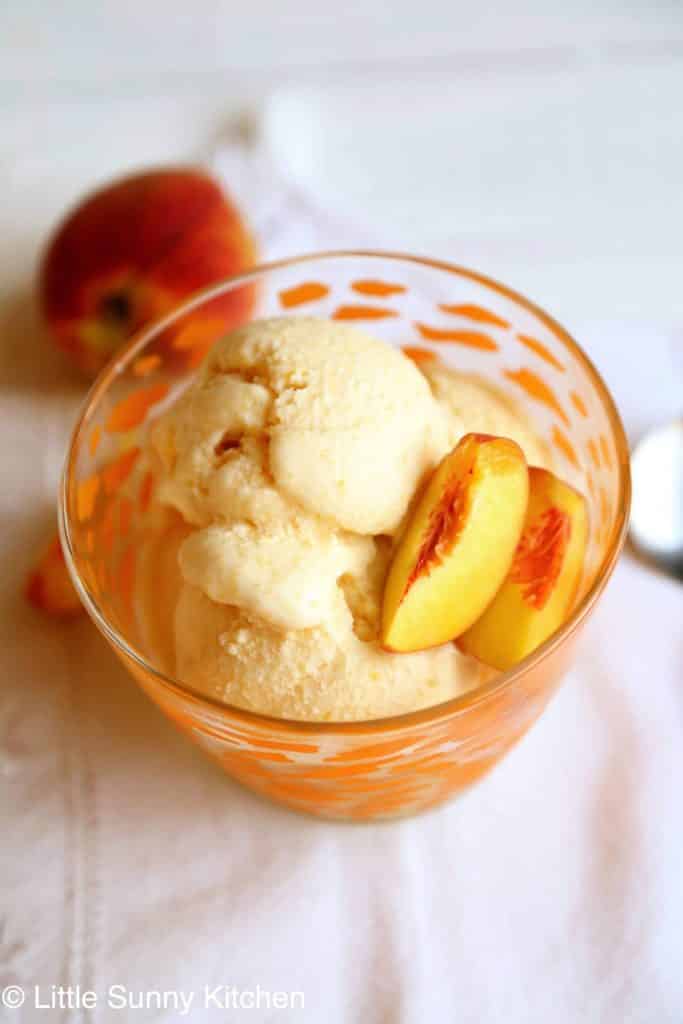 A simple and delicious five minute no-churn healthy peach ice cream by Little Sunny Kitchen that is made from natural yogurt, sweet honey, and of course tasty fresh peaches!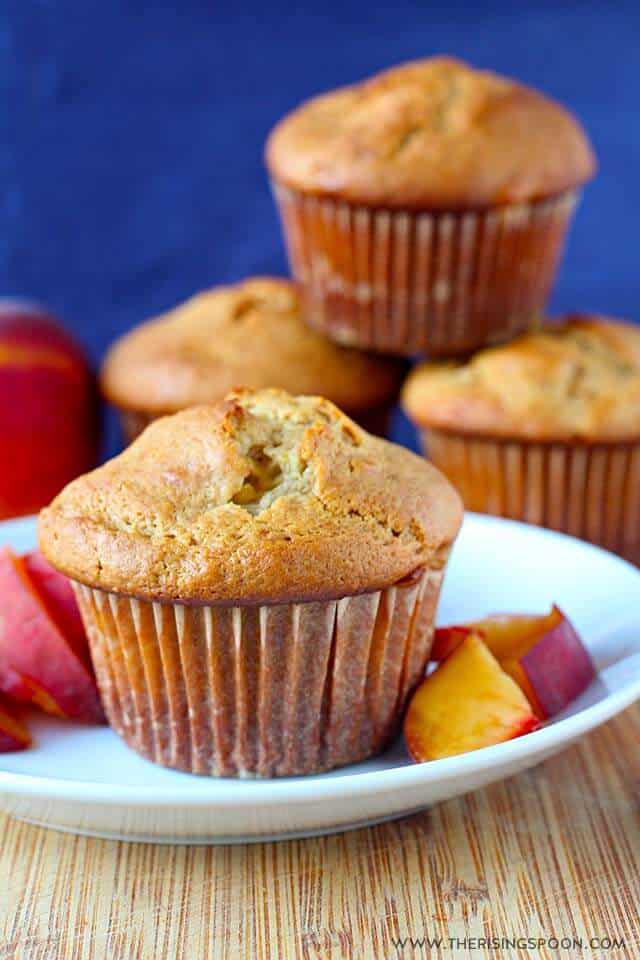 A light and creamy peach muffin recipe made by The Rising Spoon with fresh peaches, sour cream, honey, and einkorn wheat flour. These peaches and cream muffins freeze well, have a good amount of protein, and make a yummy breakfast, snack or dessert with a cup of hot tea or coffee!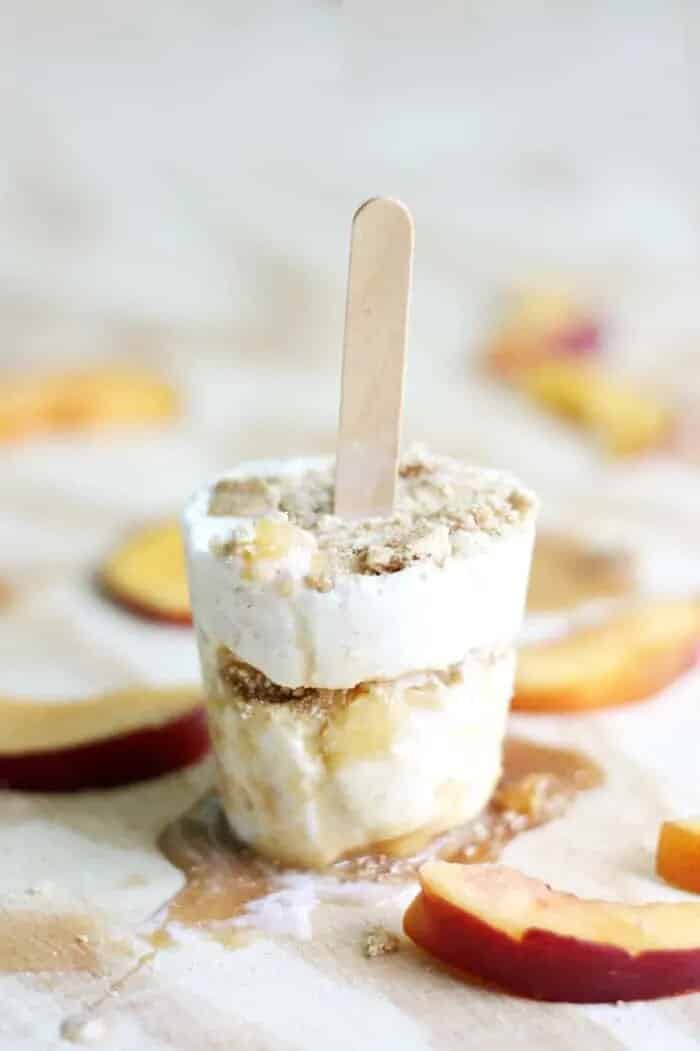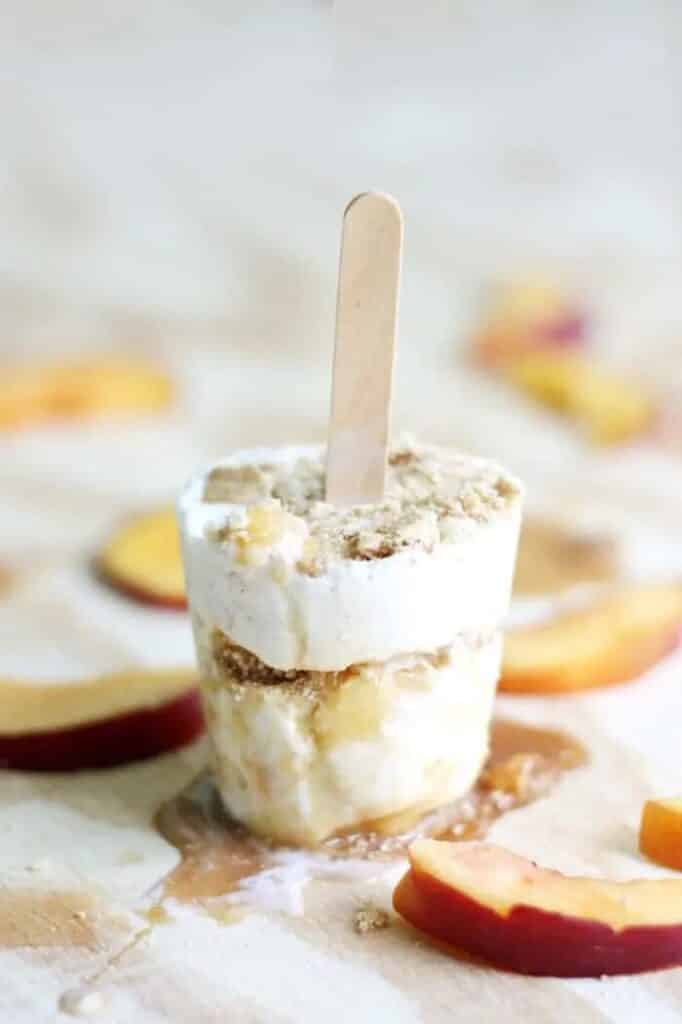 This tasty popsicle recipe by DIY Candy combines all the best parts of peach pie and ice cream with the deliciousness of a rich honey caramel sauce. A perfect simple sweet treat!
This Easy Peach Cobbler shared by Simply LaKita is one of my favorite dessert recipes. It can be prepared in minutes and uses minimal ingredients. A super delicious fruity treat!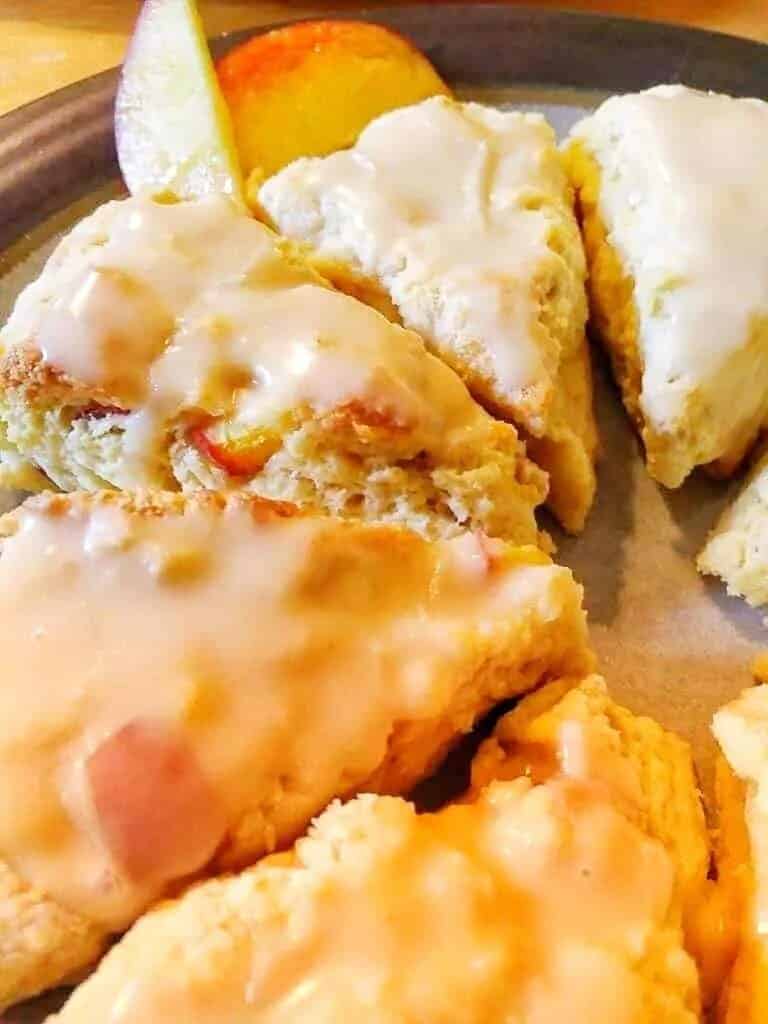 These tender fruit scones by The Curious Frugal are made with juicy peaches and have a silky vanilla glaze for an extra layer of flavor to put them over the top. Make these vegan-friendly peach scones to have as a snack, breakfast, or dessert.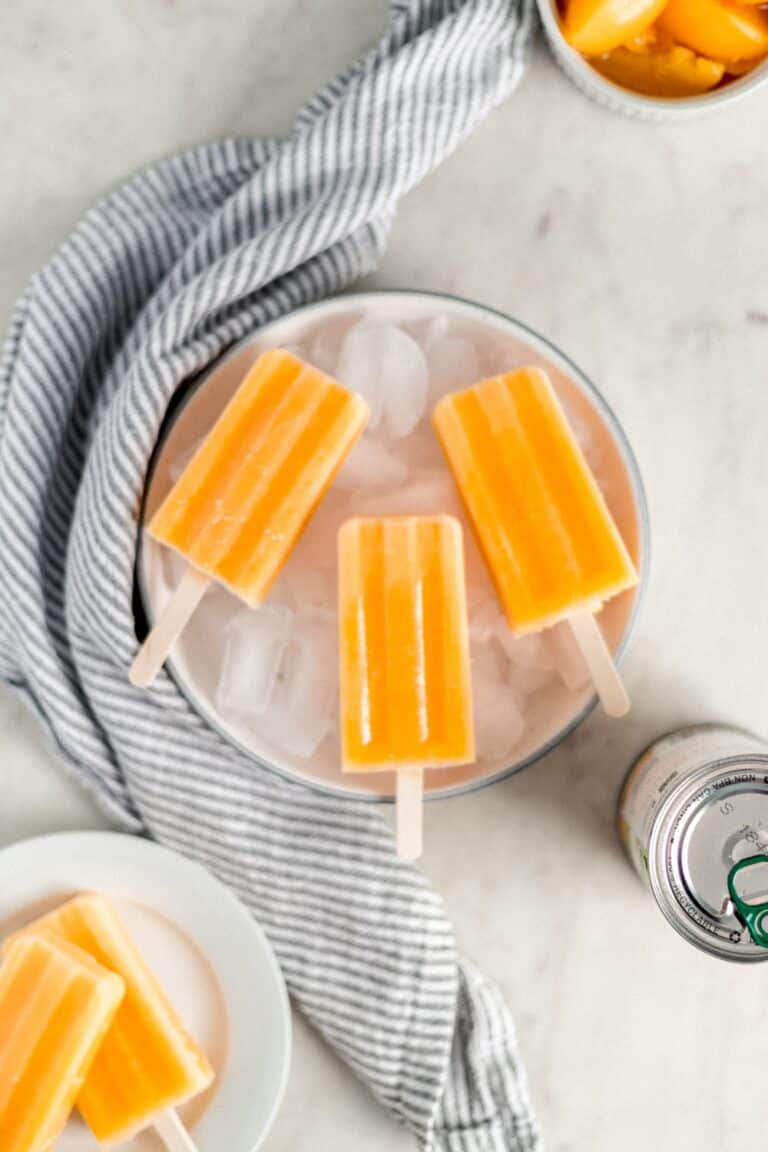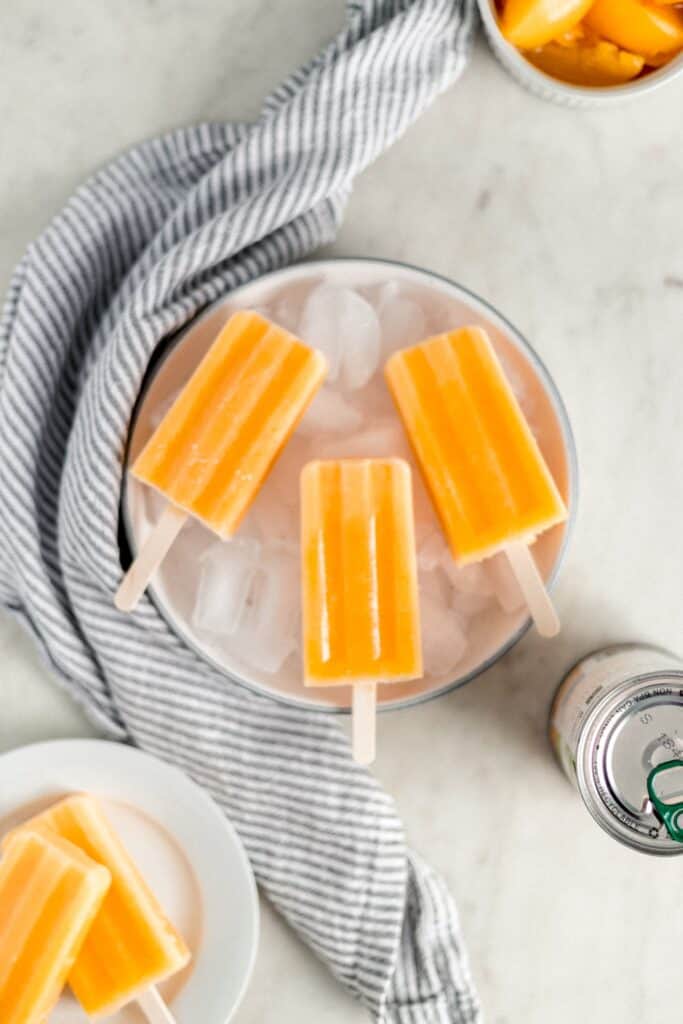 Peach Creamsicle Popsicles by Simply LaKita are a homemade frozen treat that can be made with minimal ingredients. Keep cool for the heat with a delicious, fun, flavorful batch this summer.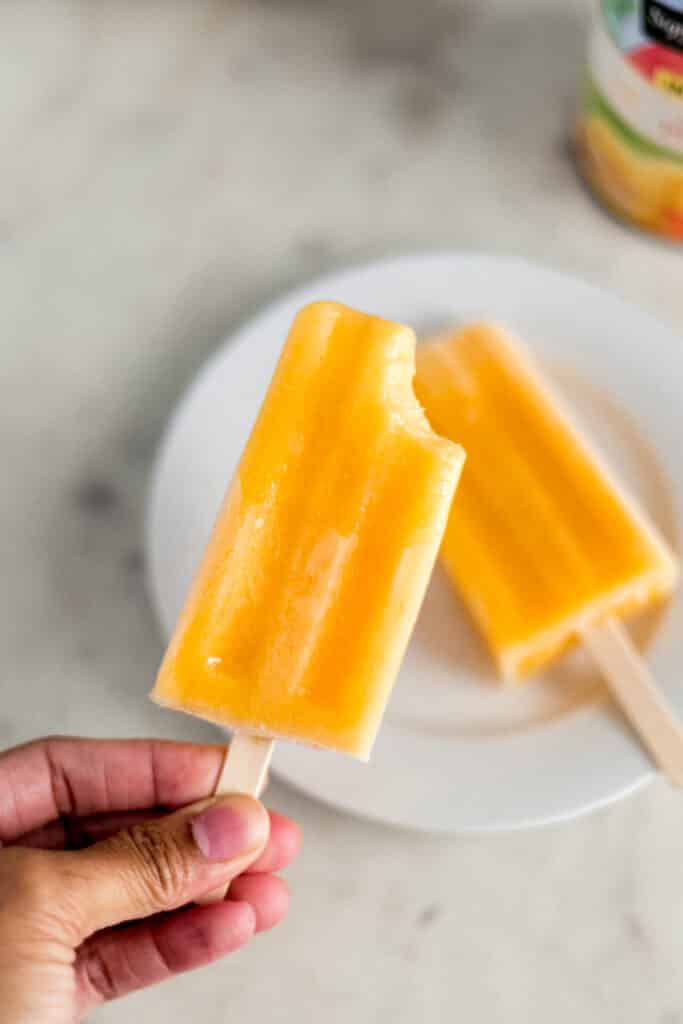 Have any comments, questions, or other delicious ways to use any of these Peach Recipes? Please share them in the comments below!