Learn how to make Homemade Peanut Butter that is easy, delicious, and more affordable than store-bought. This recipe is thick, creamy, and nutty!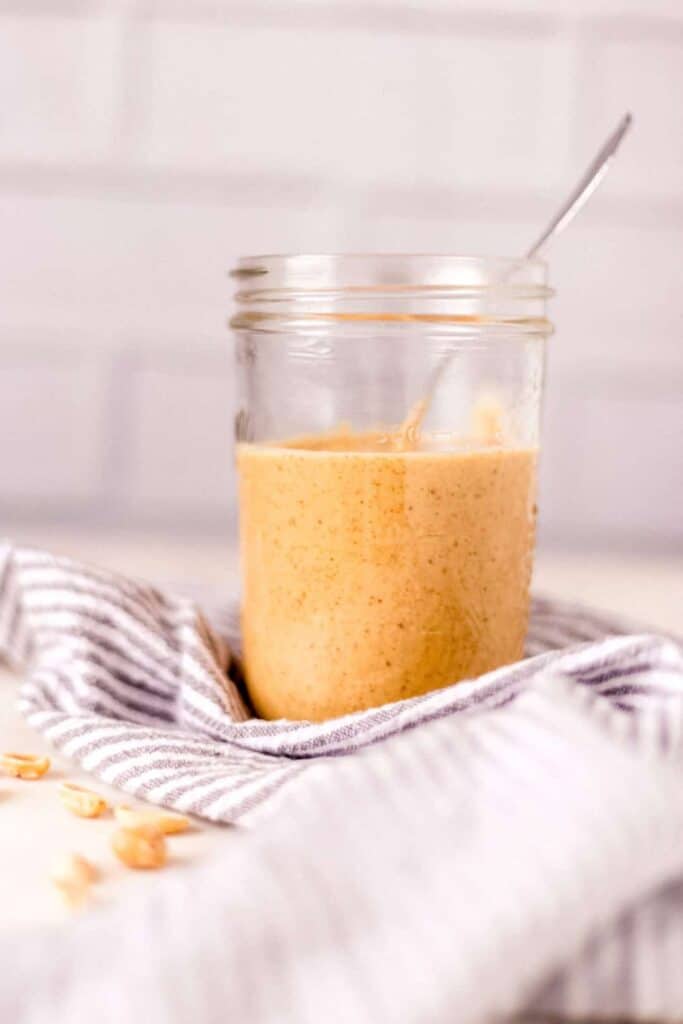 I have been making my own nut butter consistently for the past year and the only question that I have is…why didn't I do it sooner?
I actually love ALL nut butters! Previously on the blog, I shared with you a homemade recipe for cashew butter, but my absolute favorite is peanut butter. There is just something comforting about it. Perhaps it's just the many peanut butter and jelly sandwiches that I had growing up that makes it my first choice. Growing up my parents only believed in one particular brand and for years I also used that same brand, but let me tell you that homemade is sooo much better.
Homemade peanut butter is ultra thick and creamy, and it tastes like warm freshly roasted peanuts. Once you've had the homemade version it is hard to go back to the store version. Not to mention that homemade peanut butter is also more affordable because you only need one simple ingredient and that is peanuts.
That's right just peanuts.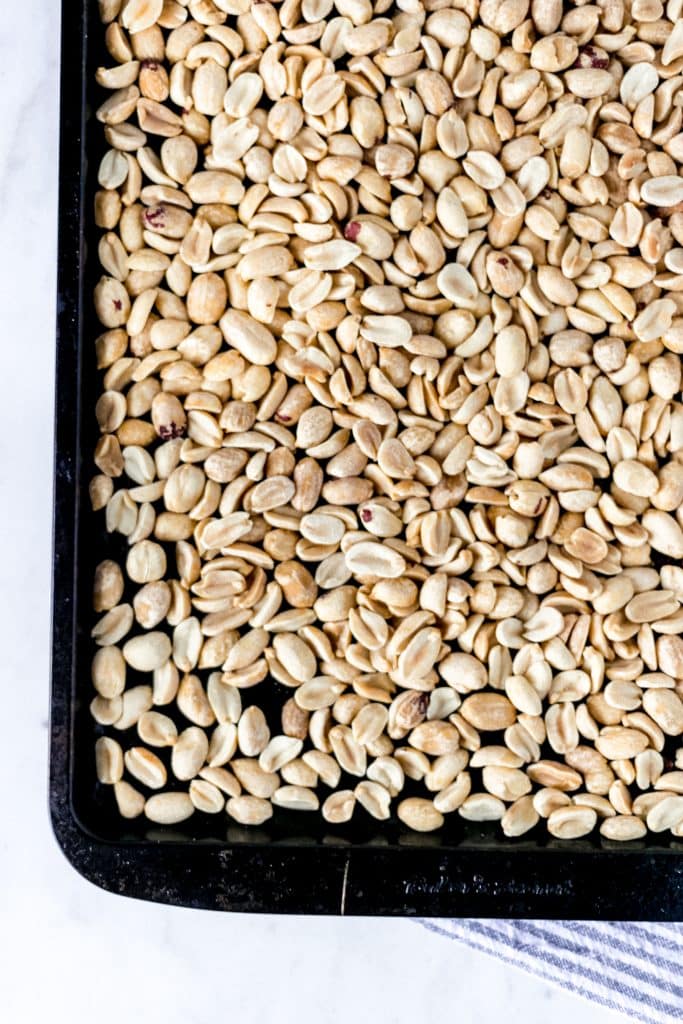 A few more basics that you will need is a jar or airtight container to store your peanut butter in, salt, and any other extras that you prefer such as sugar, cinnamon, maple syrup, vanilla extract, and many others. My favorite recipe includes peanuts, salt, and coconut sugar.
When it comes to making peanut butter, the process begins by roasting the peanuts for a few minutes, if you are using raw peanuts. You may skip this step if you prefer to use roasted nuts.
Next, you will add the peanuts to a food processor or high power blender. The next step requires a bit of patience because as the peanuts are processing it will resemble a course meal, followed by a ball of dough. You will need to stop processing and scrape down the sides of the food processor or blender periodically to help the process. After a few minutes, the peanut butter will magically turn from a ball of dough to smooth creamy peanut butter. At this point, you may add in any additionals ingredients, place the peanut butter in a jar, and enjoy it.
One of my favorite ways is to spread a little on a Wasa crispbread and top with apple slices and a sprinkle of cinnamon. It's such a filling and delicious snack.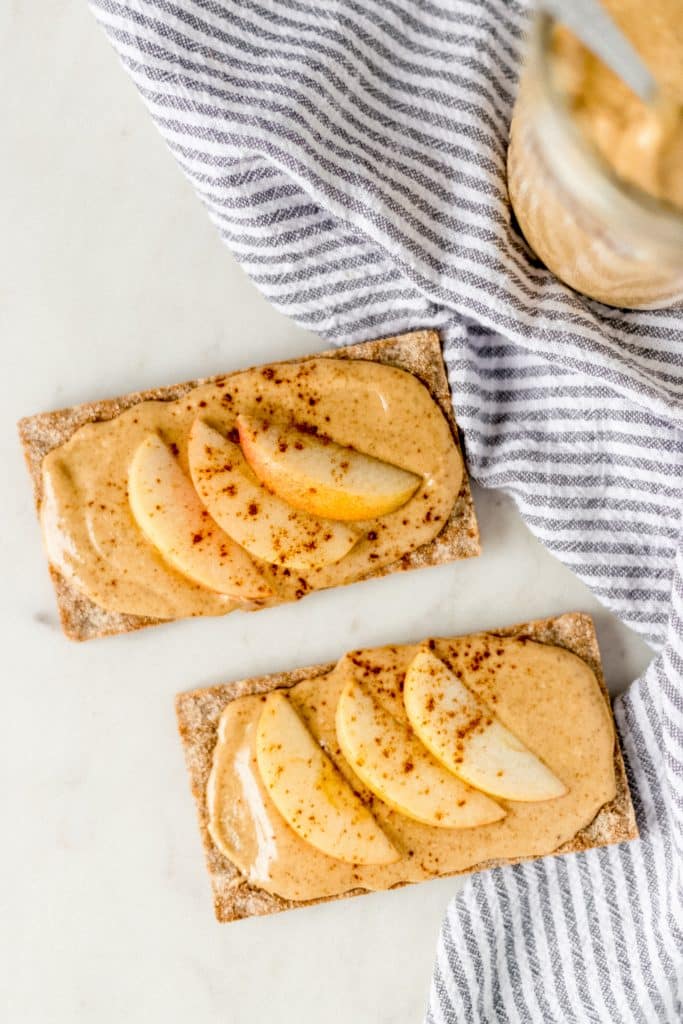 Ingredients

16 ounces raw peanuts

1/4 teaspoon salt

optional ingredients

Instructions

1

Preheat the oven to 350 degrees F. and spread the peanuts across a large rimmed baking sheet.

2

Place the peanuts in the oven and roast for 10 minutes, stirring halfway.

3

Remove the peanuts from the oven and allow cooling.

4

Transfer the peanuts to a food processor or high power blender.

5

Process until creamy, pausing to scrape down the sides as necessary.

6

Once the peanut butter is smooth, blend in the salt and optional ingredients until combined.

7

Allow the peanut butter to cool to room temperature and place in a jar or airtight container with a lid.

8

Store in the refrigerator up to 2 weeks.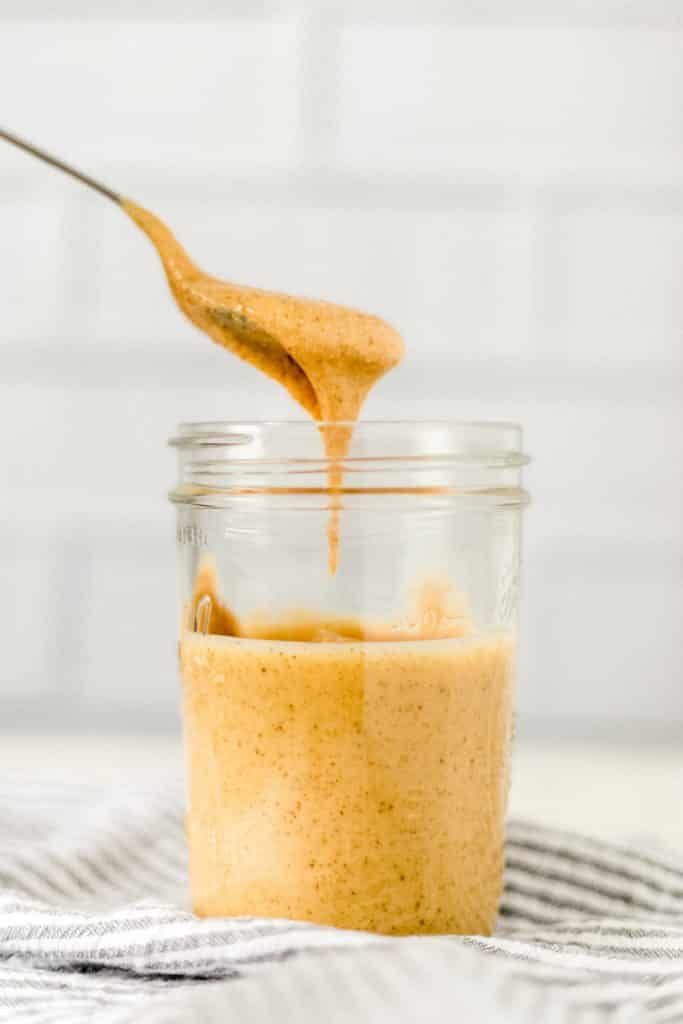 Got any comments, questions, or other ideas about this Homemade Peanut Butter? Share them in the comments below!