This post may contain affiliate links. Please read my disclosure policy.
Some days you just find yourself in need of a special treat and not just any old treat, but something so creamy and deliciously chocolate that you are willing to make it yourself. If that is you and you find yourself in the mood to bake something quick and easy…then you have to give this recipe a try.
The good thing about this recipe is the fact that it only makes 4 cupcakes, so that means less to clean up, less ingredients, and less of a chance that you will eat way more than you should.
Chocolate Coconut Cupcakes Ingredients:
For the cupcakes:
⅓ cup milk
¼ teaspoon white vinegar
⅓ cup flour
4 teaspoons cocoa powder
¼ teaspoon baking soda
¼ teaspoon baking powder
4 teaspoons coconut oil
¼ teaspoon vanilla
¼ cup dark brown sugar
For the frosting:
5 oz. evaporated milk (the small can)
⅓ cup powdered sugar
1 Tablespoon cocoa powder
2 Tablespoons unsalted butter, softened
¼ cup chopped pecans
½ cup sweetened coconut flakes
Instructions:
Preheat the oven to 350°. Line 4 cups of a muffin tin with paper liners and spray liners with non-stick cooking spray. This will help to prevent them from sticking.
Pour the milk into a small bowl. Add the vinegar and let sit while you prepare the rest of the ingredients.
Sift together the flour, cocoa powder, baking soda, and baking powder in a small bowl.
In another bowl, whisk together the coconut oil, vanilla, and brown sugar. Add the dry ingredients to the coconut oil and brown sugar mixture in two batches, alternating with the milk mixture. Divide the batter between the 4 muffin cups and bake for 15-18 minutes, or until a toothpick inserted comes out clean. Let cool on a wire rack.
Next, make the frosting: in a small mixing bowl, add the evaporated milk, powdered sugar, cocoa powder, and butter, using an electric mixer blend until smooth. Frost the cupcakes when they have cooled completely.
Top with coconut and chopped pecans.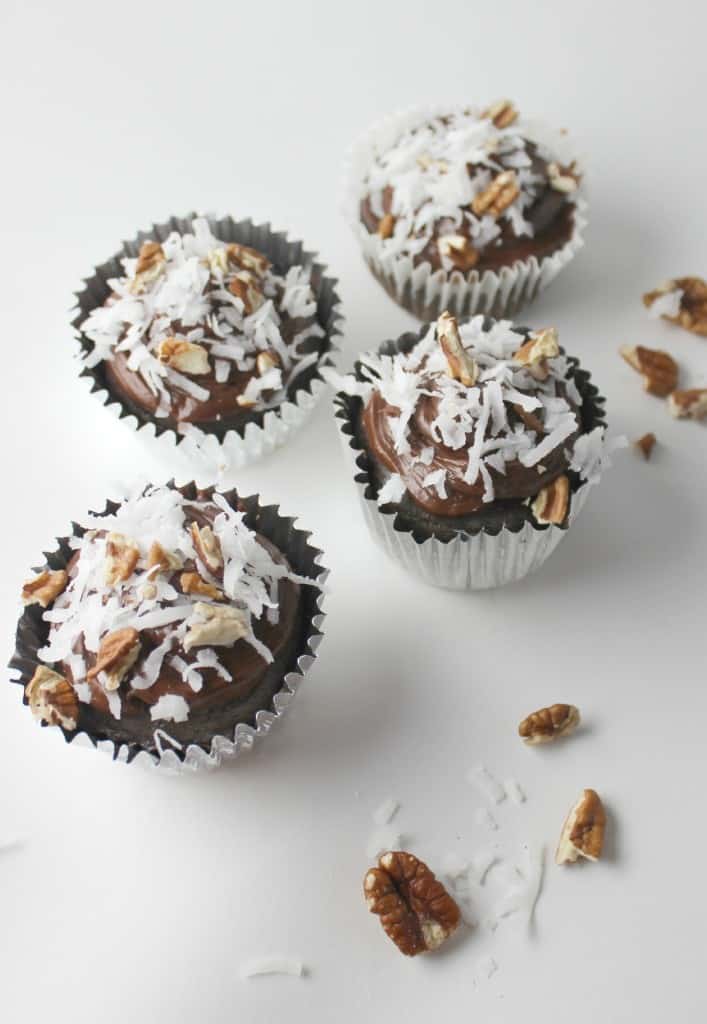 Enjoy!
*Recipe inspiration from Dessert for Two