This post may contain affiliate links. Please read my disclosure policy.
This quick and easy Beef and Snow Peas stir fry recipe is so delicious and makes the perfect meal when served over cooked rice.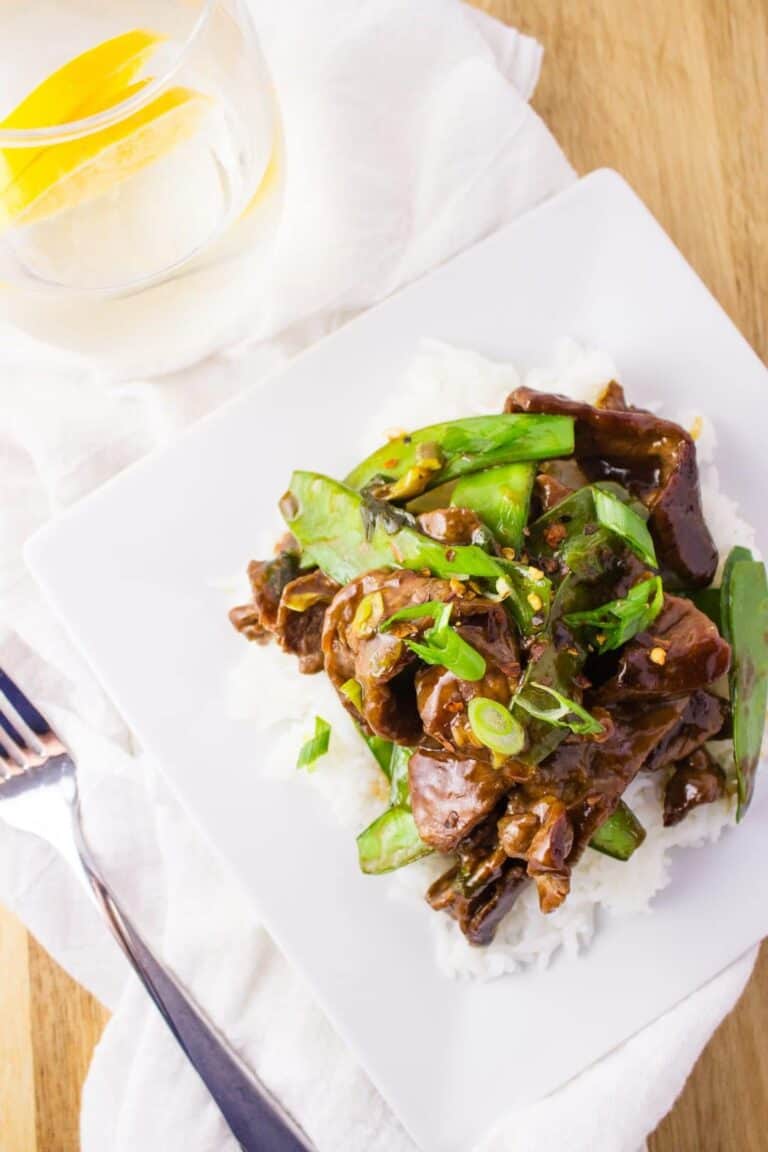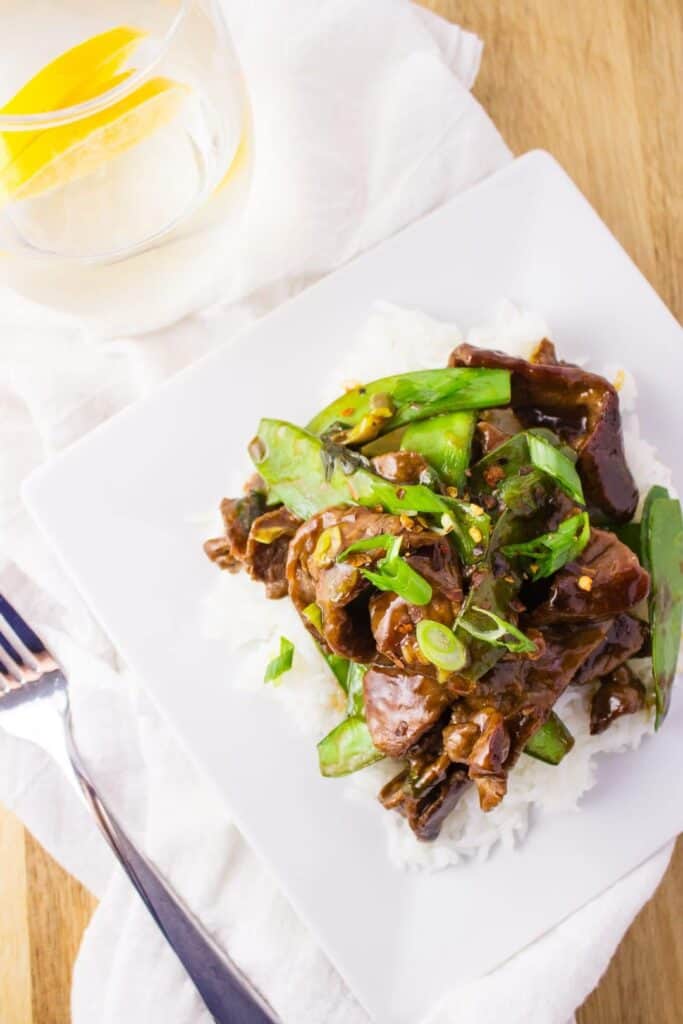 Stir-Fry is so versatile. I love making it because you can literally throw any meat and any vegetables combination into a hot skillet or wok and have a good meal in minutes. I am telling you that you can have the meal ready in less than the time that it takes you to get in your car and drive to a fast food restaurant or the time it takes for the pizza to be delivered to your home. The only moments that you have to really wait for some good stir-fry to happen are the time it takes for your pan to heat up...so basically minutes.
I love sharing with you recipes that are real time-savers because let's face it we are all super busy. Time is certainly limited throughout the week for most of us. But regardless of that we cannot let being busy get in the way of giving our family a great homemade meal a few times a week and the rest of the days you can have pizza and fast food if you would like to 😉
Beef and Snow Peas Ingredients:
1-½ pound Flank Steak, Trimmed Of Fat And Sliced Very Thin Against The Grain
½ cup Low Sodium Soy Sauce
3 Tablespoons Sherry Or Cooking Sherry
2 Tablespoons Brown Sugar
2 Tablespoons Cornstarch
1 Tablespoon Minced Fresh Ginger
8 ounces, weight Fresh Snow Peas, Ends Trimmed
5 whole Scallions, Cut Into Haf-inch Pieces On The Diagonal
Salt As Needed (use Sparingly)
3 Tablespoons Peanut Or Olive Oil
Crushed Red Pepper, For Sprinkling
Jasmine Or Long Grain Rice, Cooked According To Package
Instructions:
In a bowl, mix together soy sauce, sherry, brown sugar, cornstarch, and ginger. Pour half the liquid over the sliced meat in a bowl and toss with hands. Reserve the other half of the liquid. Set aside.
Heat oil in a heavy skillet (iron is best) or wok over high heat. Add snow peas and stir for 45 seconds. Remove to a separate plate. Set aside.
Allow pan to get very hot again. With tongs, add half the meat mixture, leaving most of the marinade still in the bowl. Add half the scallions. Spread out meat as you add it to pan, but do not stir for a good minute. (You want the meat to get as brown as possible in as short amount a time as possible.) Turn meat to the other side and cook for another 30 seconds. Remove to a clean plate.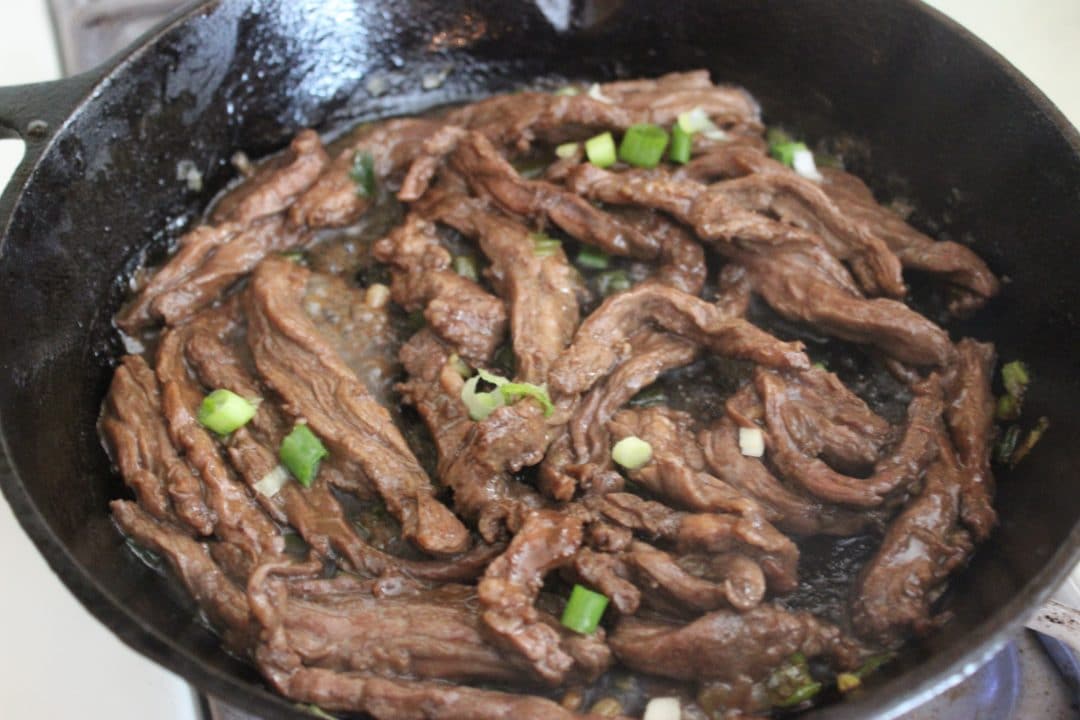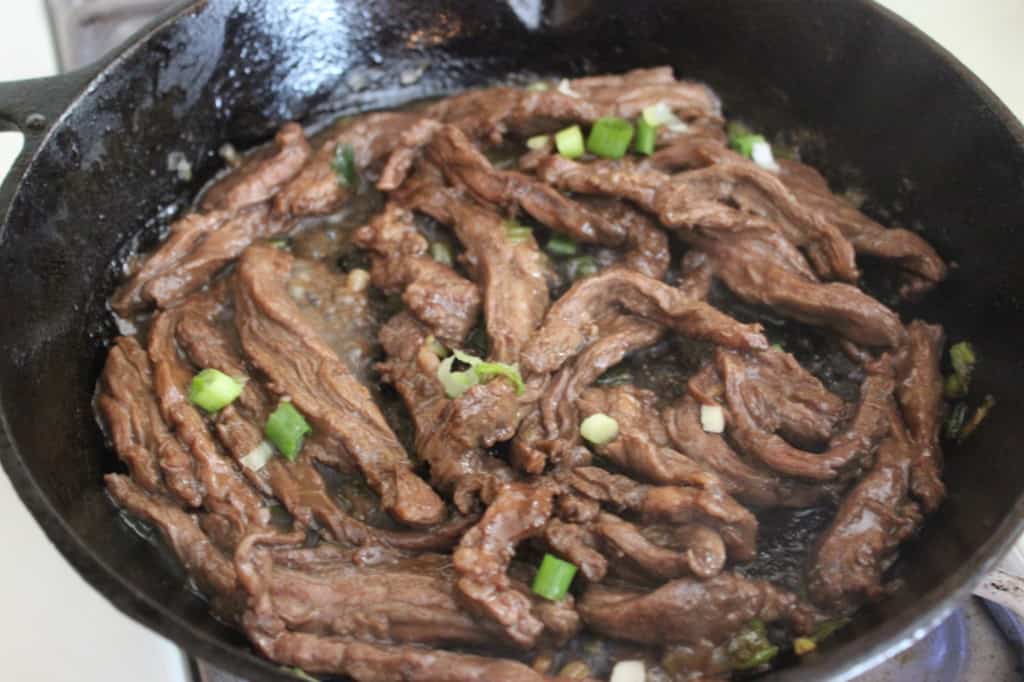 Repeat with other half of meat, allowing pan to get very hot again first. After turning it, add the first plateful of meat, the rest of the marinade, and the snow peas. Stir over high heat for 30 seconds, then turn off heat. Check seasonings and add salt only if it needs it. Mixture will thicken as it sits. Serve the Beef and Snow Peas immediately over rice. Sprinkle crushed red pepper over the top to give it some spice.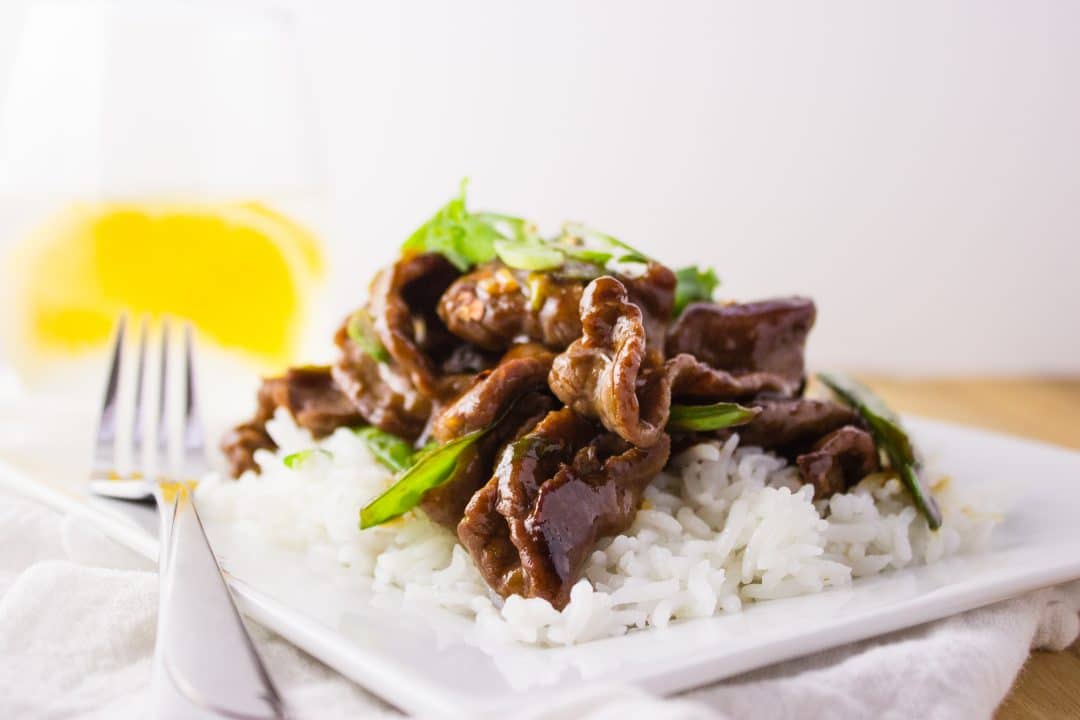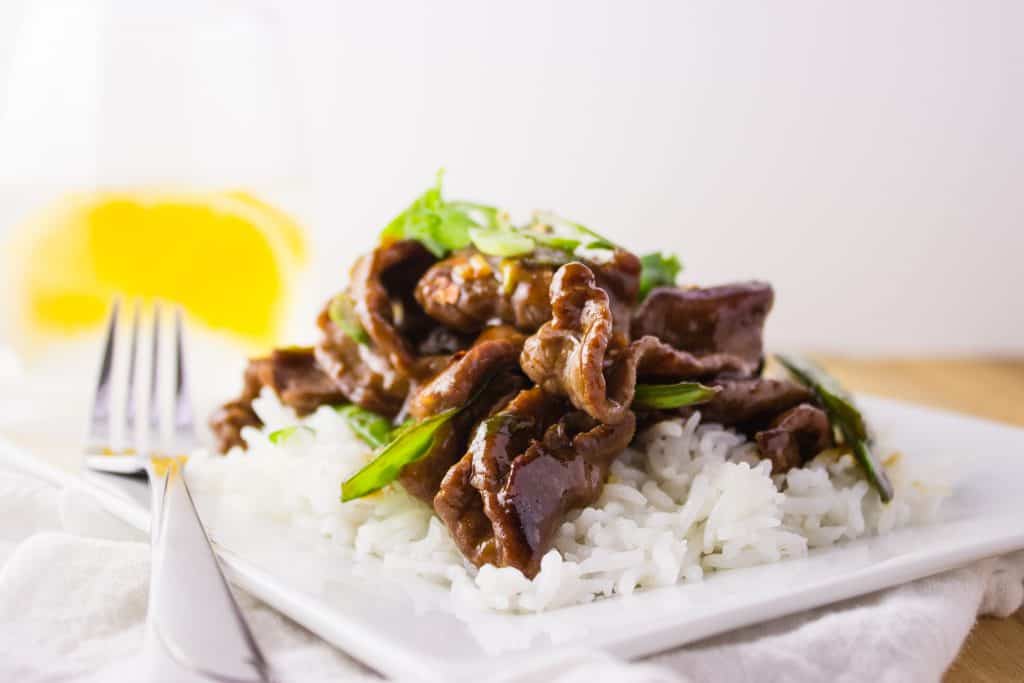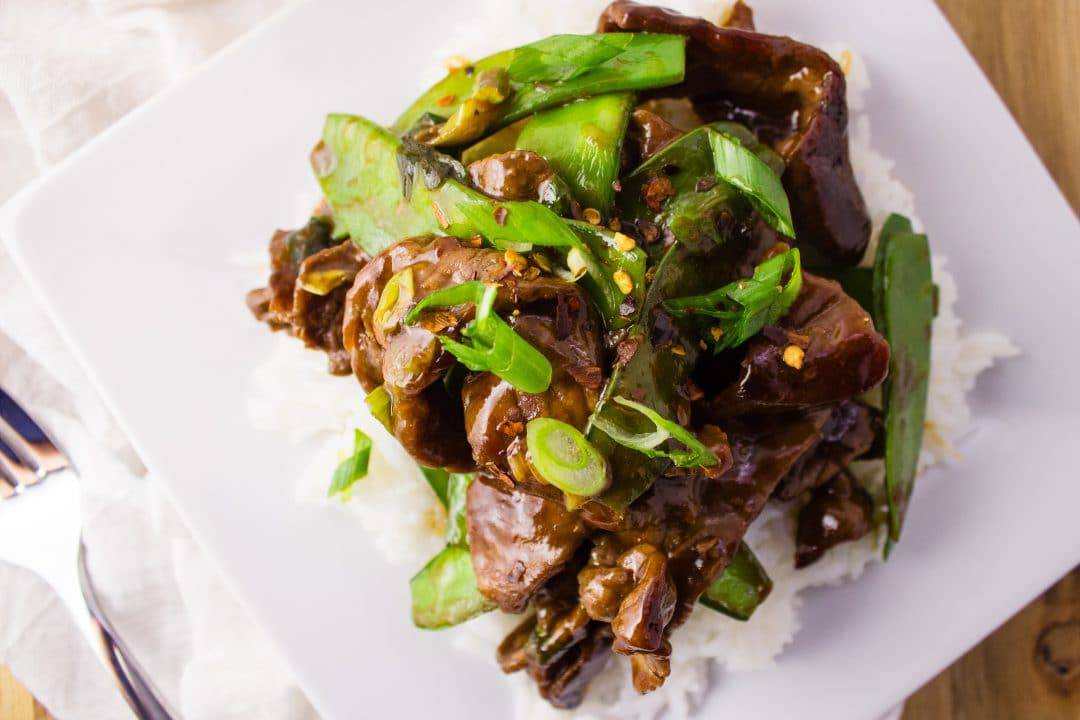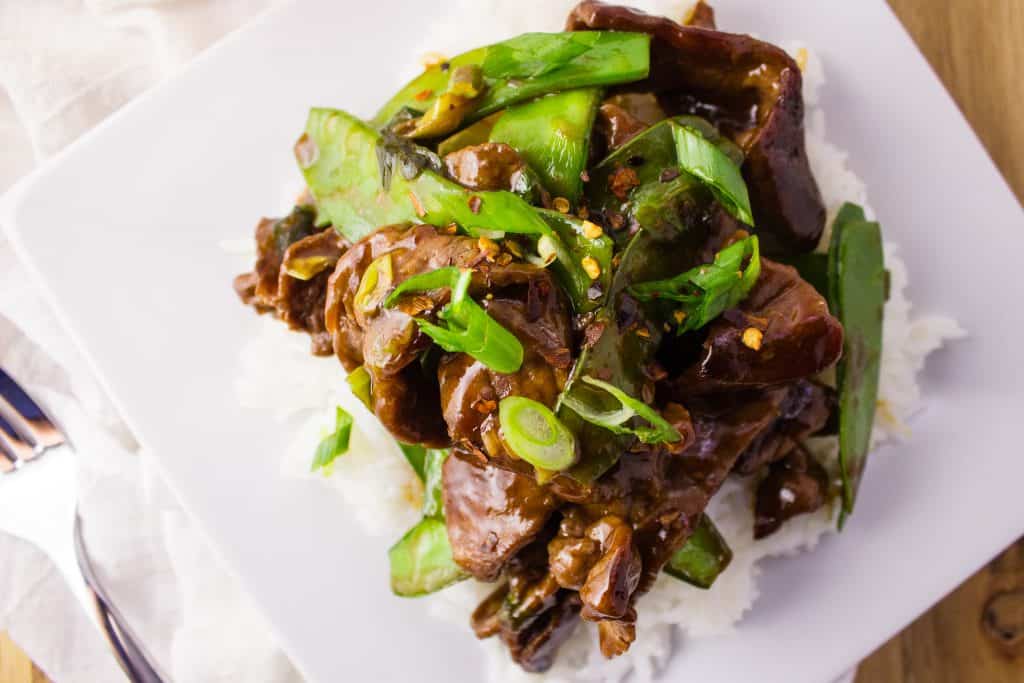 Enjoy!
*Recipe adapted from The Pioneer Woman