This post may contain affiliate links. Please read my disclosure policy.
Try any one of these 20 homemade pizza recipes to make at home instead of ordering from a restaurant. There is something for everyone, from supreme pizza and taco pizza to low carb options and cast iron pizza.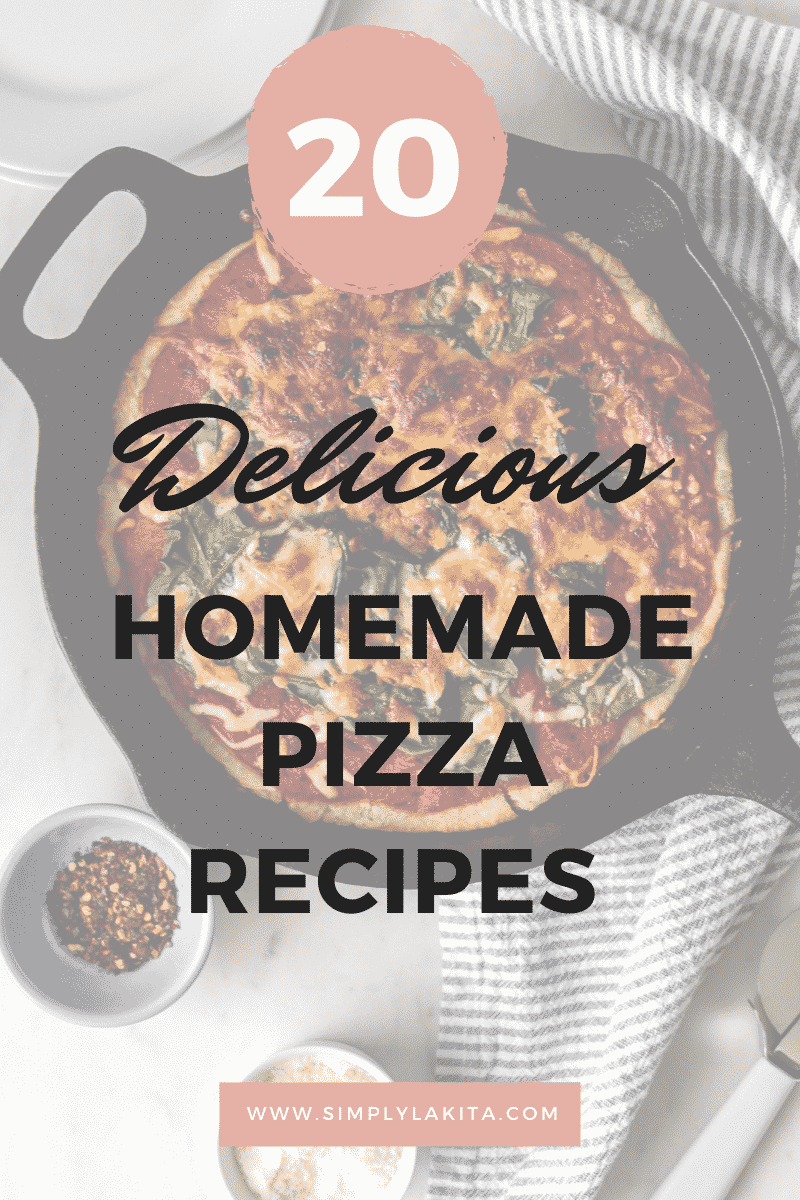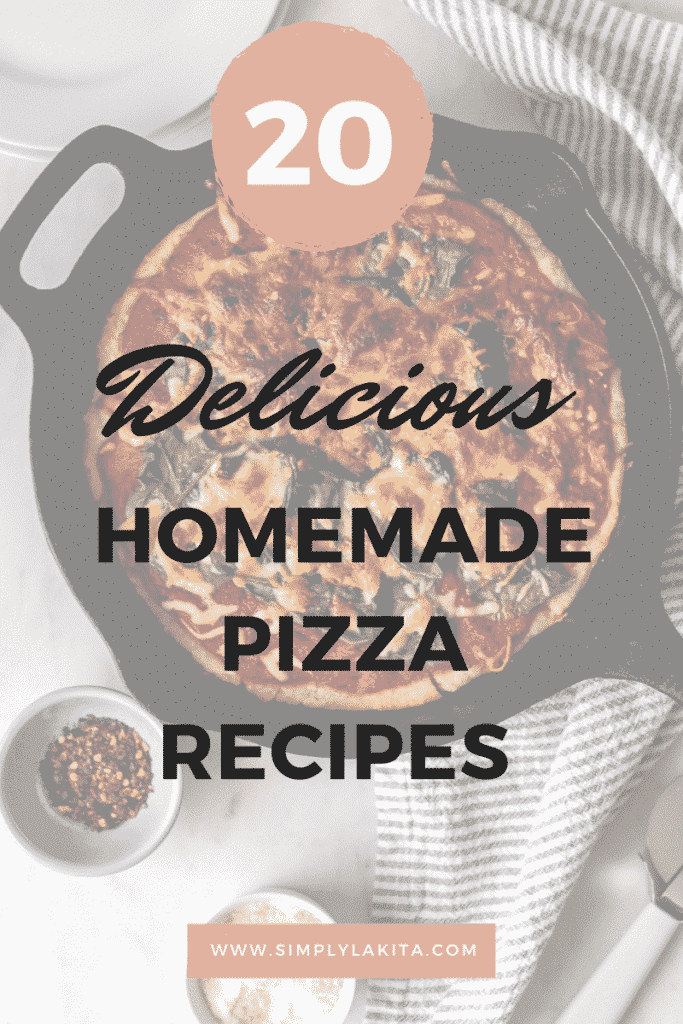 Nothing completes casual gatherings quite like a warm, cheesy pizza!
A large pie can easily feed 8 to 10 people without costing too much money. This alone makes it perfect for meetings, birthdays, and family dinners. While most people order from their favorite pizzeria or restaurant, making pizza at home is sometimes a better option and easier. You can customize each slice and even allow others to assist you with making it, plus it's a great bonding activity!
These homemade pizza recipes will save you money on pizza delivery fees, and they can be altered to fit almost any diet. Whether you like your slices loaded with toppings or light and guilt-free, you don't need to rely on a restaurant for a satisfying meal.
Which pie will you be trying the next time you're craving pizza or having pizza night at home?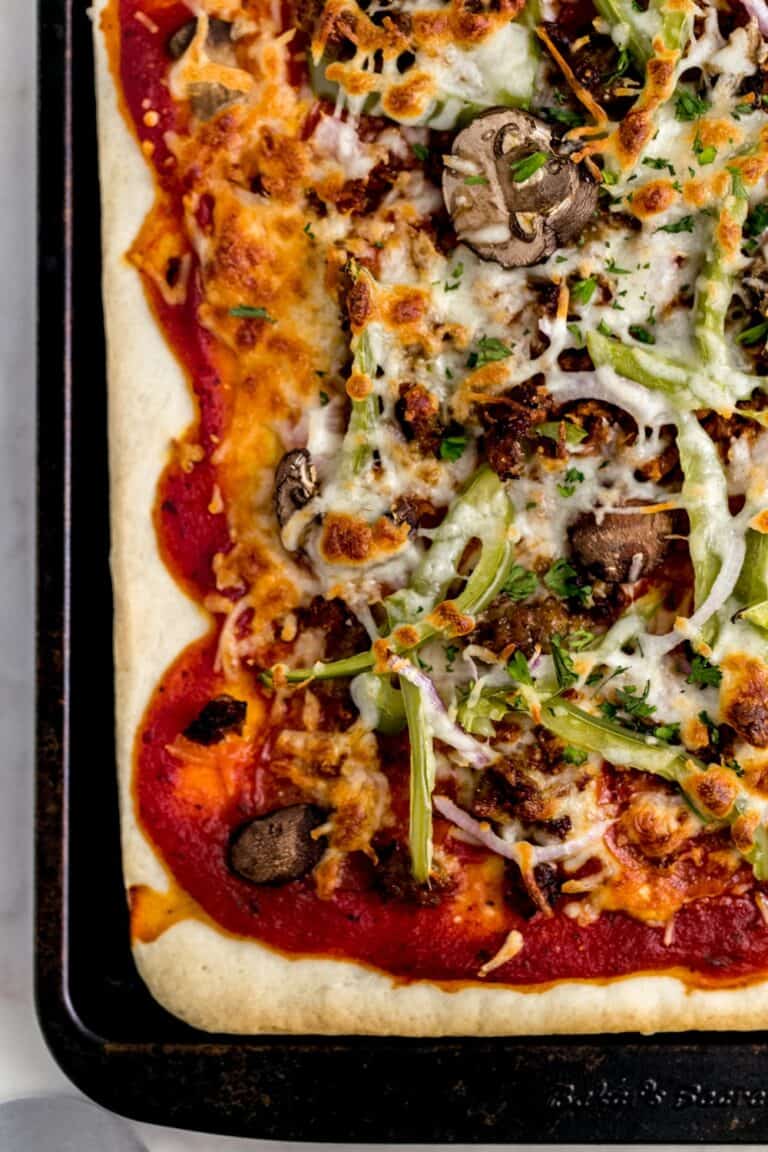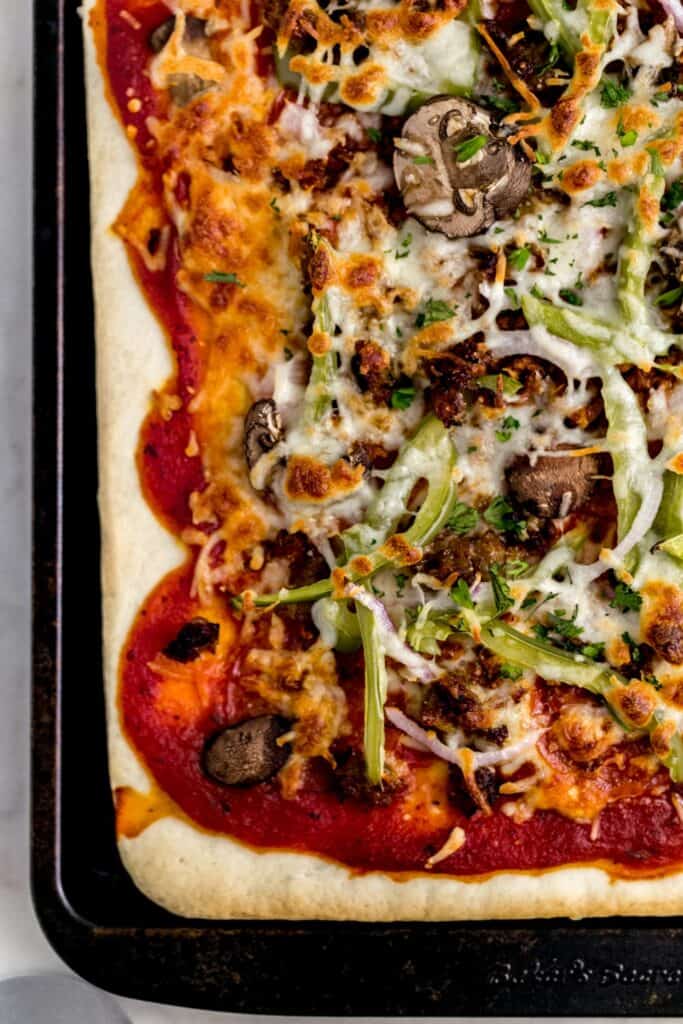 This thick crust supreme pizza made by Simply LaKita with homemade pizza dough, sauce, cheese, three meat toppings, red onion, bell pepper, and mushrooms. Delicious, flavorful, and perfect for pizza night at home.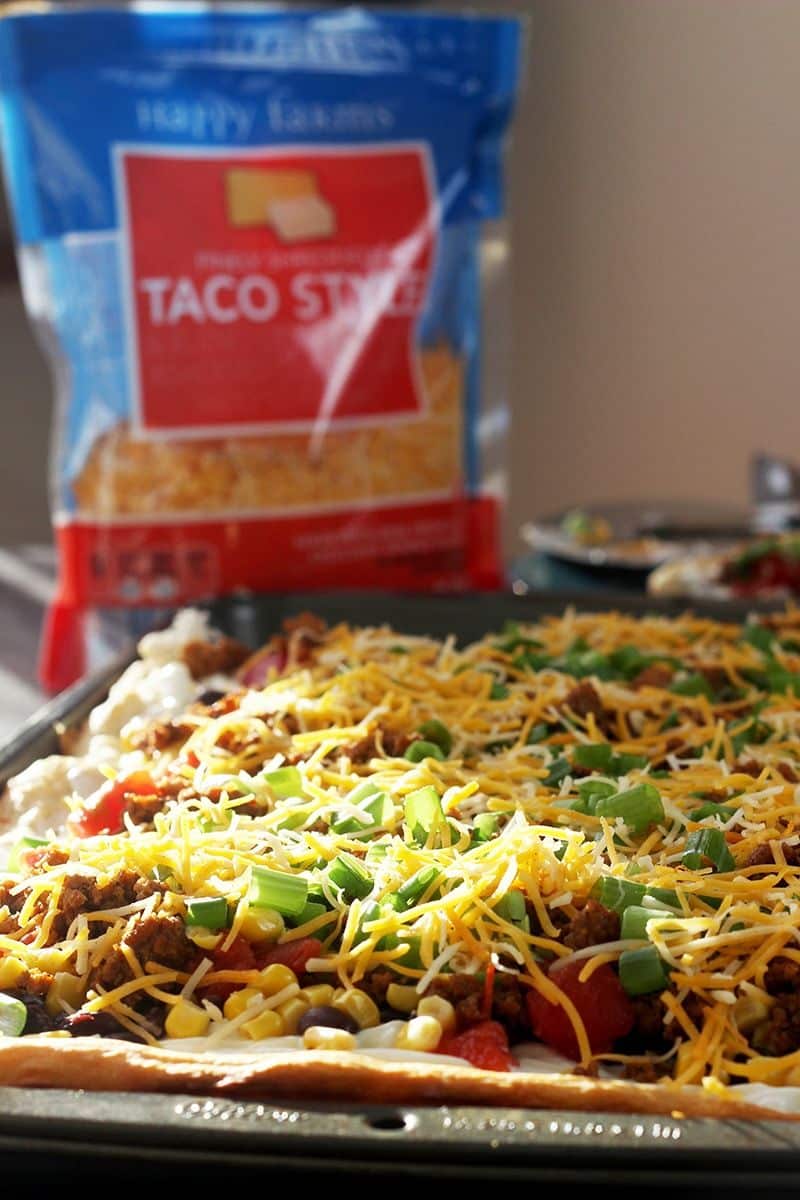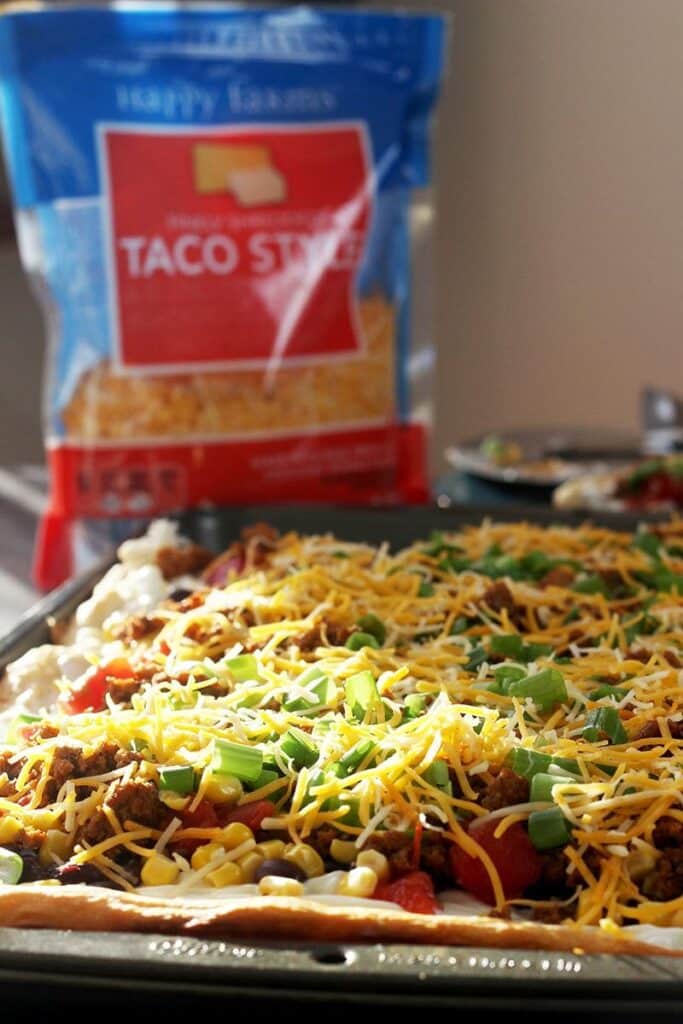 A marriage between a Mexican favorite and Italian favorite, this Taco Pizza by Kenya Rae is made with a crescent roll crust is a perfect Taco Tuesday menu option.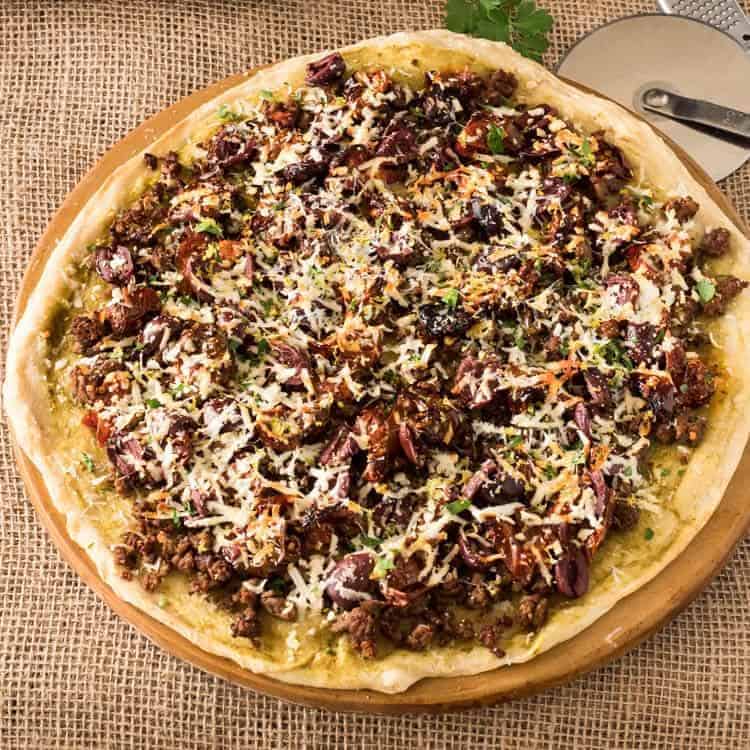 This pizza by Beyond the Sustenance is hearty, flavorful ground lamb, slow-roasted tomatoes, salty kalamata olives and feta, and Greek seasonings. Make it with your own homemade ingredients, or good quality prepared ones for a super quick and flavorful pizza.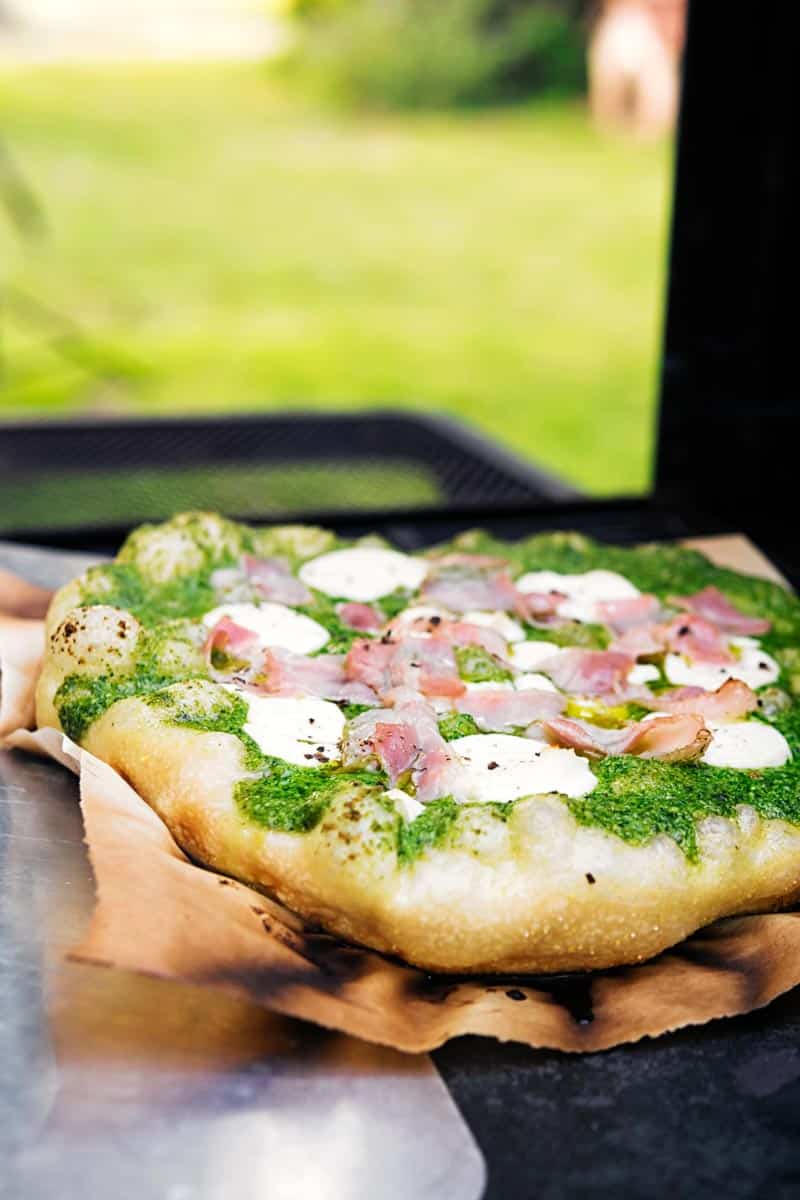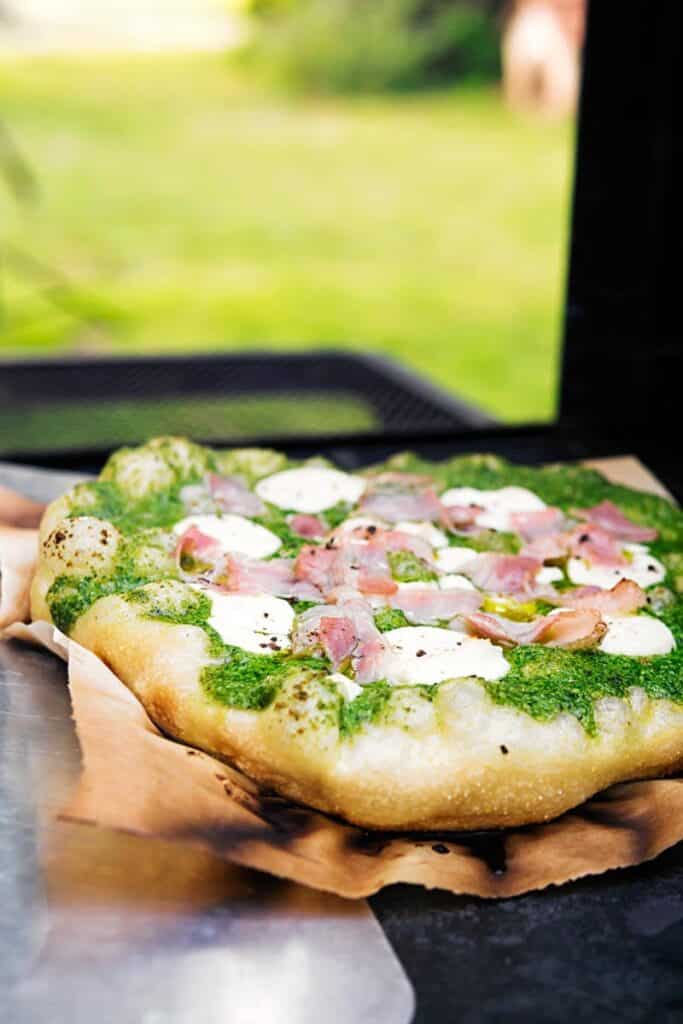 This glorious thick crust pizza by Krumpli is a break from the norm, it is a rocket or arugula pesto pizza, we add a bit of bacon and goats cheese because it just works!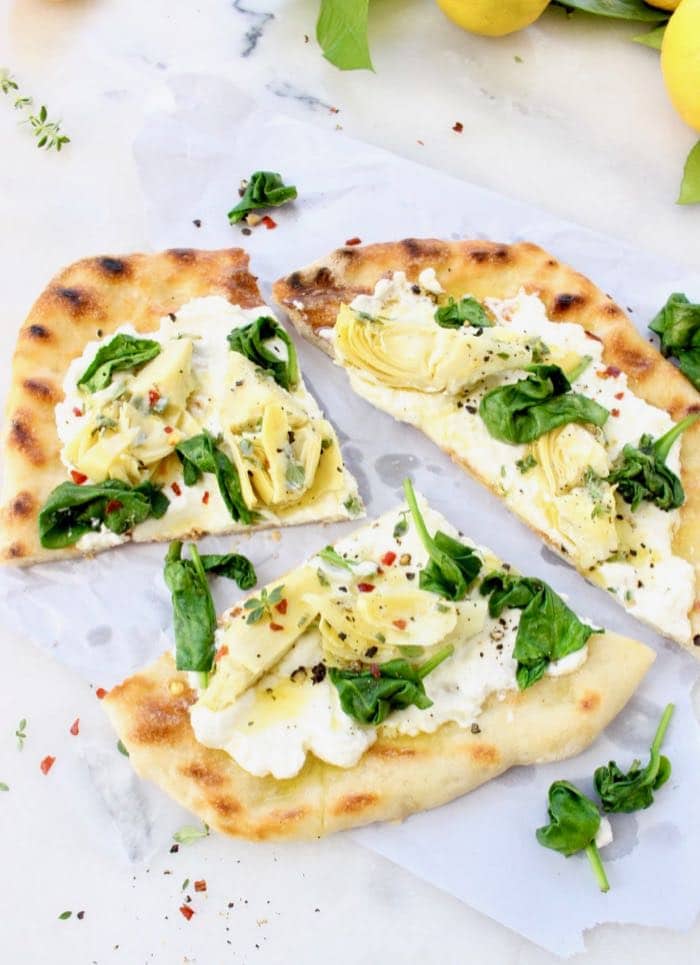 The best vegan white pizza recipe ever, made by Veggie Society with garlic, spinach, artichokes and creamy homemade cashew ricotta cheese.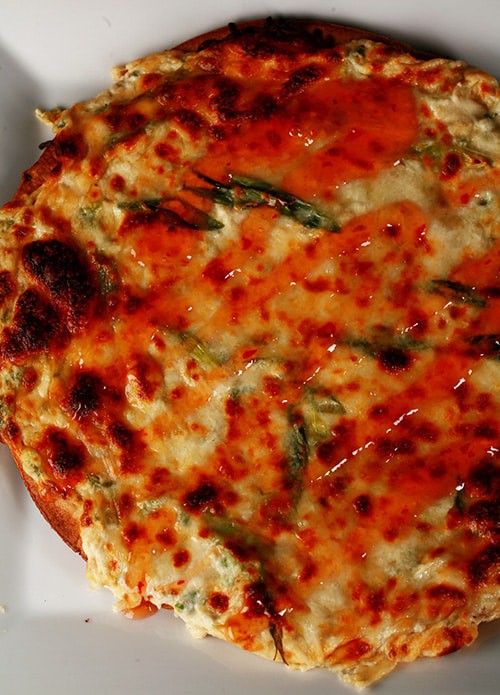 This is a fun fusion of two favourite comfort foods by Celebration Generation combines pizza with crab rangoon. Sounds weird, but actually works well! Makes enough "sauce" for two medium pizzas or one extra-large pizza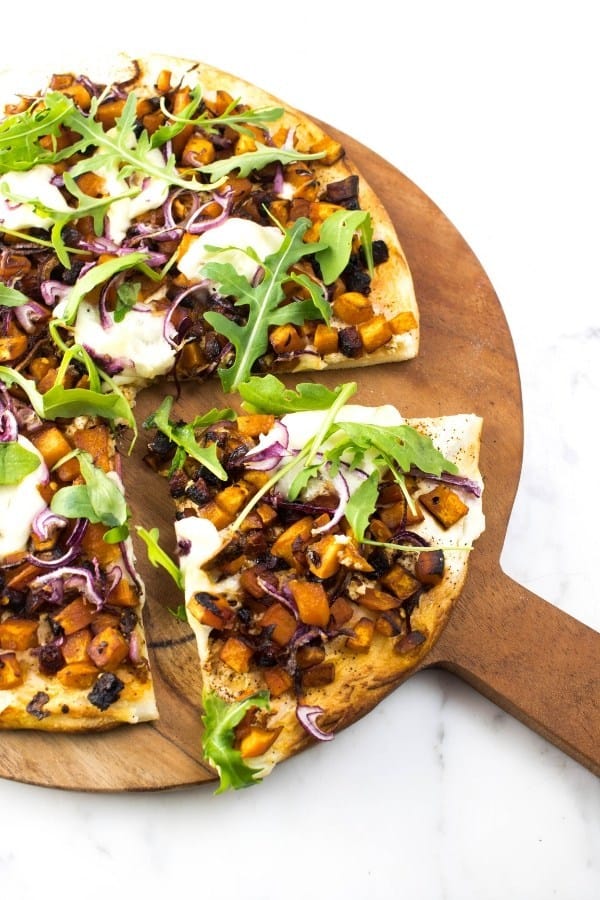 This veg sweet potato pizza is the perfect easy dinner recipe from A Hedgehog in the Kitchen! Dripping with mozzarella, ricotta, red onions and sweet potato and topped with delicious arugula!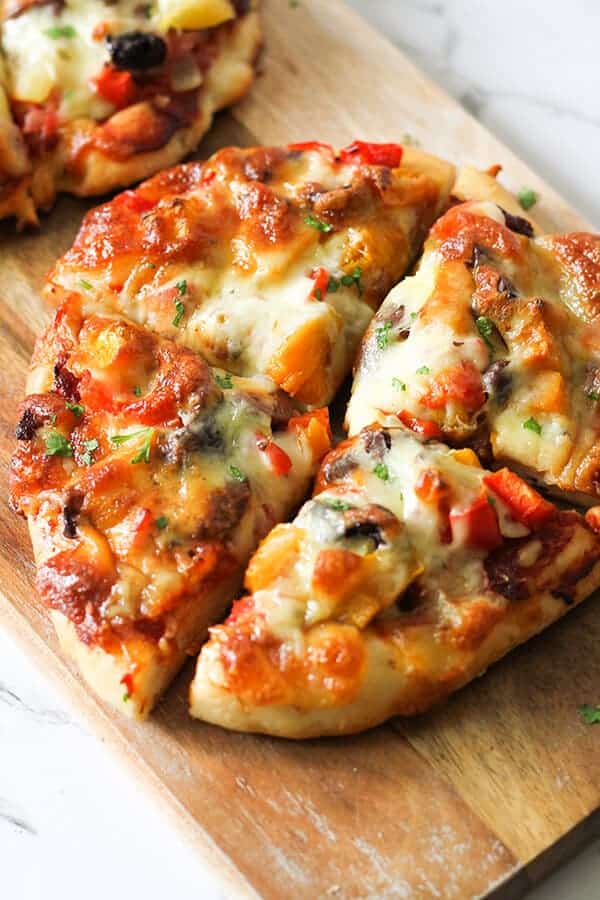 This deliciously simple homemade roast pumpkin pizza by Cook it Real Good is better than takeout! Using two-ingredient dough as a base, you can choose to make one large pizza or three mini pizzas. Top your base with roasted pumpkin/butternut squash, feta, bell peppers, olives and mozzarella for an irresistible pizza the whole family will love.
Easy Pizza Bowls is a crustless pizza in a bowl by Simply LaKita with all of your favorite toppings. Bakes up in less than 5 minutes and is filling and perfect for the whole family.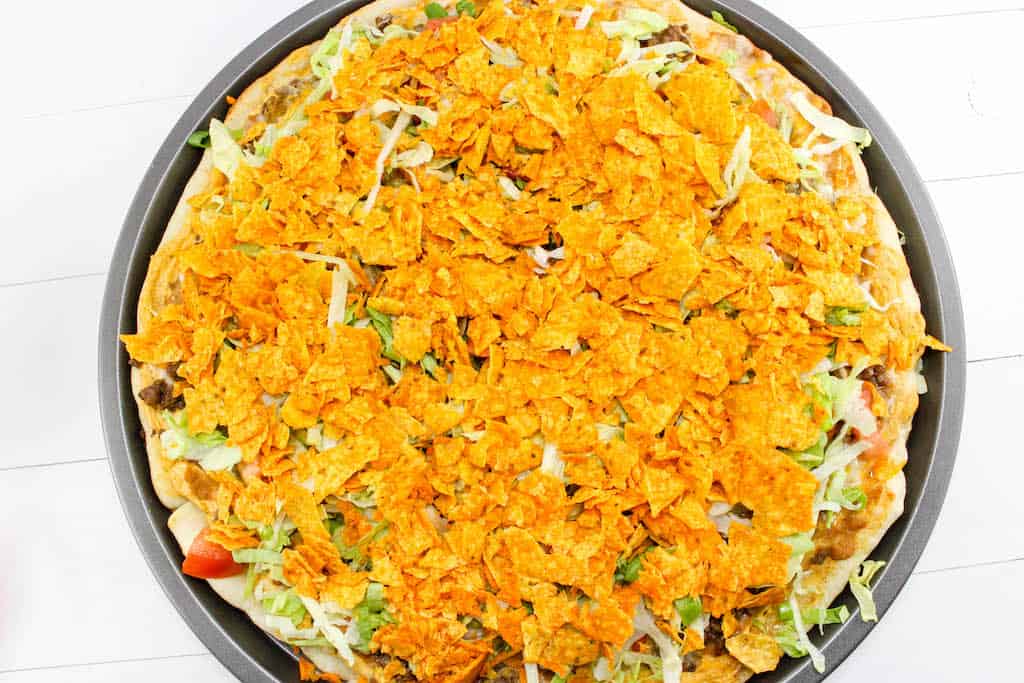 With simple ingredients, you can whip up this filling meal in under 30 minutes! This easy taco pizza is made by Dine Dream and Discover with a convenient Pillsbury Pizza crust and is sure to be a tasty hit with the whole family.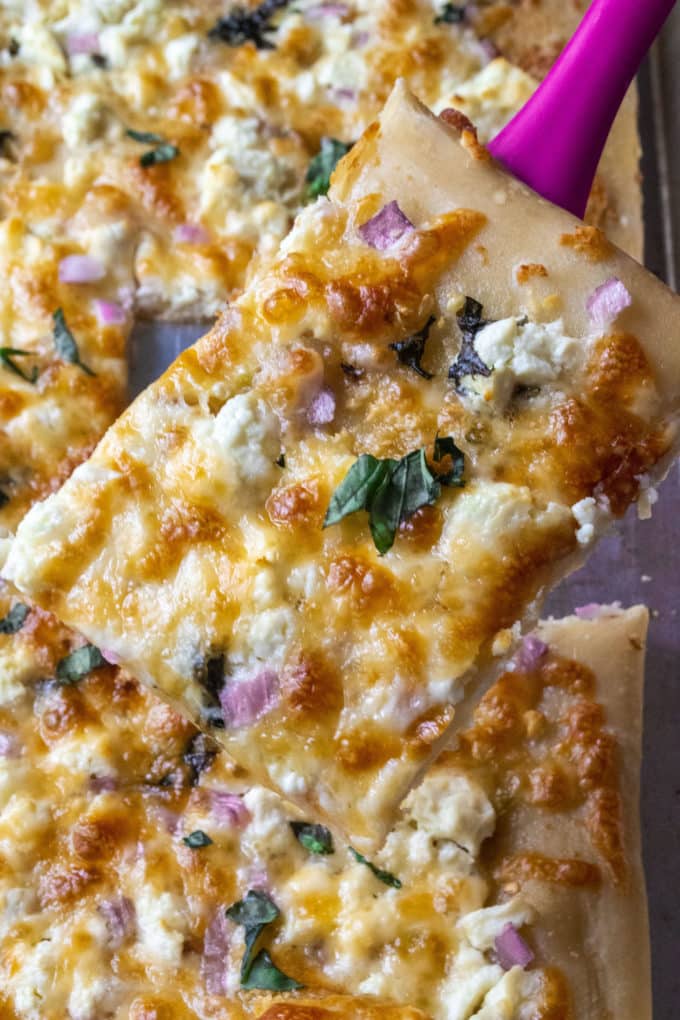 White Feta Cheese Pizza by A Wicked Whisk is easy to make, bursting with garlic flavor and ready to eat in just 30 minutes! Made with store-bought pizza dough, shredded mozzarella cheese, tons of garlic and feta cheese, this white pizza recipe is super simple to make and the perfect easy pizza recipe for weeknight dinners.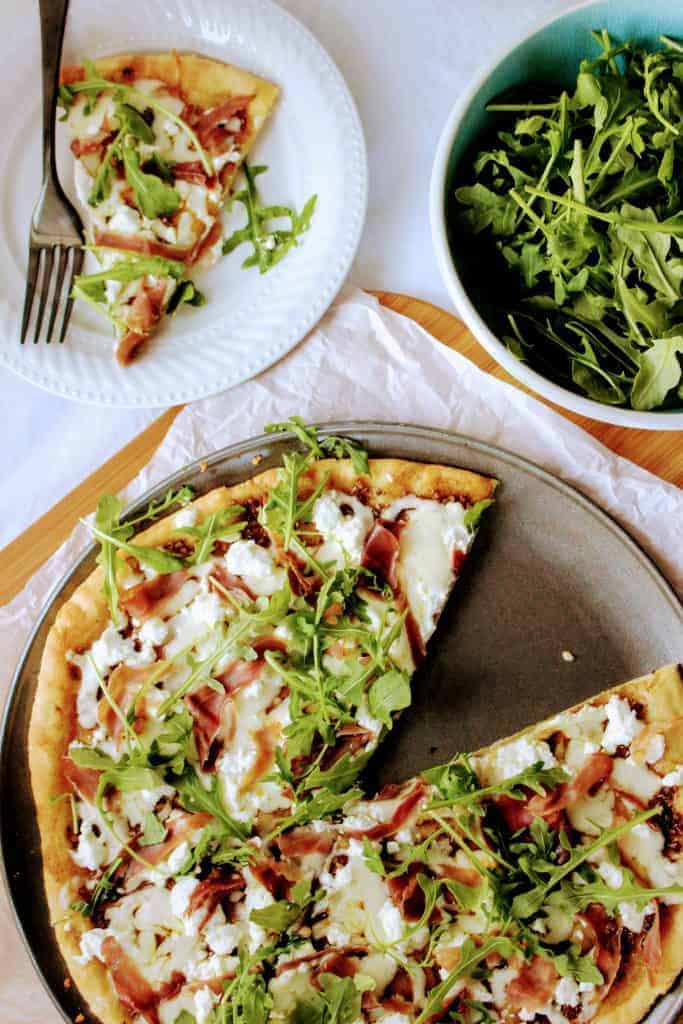 Keen for Keto has you covered with this keto pizza on fathead dough with olive oil and balsamic pizza sauce and topped with goat cheese, mozzarella or gouda, prosciutto, and fresh green arugula will rock your world. It's the best pizza for the keto diet!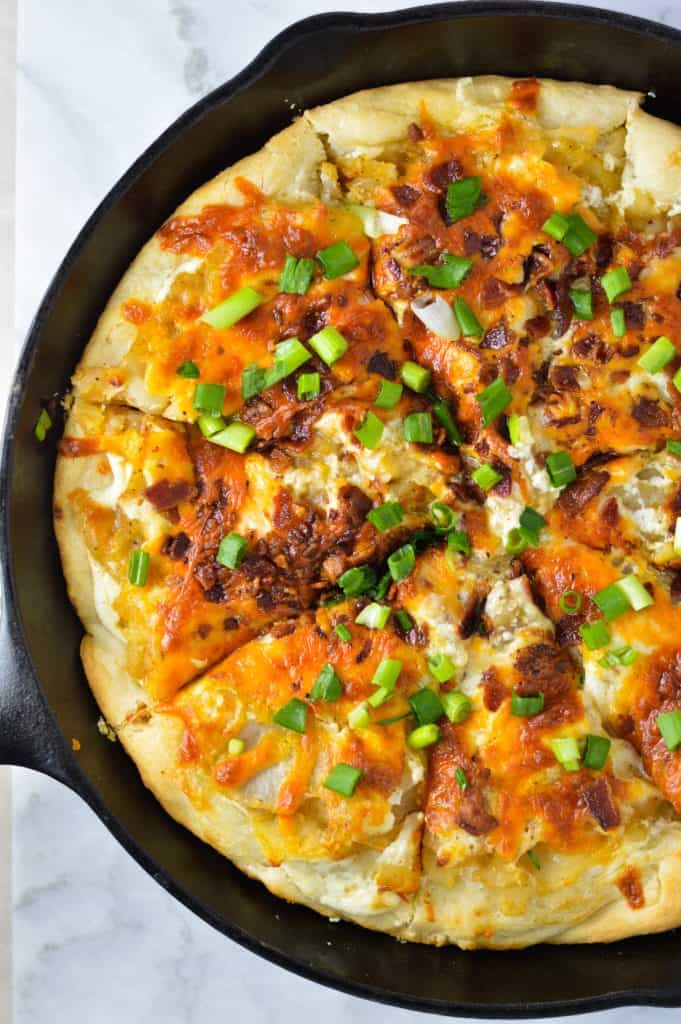 This Cast Iron Spicy Perogy Pizza recipe from A Taste of Madness is a copycat of the pizza from Boston Pizza. Made with bacon, sour cream and topped with green onions, yum!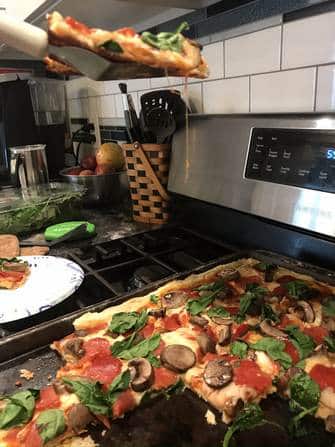 This delicious pizza is very low in points and absolutely delicious from The Holy Mess. Made with a simple yogurt dough crust and easy toppings, you can have this on the table in no time at all with only 3 to 4 points per slice.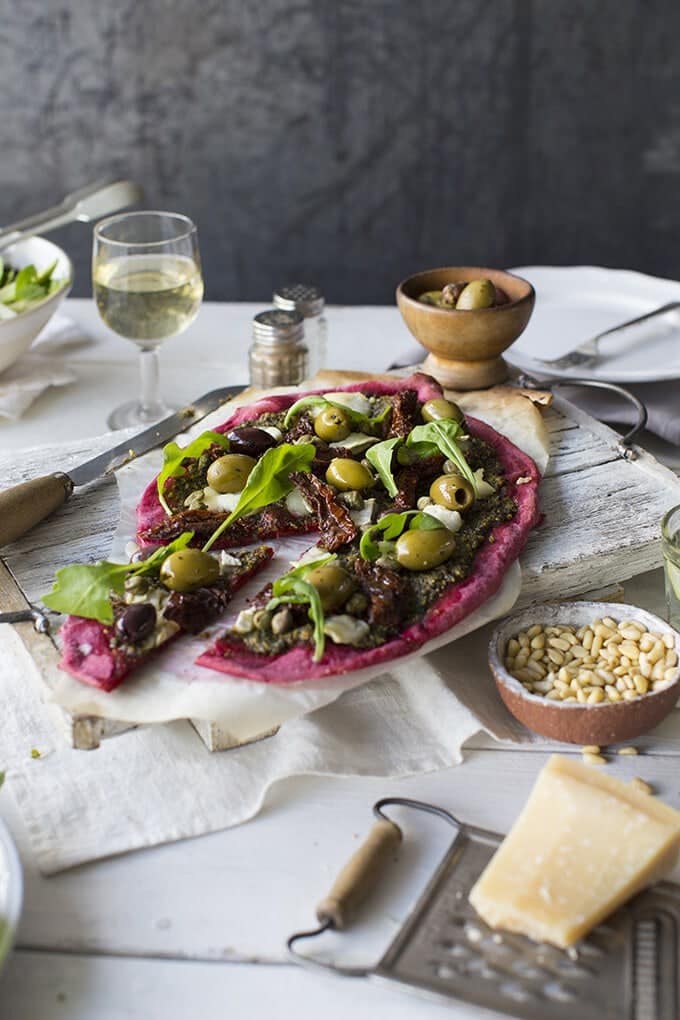 This vibrant beet pizza by Veggie Desserts is eye-catching and delicious. The vegan pizza crust recipe is bright purple from the addition of beets. Plus, it uses the entire beetroot - from root to leaf - in the pizza, beet leaf pesto and toppings.
Cook it Real Good is helping you eat more vegetables in the most delicious way with this Spinach and Feta Pizza. Make your own pizza dough or use a store-bought base to create this drool-worthy vegetarian pizza. The mixture of the salty feta and creamy mozzarella bring so much flavour into every bite.
BBQ French Bread Pizza from Simply LaKita is a fast and easy way to make pizza by replacing the pizza dough with fresh French bread that can be purchased from your local bakery and piled with your favorite toppings to create a quick and easy meal in minutes.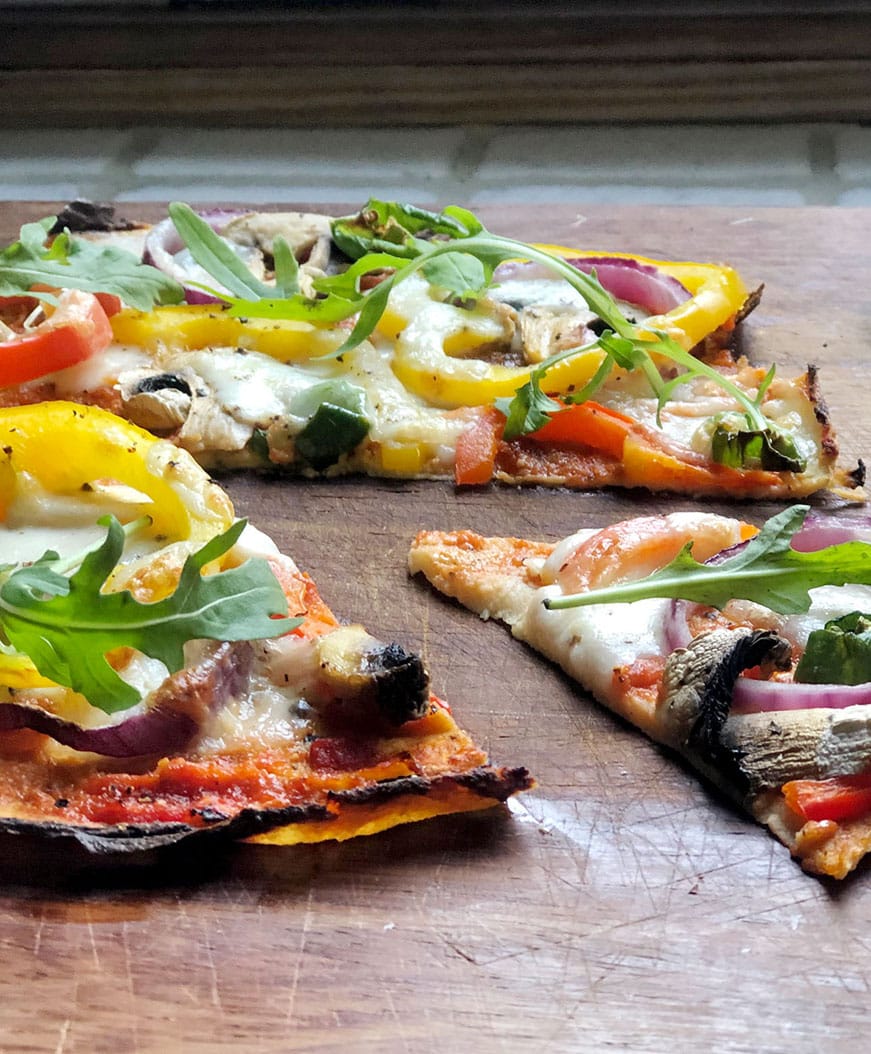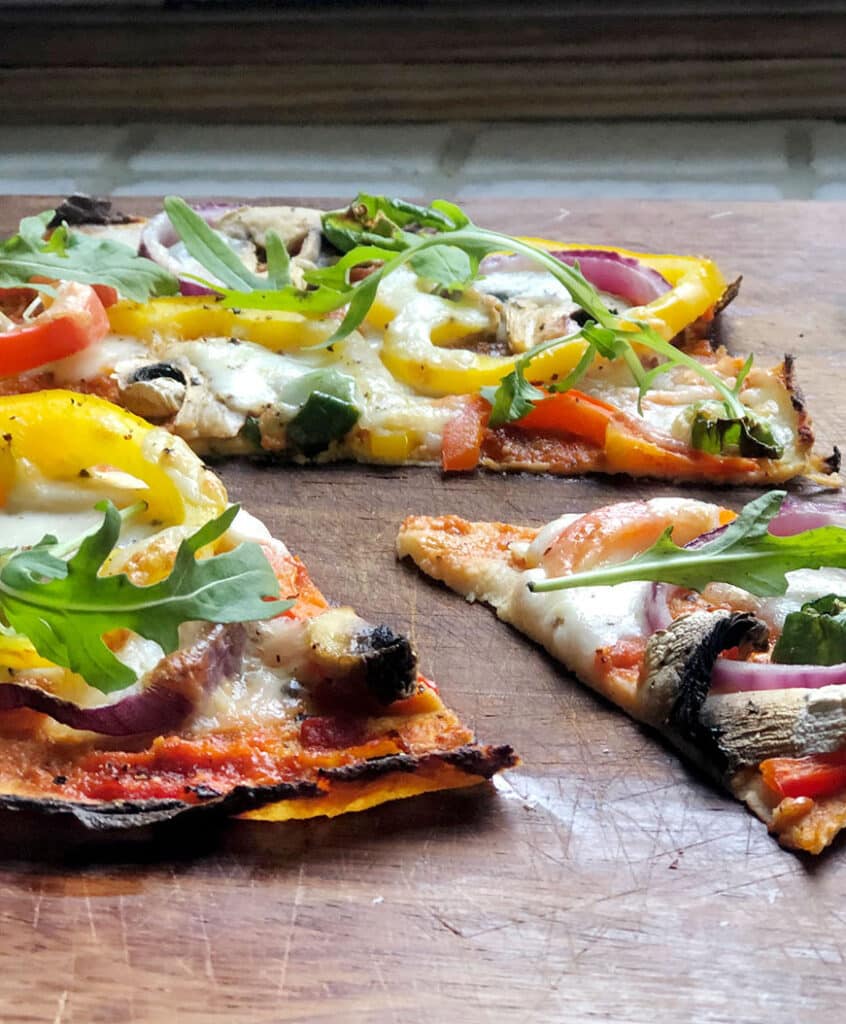 Emma Eats and Explores shares a Cauliflower Crust Pizza that is Grain-Free, Gluten-Free, Dairy-Free and Refined-Sugar Free. It is also suitable for SCD (Specific Carbohydrate Diet) Low Carb, Paleo & Vegetarian Diets. Load it with your favorite pizza toppings for the ultimate pie.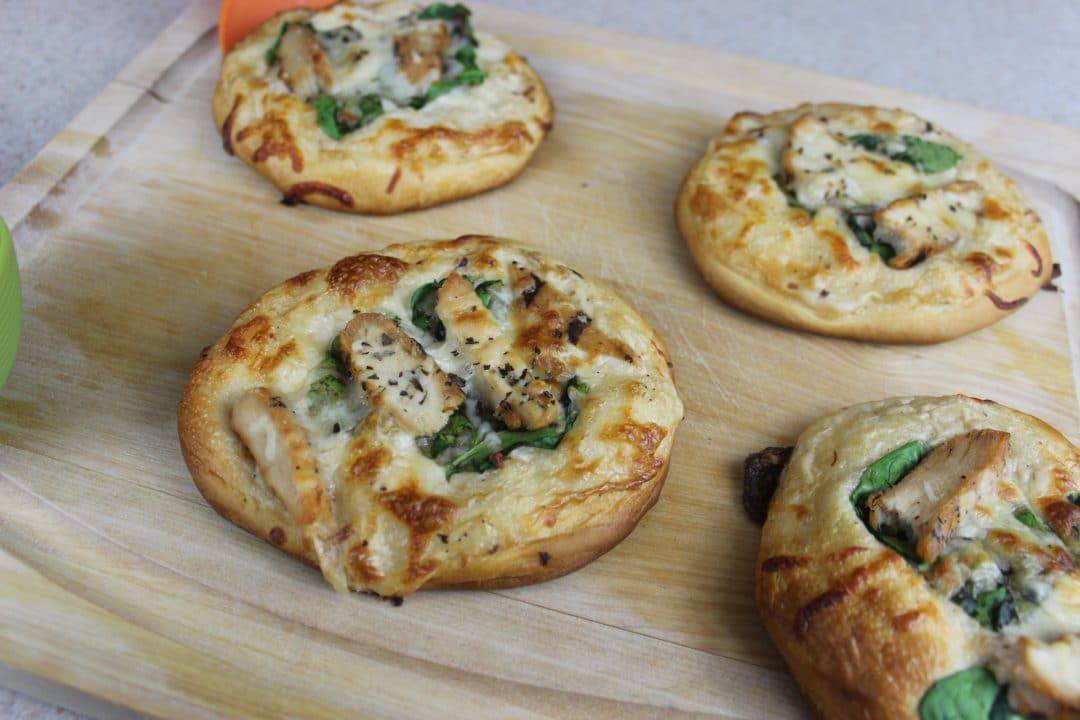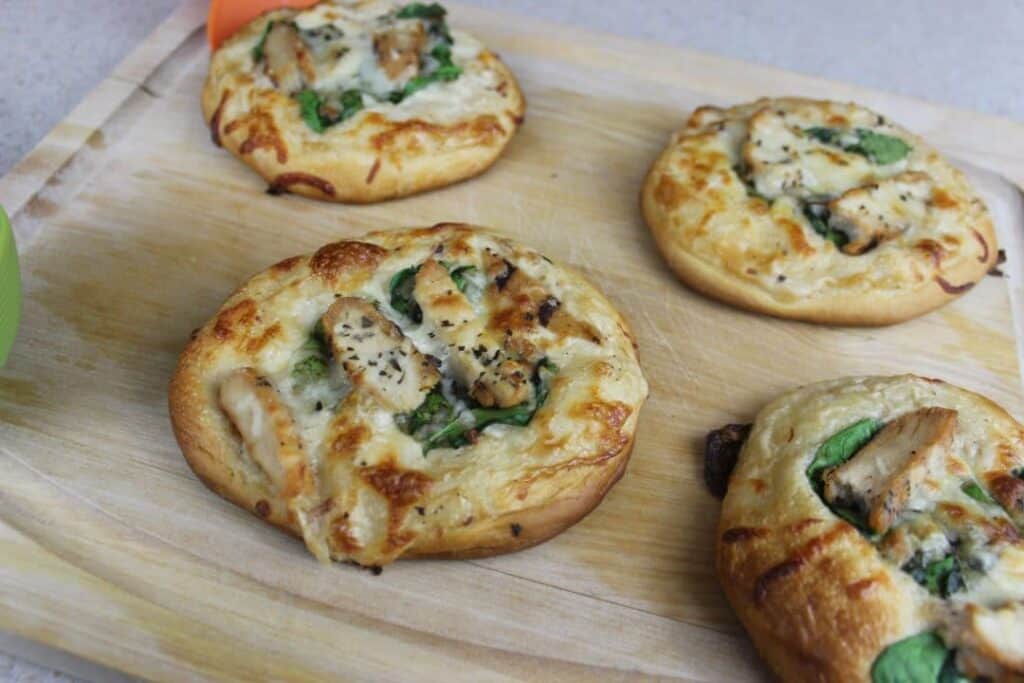 Chicken Alfredo Biscuit Pizza by Simply LaKita is an easy and delicious pizza recipe that is made using biscuit dough and topped with chicken alfredo toppings.
This Pepperoni Bread Recipe a favorite on Simply LaKita and is loaded with cheese, spices, and of course pepperoni. It is easy to make and perfect to dip in marinara sauce. Cheesy, flavorful, and delicious.
Have any comments, questions, or other delicious ways to use any of these Homemade Pizza Recipes? Please share them in the comments below!